This party girl reached her limit this week! After a long weekend of 4th of July celebrations, followed by our granddaughters 1st birthday party and my husband David's birthday, I finally bit the dust. I guess it didn't help that David was sick all week in between these two weekends. Bless his little heart but men just don't do sick very well. Thank goodness he rallied for the birthday parties and I managed to hang on until his was over. We surely would have hated to miss his birthday dinner at 100 Wines! So now it's time to catch up on what I've been up to….before I got sick that is…..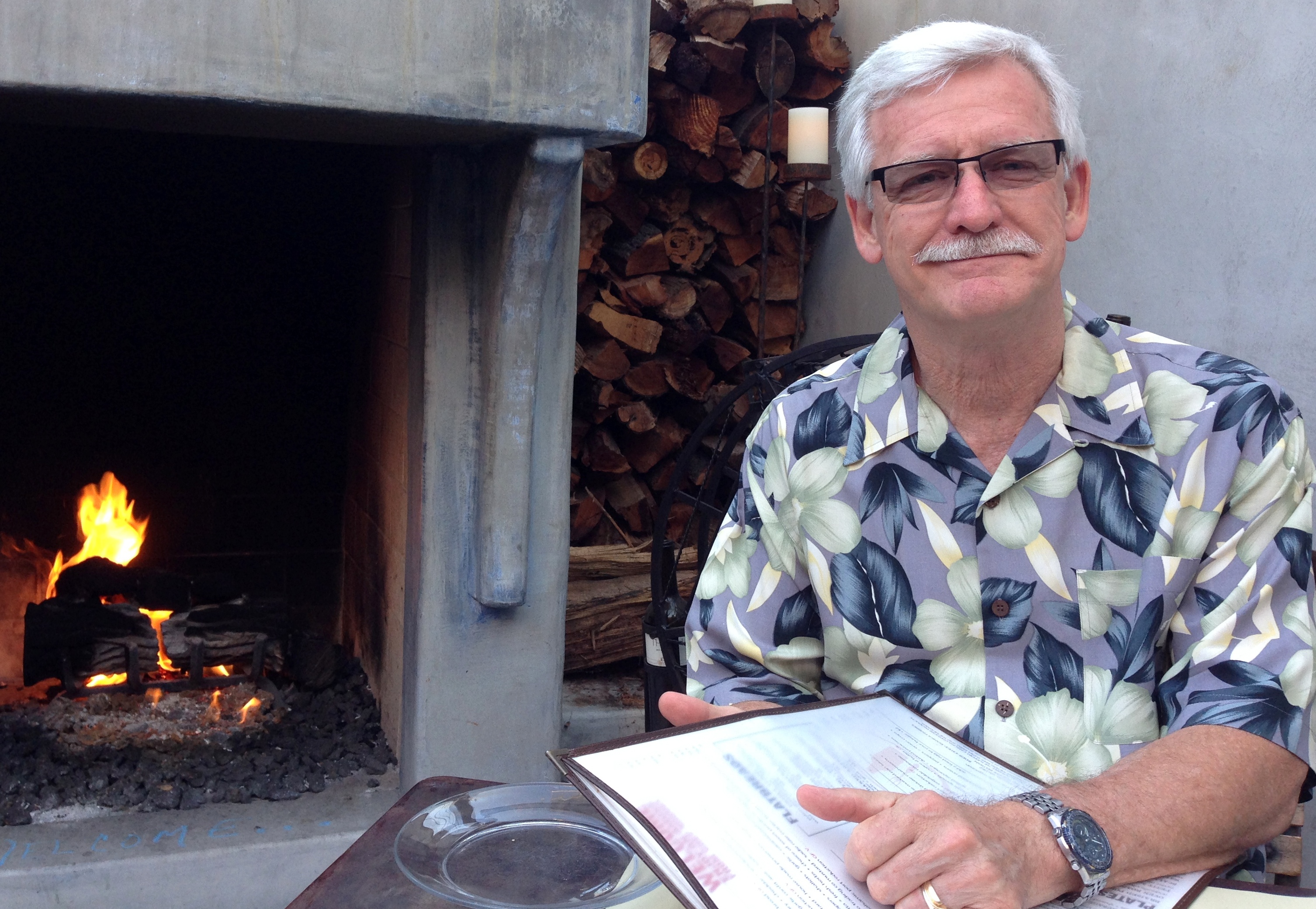 Love their tag line! Eat + Drink + Share! 100 Wines Kitchen is in Hillcrest and was just what I was looking for to celebrate David's birthday! After all the parties, planning and cooking I wanted a nice quiet place with great food and fine wine. As soon as we walked out onto the patio I saw it…..the fireplace! I am a sucker for a fireplace or a waterfall! This evening was starting out perfectly! That was one happy husband seated by the fire, wine list in hand!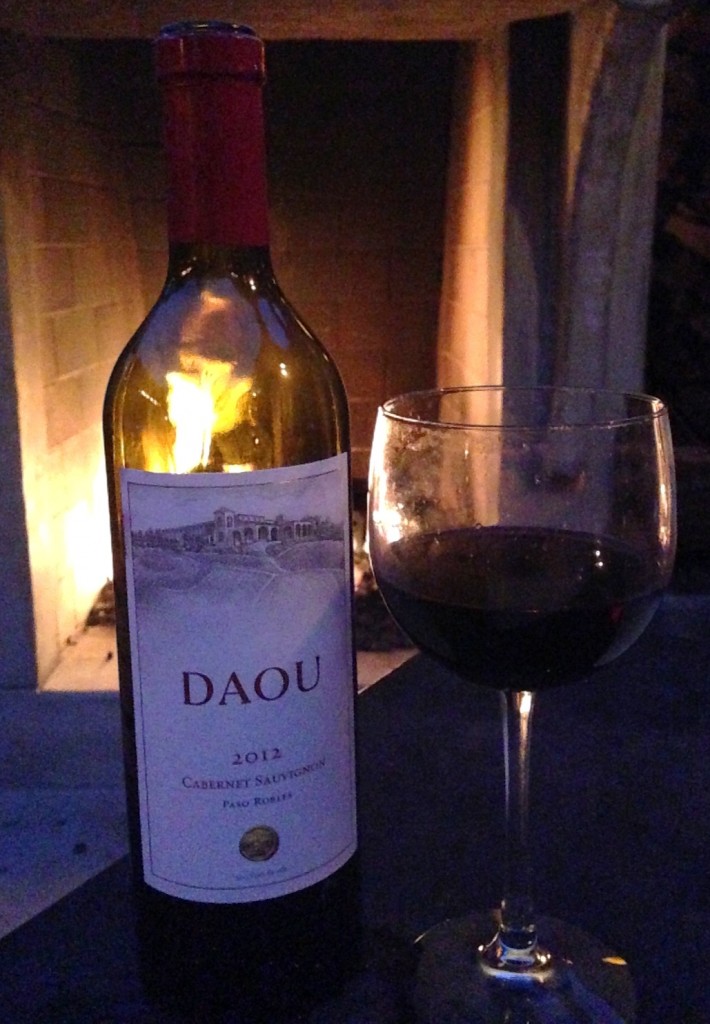 Speaking of the wine list….What was I expecting with a name like 100 Wines. A short list? I was very impressed with the wide variety of wines and price ranges. It's great to see a good selection of wines for all budgets. We decide on a Daou Vineyard Cabernet Sauvignon from Paso Robles, one of our favorite wine regions in California! This wine did not disappoint! Full bodied with deep berry flavor and a slight hint of coffee. Very well balanced and intense. Just the way we like it!
Now it was time to get down to the serious business of carefully selecting the morsels we would be savoring tonight! David is so great about understanding, for me, each meal is a fantastic chance to try something new and time must be spent deciding on the perfect items from the menu.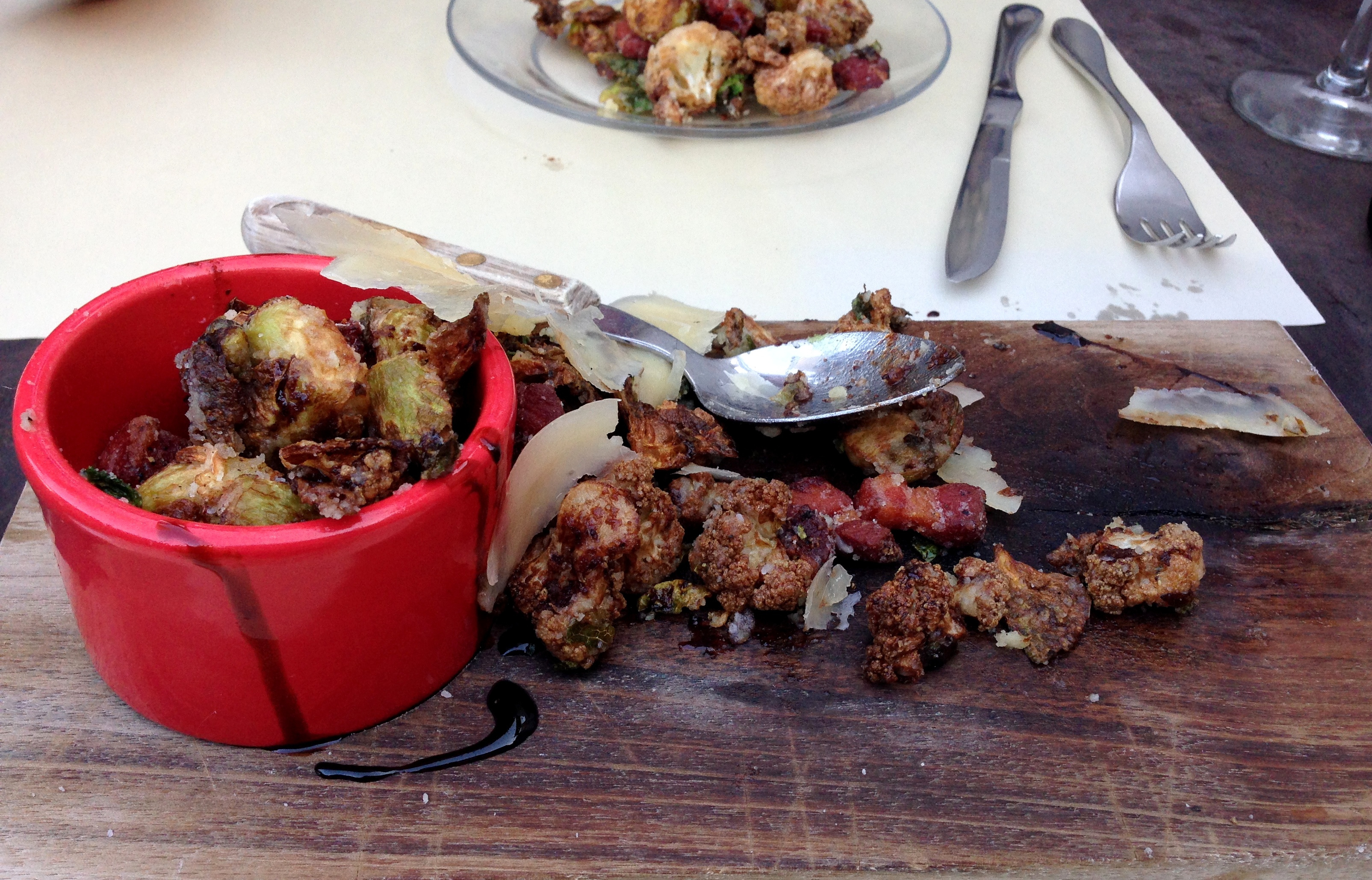 While we were deciding on our entrees we needed a little nibble to go with our wine. The cauliflower appetizer was supposedly "to die for", so we sampled it while working on the masterpiece called dinner. Our lovely server, Lauren, offered to bring us a half and half order of Brussels sprouts and cauliflower. The Brussels sprouts and cauliflower are crispy and browned then coated in Parmesan cheese with a balsamic drizzle. The chucks of pancetta are meaty and crunchy like little piece of a treasure you find sprinkled here and there in the dish. A really perfect combo of flavors. The only thing that would improve these little crispy bites is to back off on the cheese and balsamic a bit so the vegetable can shine through.

For our entree's David ordered Chicken with Champagne Dijon Sauce, Broccolini and Andouille Sausage Polenta. The champagne sauce on the chicken was a real plate licker but the thing that knocked my socks off was the Andouille Sausage Polenta! The smokiness of the sausage paired with the creamy cheesiness of the polenta was amazing! I will be recreating this one at home for sure!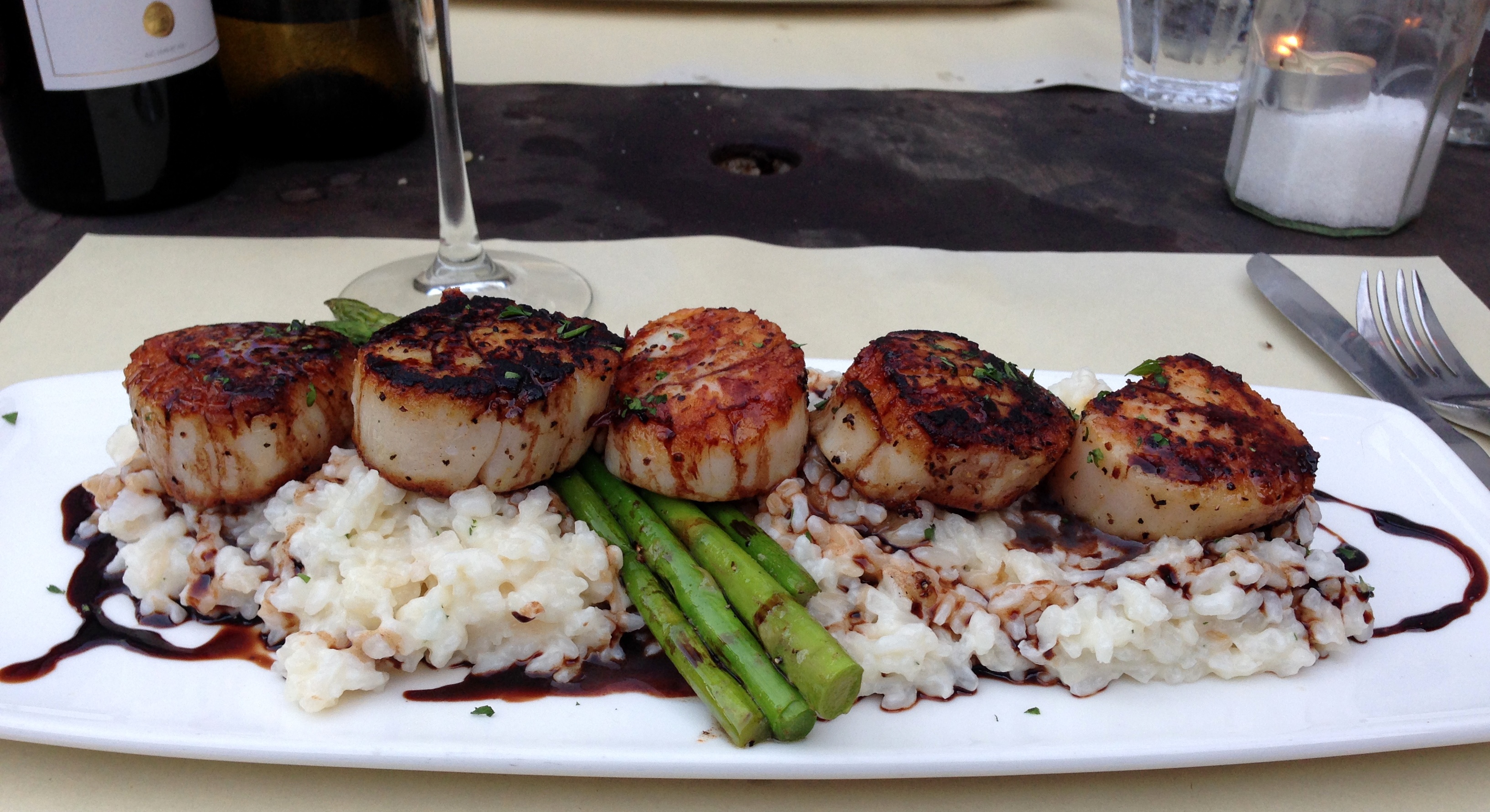 Knowing that I would be eating off of David's plate…he is so good about my fork flying across the table into his plate….actually he is very sweet and makes me the perfect little bite and feeds it to me across the table. He is romantic that way! Ok…back to my plate. Since I was going to have chicken from across the table I ordered the Scallops & Risotto. The scallops were pan seared and I must say the chef did a fine job of creating a beautiful crust on the outside while keeping the scallop moist and tender on the inside. I am so sorry to say the Parmesan Risotto was quite the opposite. The rice was sticky and had no bite let to it and it lacked flavor. There was way to much of it too! No balance. Too much of a good thing is great! Too much of an average thing is just too much!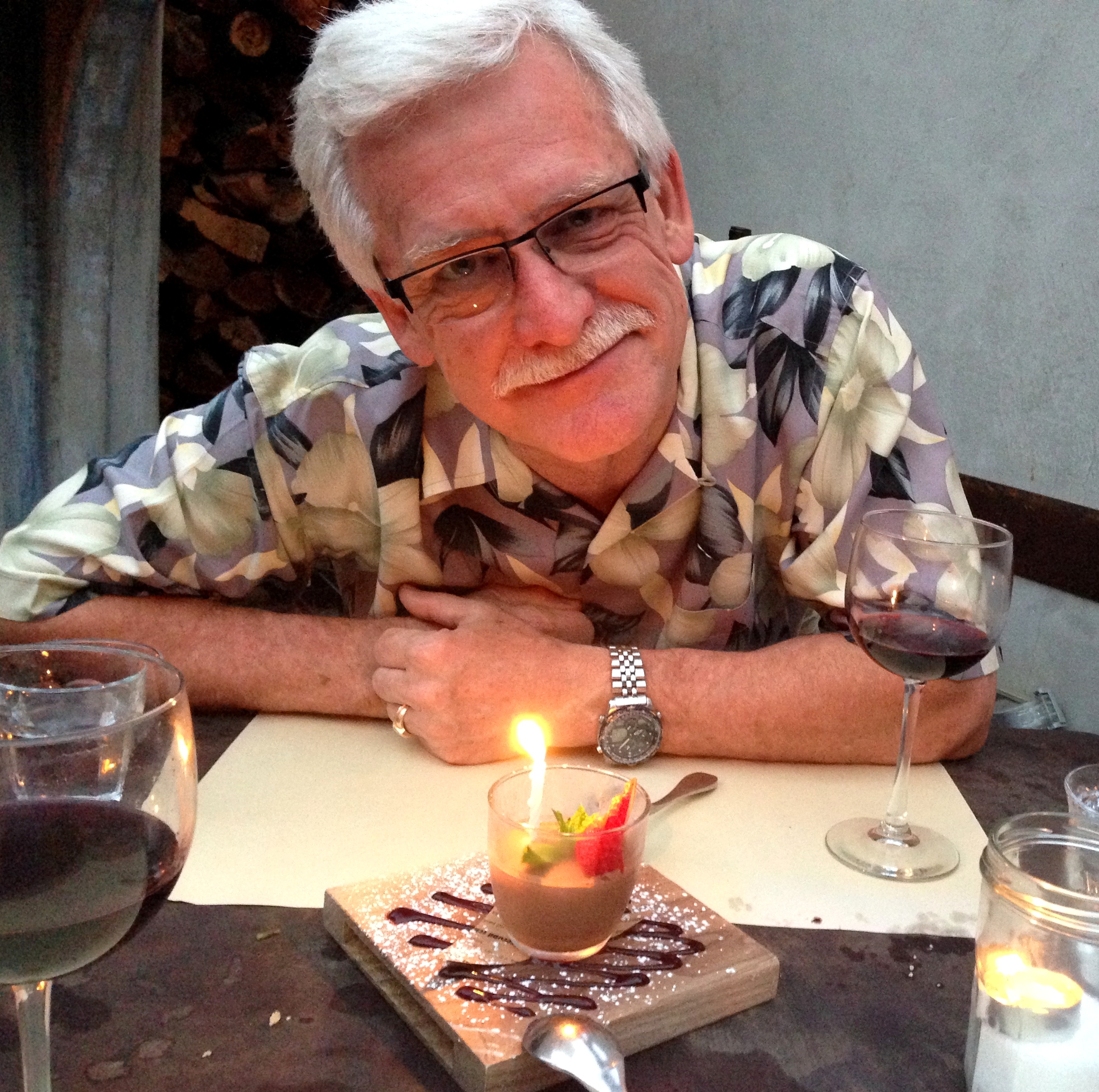 Ahhh…but the wine was so good and helped pave the way to the lovely birthday dessert. Pot de Creme! A chocolate lovers dream! So rich, so creamy, oh so yummy! And as if that wasn't enough, the drizzle on the plank was a deep, rich, silky, highly flavorful berry coulis. It was like an explosion of berry goodness in your mouth! They nailed the dessert!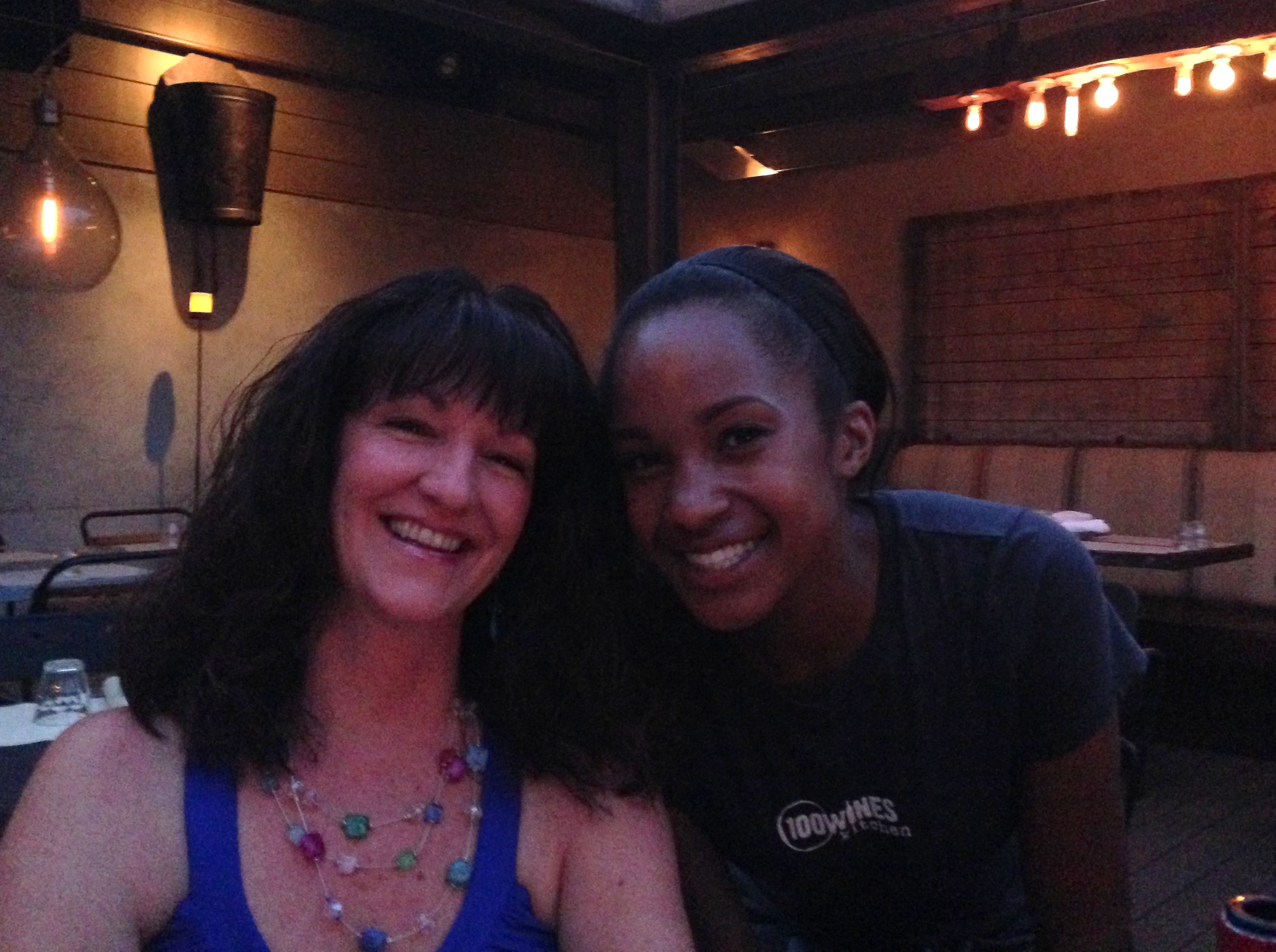 I have saved one of our favorite parts of the evening for last. Lauren, our server, was a pure delight! She was engaging and really interested in us as people. In turn we were very interested in her. People can be so much fun! Seems like so many times you get a server that can only ask "How's everything going?" or "Can I take your plate?" Some don't even ask, they just snatch your plate out from under your face! Lauren was fully present and offered up great conversation and stories about her family. She gave us enough to keep us entertained but knew when to allow us the space to enjoy each other.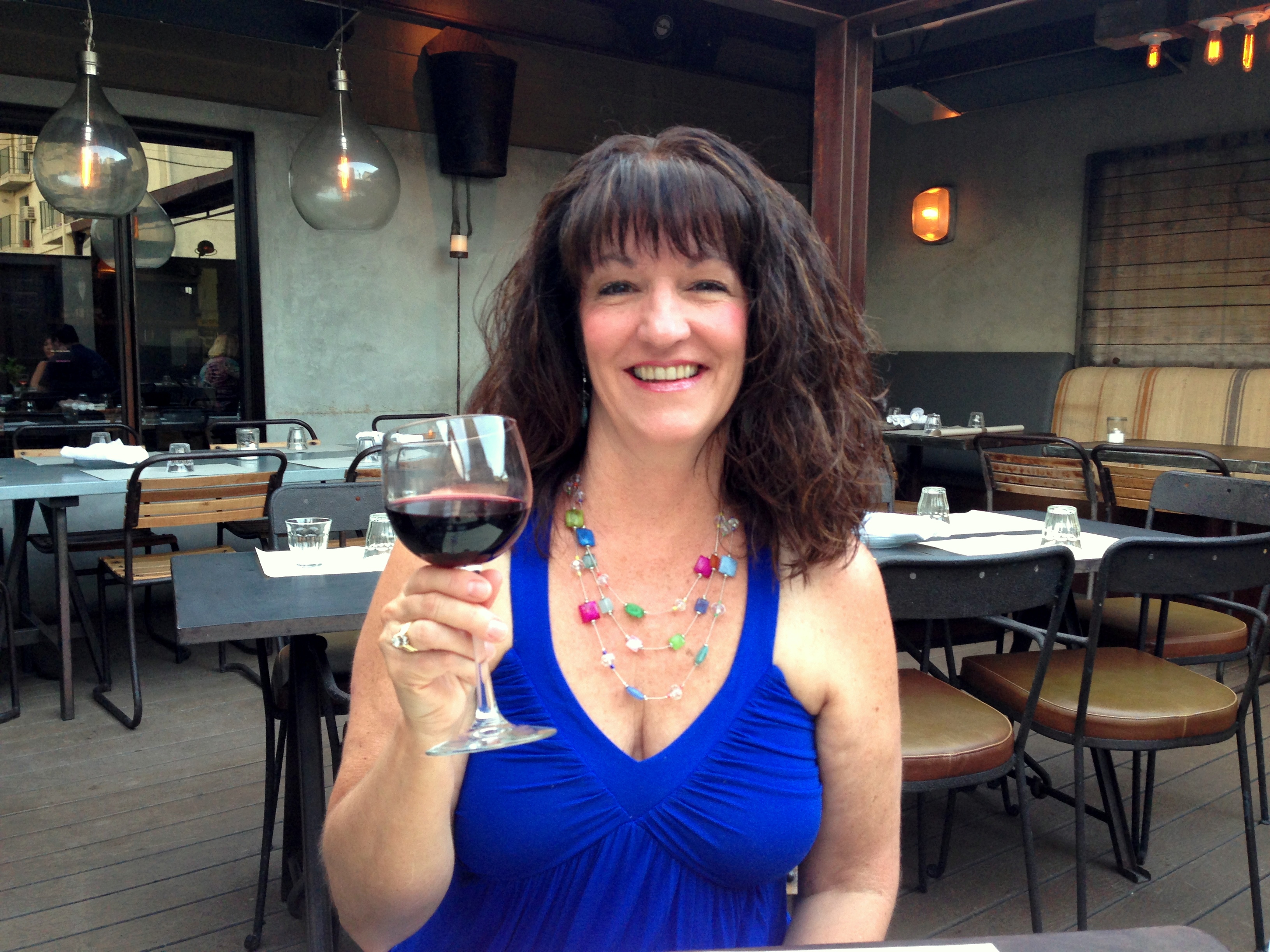 Happy Birthday Honey! Cheers to you! All in all a very happy birthday dinner at 100 Wines Kitchen. They had so many of the essential things that make a restaurant memorable! We'll be back to eat, drink and share on their patio again!