I LOVE FALL! A happy feeling that goes back to childhood comes over me and I've just got to bring some of the beauty indoors. Seasons change and so can your décor. Some very simple ways to bring the colors of fall into your home are fun and affordable. Give your home a look that will capture the warmth and smells of autumn.
Greet your guest with a fall wreath on the front door, a basket of small pumpkins, gourds and Indian corn on the porch or purchase faux pumpkins to make topiary. You can make the outside of your home as welcoming as the inside.
Inside your home the mantle, sofa or buffet tables and the dining room table are wonderful places to display more fall colors. When you are creating a tablescape, always group your decorative items in 3's. There will be more balance to the arrangements.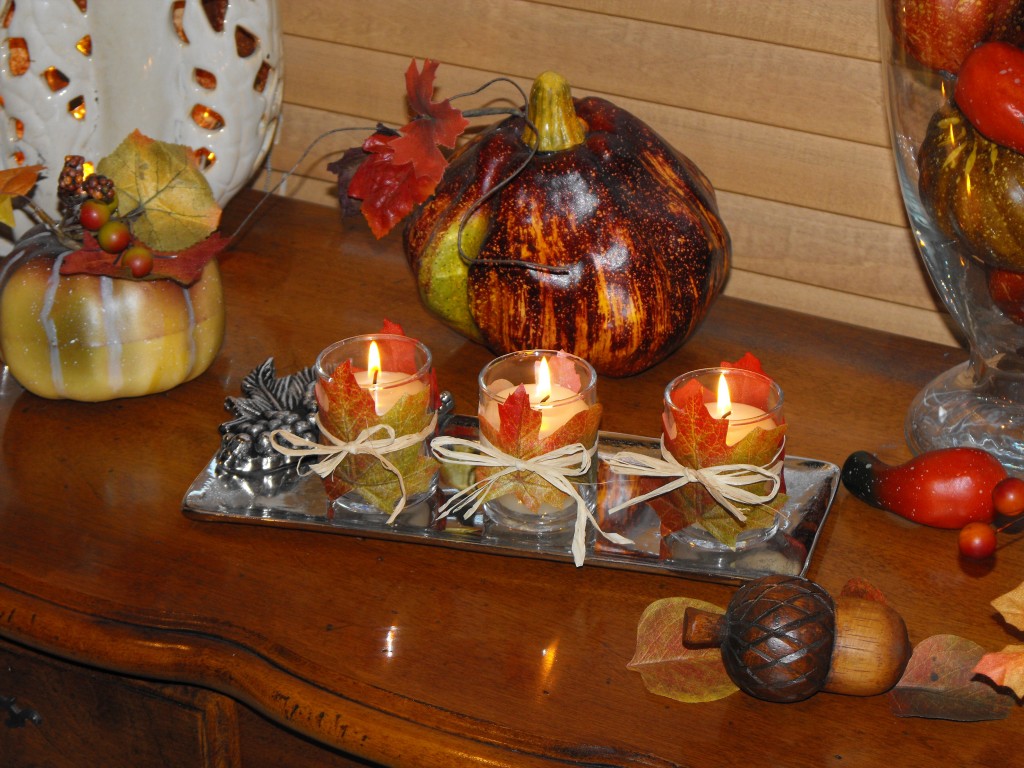 An imaginative way to transform a simple votive candle holder is to purchase a small sprig of fall leaves from your local crafts store such as Michael's. Use the smaller leaves around the outside of the votive. Remove the plastic vein down the back side of the leaf so that you can wrap it around the votive. With a small piece of tape, attach the leaf to the outside. Place 3 leaves around the outside in this manner and then wrap several strands of raffia around to hold them in place and tie raffia in a small bow. Since you are using artificial leaves you can store them for use next fall. This will save time and money and allow you create more decorations each year. You can also use this same technique with larger glass candle holders.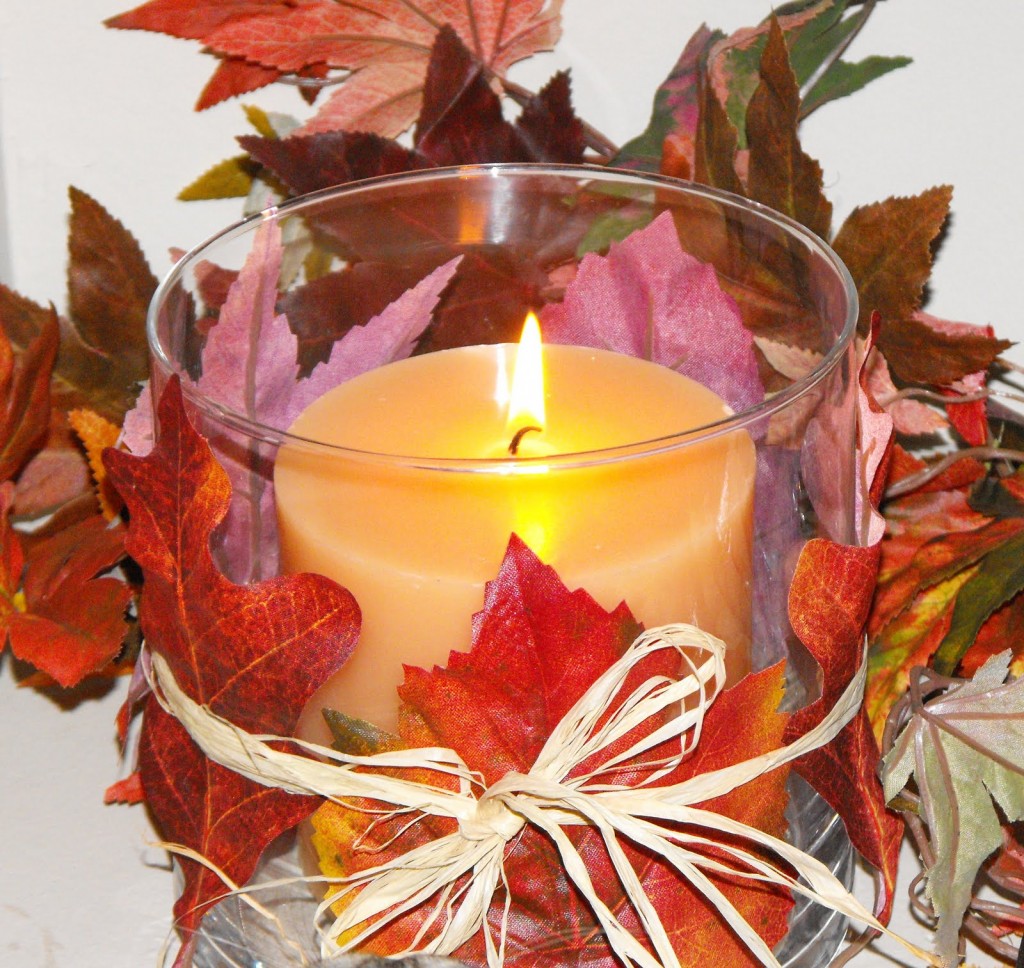 Bring the scents of fall into your home by using candles of spice, pumpkin pie, cranberry-orange and vanilla. If you are placing candles on the dining table then use non-scented candles so that they don't compete with the wonderful smells of your autumn dinners.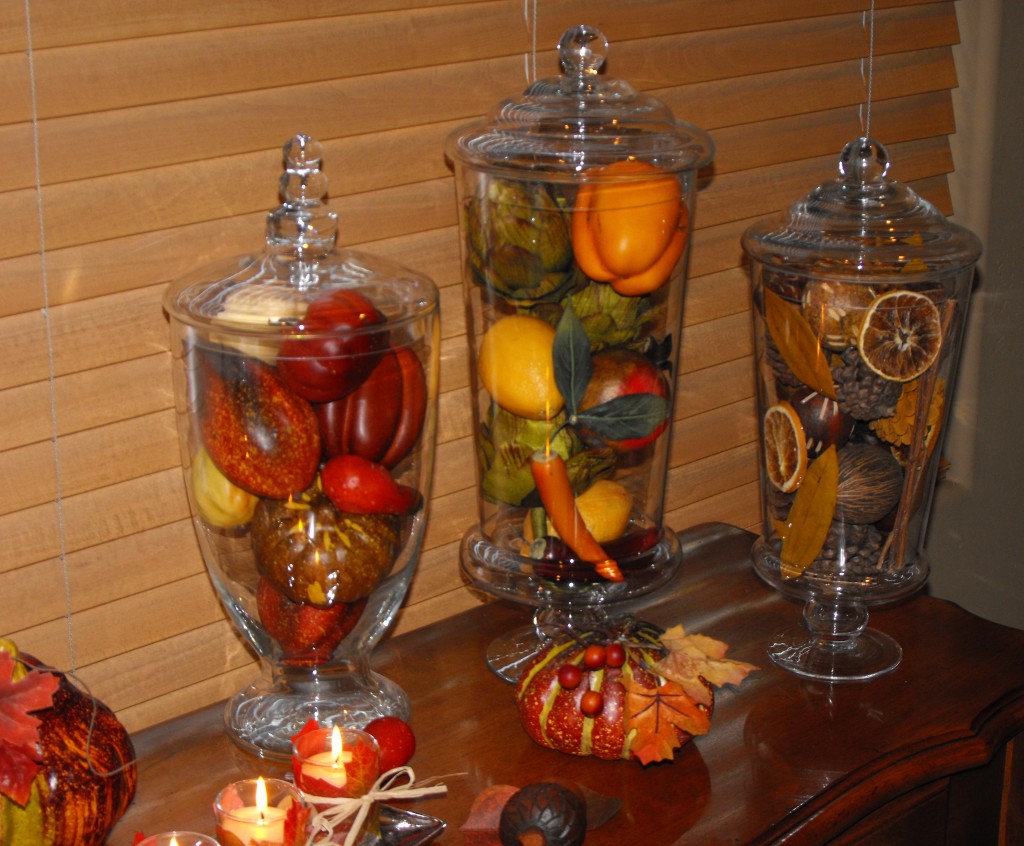 I like to use large glass apothecary jars with lids and fill them with the fruits, vegetables, gourds, nuts and berries of the season. You can purchase artificial edibles that look very life like and last so much longer. One year I used real gourds and in the haste to put away the decorations of fall, I just packed them all up and I moved on to the excitement of decorating for Christmas. I didn't give it another thought…..until I opened up my storage container the next fall and found they had rotted onto all my other decorations. It was sad at first but then I decided how much fun it would be to create new ones!
You can intersperse real gourds and leaves with wooden and acrylic acorns from Pier 1 and warm autumn colored glass beads from Crate and Barrel.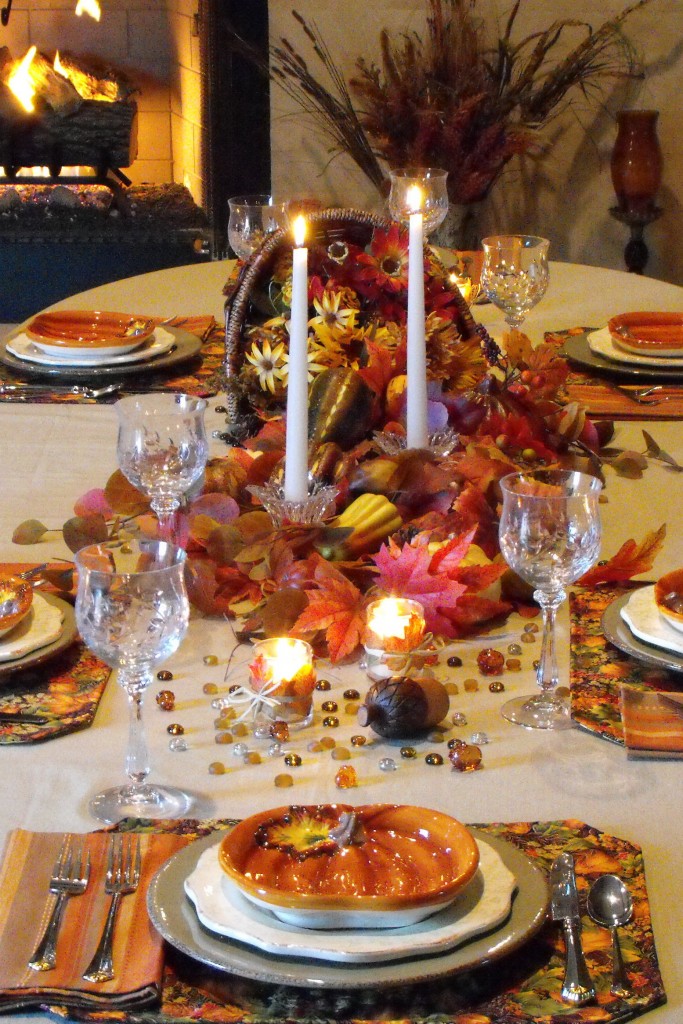 Let your imagination carry you away as you create the beauty of fall in your own home. But for the ultimate smell and comfort of fall, nothing can beat your favorite home-cooked recipes wafting through the house!