The semester is finally over in the Baking and Pastry class and our class project was a big success. As part of our final exam, we split up into 5 groups and drew an item to make from the hat based on the things we had learned during the semester. Our group drew Tarts.
After much discussion and exchange of recipes we decided on Lemon Tart with a cream cheese crust. We would brush the tart shell with bittersweet chocolate and decorate it with Swiss meringue and raspberries. We created garnishes of candied lemon peel and bittersweet chocolate leaves. The swish of raspberry sauce and thanks to the chef for all he had taught us capped it off. Here is how we did it:
Cream Cheese Tart Dough
Ingredients:
8 ounces cream cheese, softened
1 cup butter, softened
2 cup all-purpose flour
¼ tsp salt
2 oz bittersweet chocolate for tart shell
Directions:
Blend cream cheese and butter or margarine. Stir in flour and salt just until blended. Chill about 1 hour. This can be made ahead and chilled for up to 24 hours.
Preheat oven to 350.
Press dough into tart pans. Place back in refrigerator for another 10-15 minutes so that glutens will relax and crust won't shrink. Blind bake for 12 minutes. Remove foil and beans and bake for 3-5 min or until golden.
Cool tarts and then brush with chocolate. Melt the chocolate in a double boiler over medium-low heat. Spread the chocolate evenly on the crust and chill in the refrigerator for at least 15 minutes, until the chocolate has solidified completely.
Fill with lemon curd.
Lemon Curd
Ingredients:
Zest of 3 lemons
4 oz lemon juice
3 ½ oz sugar
3 eggs whole
3 egg yolks
1/8 tsp salt
4 oz butter
Directions:
Whisk together the zest, lemon juice, sugar, whole eggs and yolks in a double boiler. Cook over medium heat, stirring continuously, alternating between a whisk and rubber spatula, until the lemon curd has thickened to the consistency of pastry cream and coats the back of the spatula.
Remove the lemon curd from the heat. Add the butter a little at a time, stirring to incorporate completely. Add salt. Let the curd cool about 8 minutes, and then strain it into the prepared tart shell.
Chill the tart in the refrigerator.
While lemon curd and tart dough is chilling make the candied lemon zest, raspberry sauce and chocolate leaves.
Candied Lemon Zests
Ingredients:
2 lemons, scrubbed
2 cups sugar
2 cups water
Directions:
Using a zester, peel zest from lemons. Use a knife to remove any white pith since it is bitter.
Bring 2 cups water to a boil in a medium saucepan. Add zest; blanch for 1 minute, drain, and rinse under cold water.
In another medium saucepan, combine sugar and 2 cups water; bring to a simmer. Cook until sugar dissolves completely, about 2 minutes. Add lemon zest.
Simmer until translucent, about 30 minutes. Remove from heat; let zest cool in syrup. Remove strips from the pan and spread out on a sheet of wax paper. Separate the strips on the wax paper so they are not in clumps.
Zest can be stored in refrigerator up to 1 month.
The candied zest can be taken out of the simple syrup and used as a glossy garnish. For sparkly zest, roll in granulated sugar.
Chocolate Leaves
Ingredients:
3 ounces bittersweet chocolate (do not exceed 61% cacao), chopped
10 fresh camellia leaves, lime or lemon leaves, wiped clean with damp cloth
Directions:
Stir chocolate in small saucepan over low heat until melted and smooth. Remove from heat. Using very small pastry brush, brush chocolate on underside (veined side) of 1 leaf to coat completely (do not allow chocolate to drip over edge of leaf).
Place leaf, chocolate side up, on small parchment lined baking sheet. Repeat with remaining leaves. Chill, uncovered, for 15 minutes and repeat with another layer of chocolate. Chill, uncovered until chocolate coating is cold and firm, at least 1 hour. Make sure your hands are cool to cold (run hands under ice water if necessary so that your fingers don't melt the chocolate).
Working with 1 leaf at a time, carefully peel green leaf away from chocolate. Return chocolate leaf to same sheet; discard green leaf. DO AHEAD Can be made 3 days ahead. Cover with plastic wrap and chill.
Raspberry Sauce
Ingredients:
8 oz frozen raspberries, thawed
2 oz sugar
Tiny pinch of salt
1 tsp lemon juice
Cook over low heat. Bring to a boil for 3 minutes. Puree and strain into a squeeze bottle. Chill.
Apricot Glaze:
Apricot preserves
Water
Dilute apricot preserves with enough water to make a glaze. Gently warm glaze so that it is thin enough to brush on raspberries. If glaze thickens and it hard to brush on raspberries, rewarm it and it will thin out.
Swiss Meringue
Ingredients:
3 ½ oz sugar
2 ½ oz egg whites
1 ½ tbs water
½ tsp vanilla
1/8 tsp salt
Directions:
In a bowl of the stand mixer, lightly whisk the egg whites, sugar, and salt together, then set the bowl over the hot water. Whisk constantly until the egg-white mixture is hot to the touch and an instant read thermometer reads 160F. It will take 2 to 4 minutes.
Place the bowl with the egg whites on the stand mixer base and whip with a wire attachment on medium-high speed until double in volume and cool.
Add vanilla and salt when soft peaks form. The meringue should not move around in the bowl when you are finished. It takes about 6 to 8 minutes.
Transfer the meringue into a pastry bag fitted with a large star (or plain) tip and pipe kisses around the edge of the tart shell over the lemon curd layer leaving the center open for the raspberries. Blow-torch the meringue.
Place the raspberries in the center of the tart and brush with apricot glaze. Sprinkle with the candied lemon zest and place a couple chocolate leaves between meringue kisses and raspberries.
Plating:
Place lemon tart on the left end of a rectangle plate. Swipe the raspberry sauce away from the tart toward the upper right corner of the plate. Pipe 3 meringue kisses in the upper corner at the end of the raspberry swipe and blow torch them. Decorate the upper corner and the tart with chocolates leaves.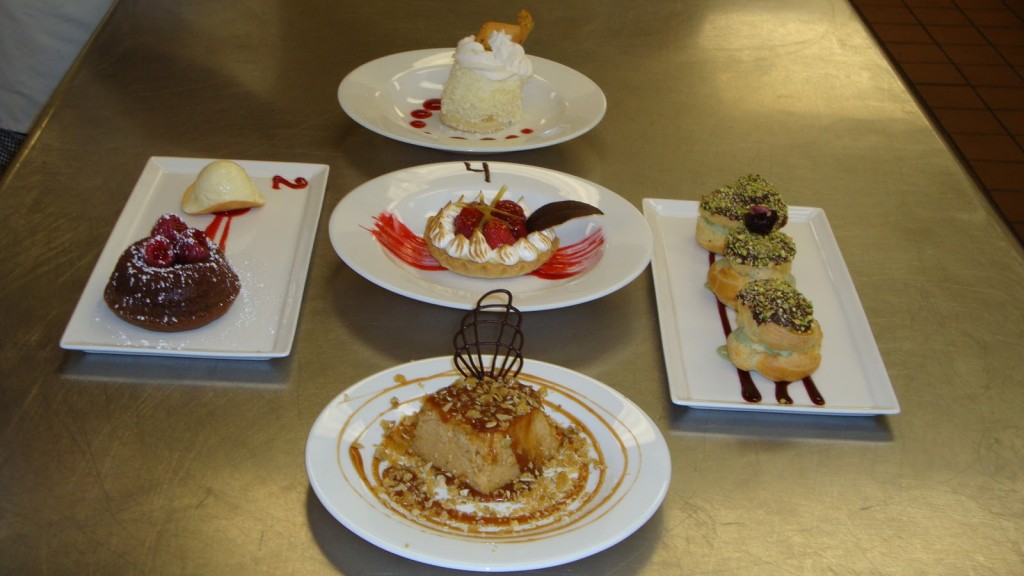 Not only did our group make a wonderful dessert but the entire class's projects turned out beautifully. The chef said they were pretty much restaurant quality and this was one of the best classes he had taught. This is a tribute to us and Chef James and his skill and talent as an Executive Pastry Chef and teacher!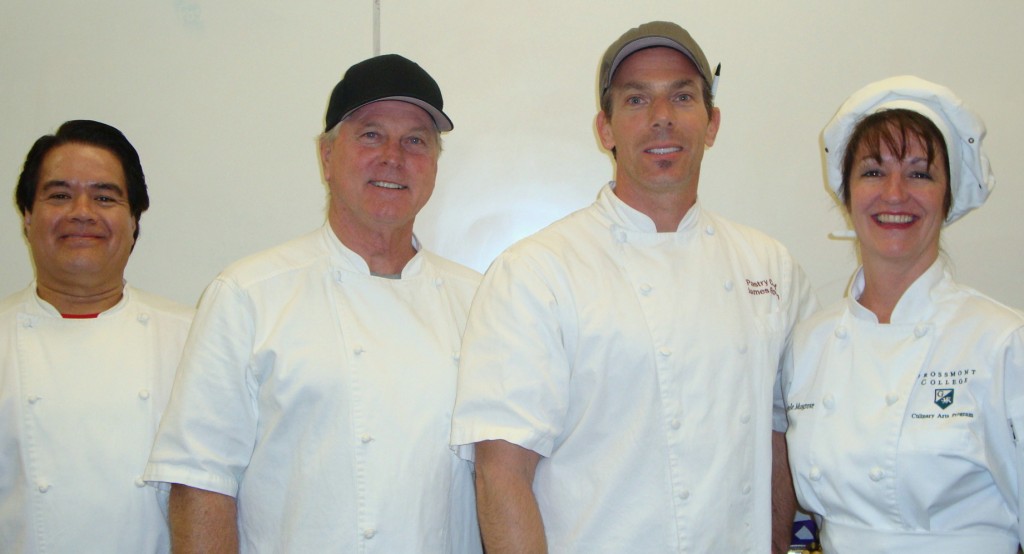 Zach, Greg, Chef James and Me