Salmon-licious! This was the hit of Christmas dinner! Not that everything else wasn't fabulous, but the salmon was rubbed and grilled to perfection thanks to Brett and Kelly.
My sister-in-law, Kelly, asked if I had a salmon recipe and I remembered this crowd pleaser from several years back. Even if you have a few people that think they don't care for salmon "because it is too fishy", this could change their minds about salmon forever!
The spice rub gives a little warmth and the glaze a little sweetness to create an amazing flavor that will surprise even your most adamant fish loathers. Kelly loved it so much that she posted the recipe on the board at work to share with friends and the recipe disappeared…..just like your salmon will!
Grilled Salmon with East-West Spice Rub and Orange-Soy Glaze
Courtesy of Cooking Light Sept 1999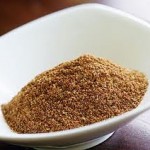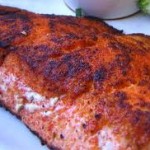 Salmon with East-West Spice Rub and Orange-Soy Glaze
2014-04-24 09:10:50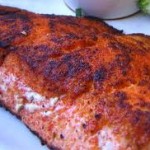 Serves 8
Nutrition Facts
Amount Per Serving
Calories 376
Calories from Fat 116
Trans Fat 0g
Polyunsaturated Fat 3g
Monounsaturated Fat 3g
Total Carbohydrates 19g
6%
Sugars 15g
Protein 45g
* Percent Daily Values are based on a 2,000 calorie diet. Your Daily Values may be higher or lower depending on your calorie needs.
Spice mixture
1 tablespoon sugar
1 1/2 teaspoons five-spice powder
1 1/2 teaspoons ground coriander
1 1/2 teaspoons black pepper
1/2 teaspoon salt
Glaze
3 (3 x 1/2-inch) orange rind strips
1/2 cup fresh orange juice (about 1 orange)
1/2 cup low-sodium soy sauce
1/3 cup honey
2 tablespoons minced green onions
1 tablespoon minced peeled fresh ginger
1 1/2 teaspoons dark sesame oil
4 garlic cloves, minced
1 (3-inch) cinnamon stick
Remaining ingredients
8 (6-ounce) salmon fillets (about 2 inches thick)
Cooking spray
1/4 cup thinly sliced green onions
1 tablespoon sesame seeds, toasted
Preparation
To prepare spice mixture, combine first 5 ingredients in a small bowl. To prepare glaze, combine rind and next 8 ingredients (rind through cinnamon) in a saucepan. Bring to a boil. Reduce heat, and simmer 10 minutes. Strain through a sieve; discard solids.
Prepare grill. Rub the fillets with spice mixture. Cover; refrigerate 10 minutes.
Place, skin sides down, on a grill rack coated with cooking spray. Grill 16 minutes, covered, or until fish flakes easily when tested with a fork, basting occasionally with glaze. Remove skin; discard.
Arrange fillets on a platter; sprinkle with sliced onions and sesame seeds.
Notes
A fast and delicious way to amp up the flavor of fresh grilled salmon!
Life of the Party Always! http://lifeofthepartyalways.com/