What's not to love about hanging out at Williams Sonoma? Everything is so shiny and colorful and the place just smells great all the time! I decided I really needed a little bonding time in the kitchen with fellow foodies and trotted myself over to Williams Sonoma for a technique class last Sunday morning. We were going to get "Inspiralzed" and that had to be good, right?
Everyone was gathered outside, waiting for the doors to open and the spiralizing to begin. It felt like a door buster at the holidays! We all bellied up to the demo kitchen, jockeying for position. No one wanted to miss a single helpful tip.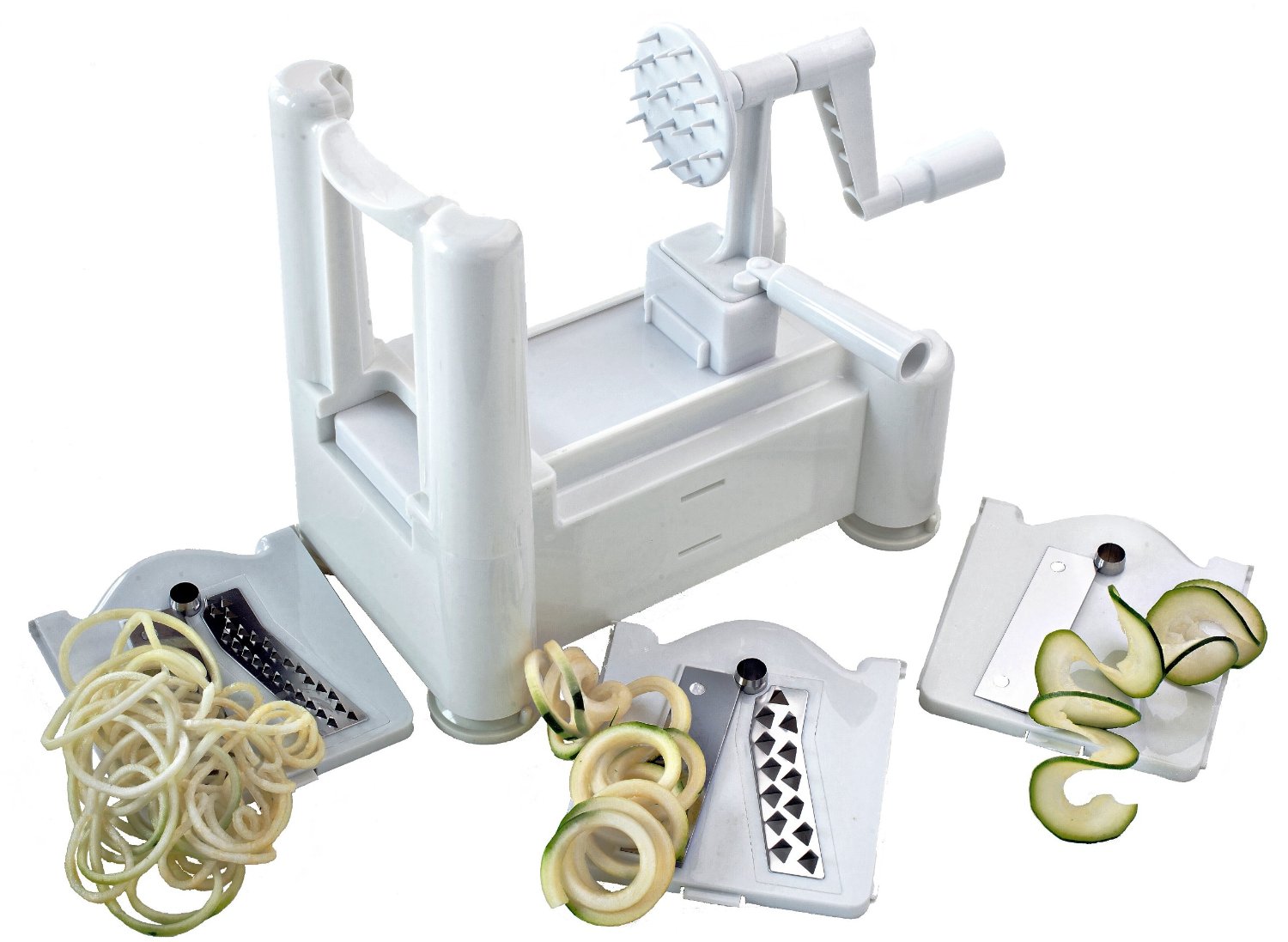 What the heck is spiralizing, you ask? It's pretty simple really. With this lovely machine, the Paderno Spiral Vegetable Slicer, you can turn vegetables into wonderful shapes like spiral cuts, shoestrings and vegetable "noodles" that no amount of killer knife skills could ever produce. The cuts are so thin and exact. I will never slice an onion for a hamburger again without this little gem! Super thin, no tears and perfect for a hint of onion flavor so you can even have it on date night.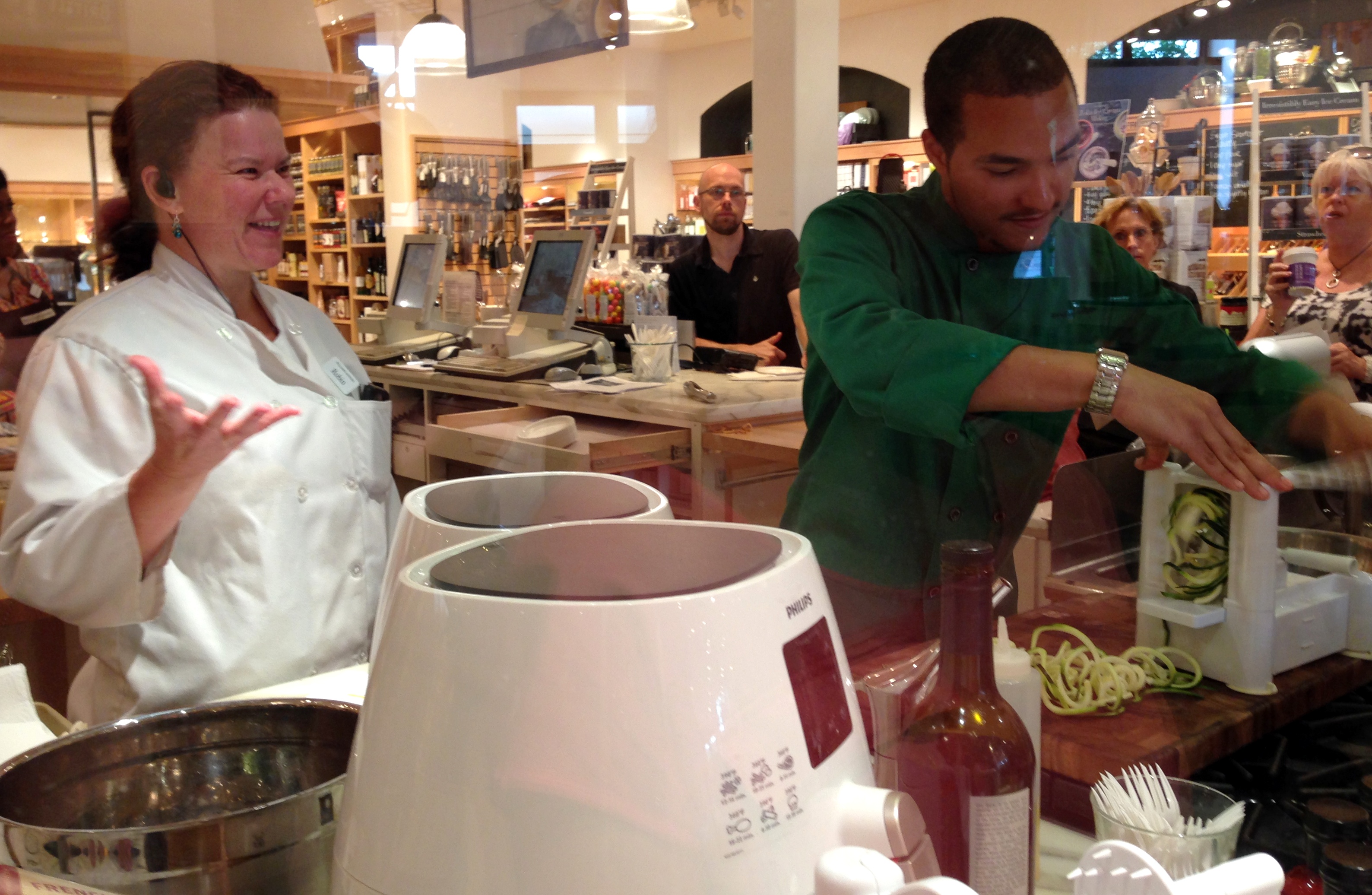 Let the class begin! Robin and Derrick start to spiralize a zucchini, which I understand is the best vegetable to start with. This catches my interest because they are suggesting we use this zucchini "noodle" instead of pasta. I know this is completely outrageous to any Italian! But to anyone suffering from gluten intolerance, to any degree, this is a blessing!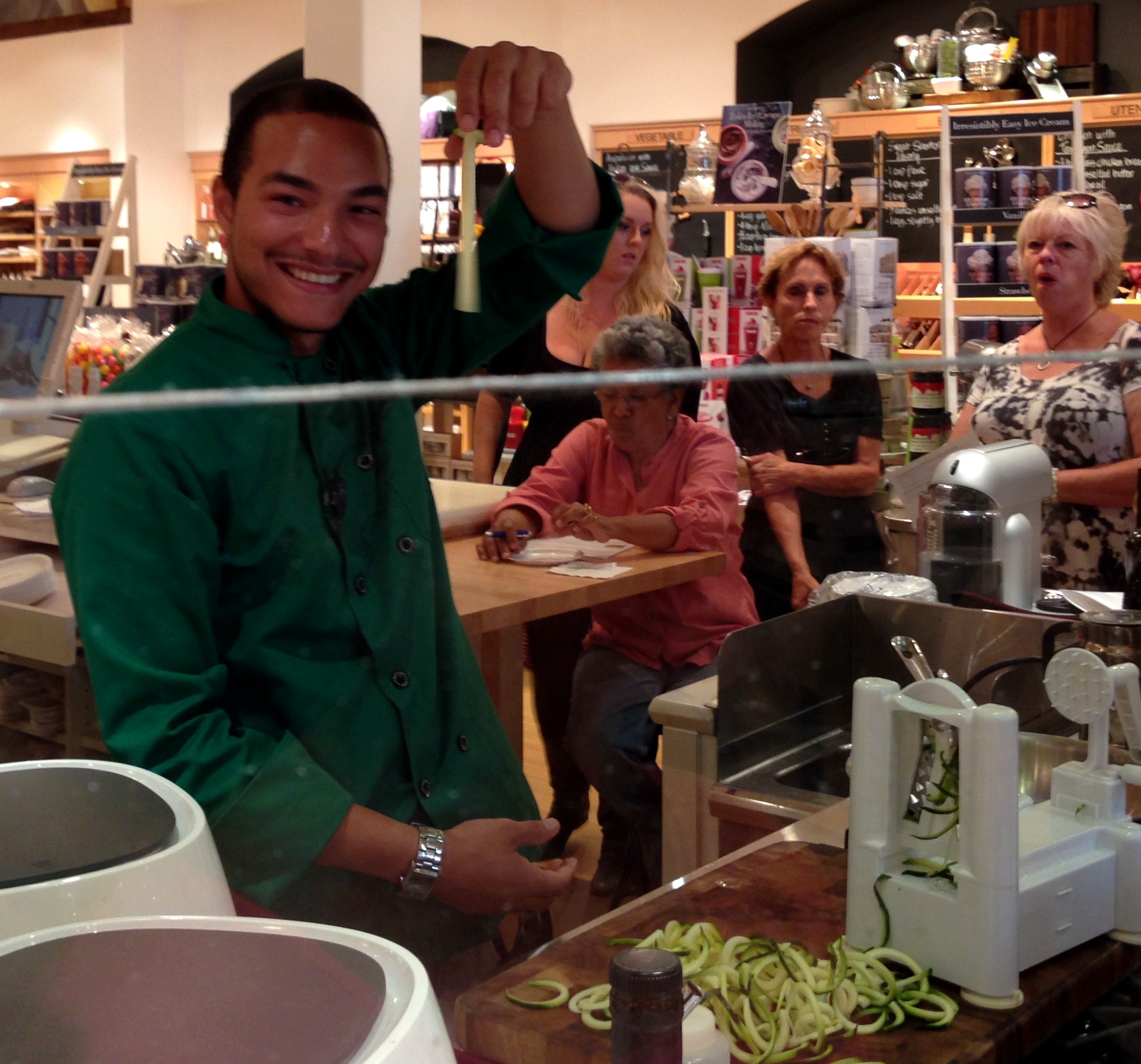 After you have created a pile of zucchini noodles you are left with a thin core, which Derrick happily shows us. We can all probably get interested in making fun shapes for salads and stir-fries but the whole idea of replacing vegetable noodles for pasta noodles could take a little getting used to.
Here is a great tidbit which just might have you giving this notion some further consideration. One medium zucchini vs one cup of pasta yields a difference of 190 calories and 36 carbohydrates less. WOW! Have I got your attention now? How often do you only have one cup of pasta in an entree so the numbers get even more dramatic!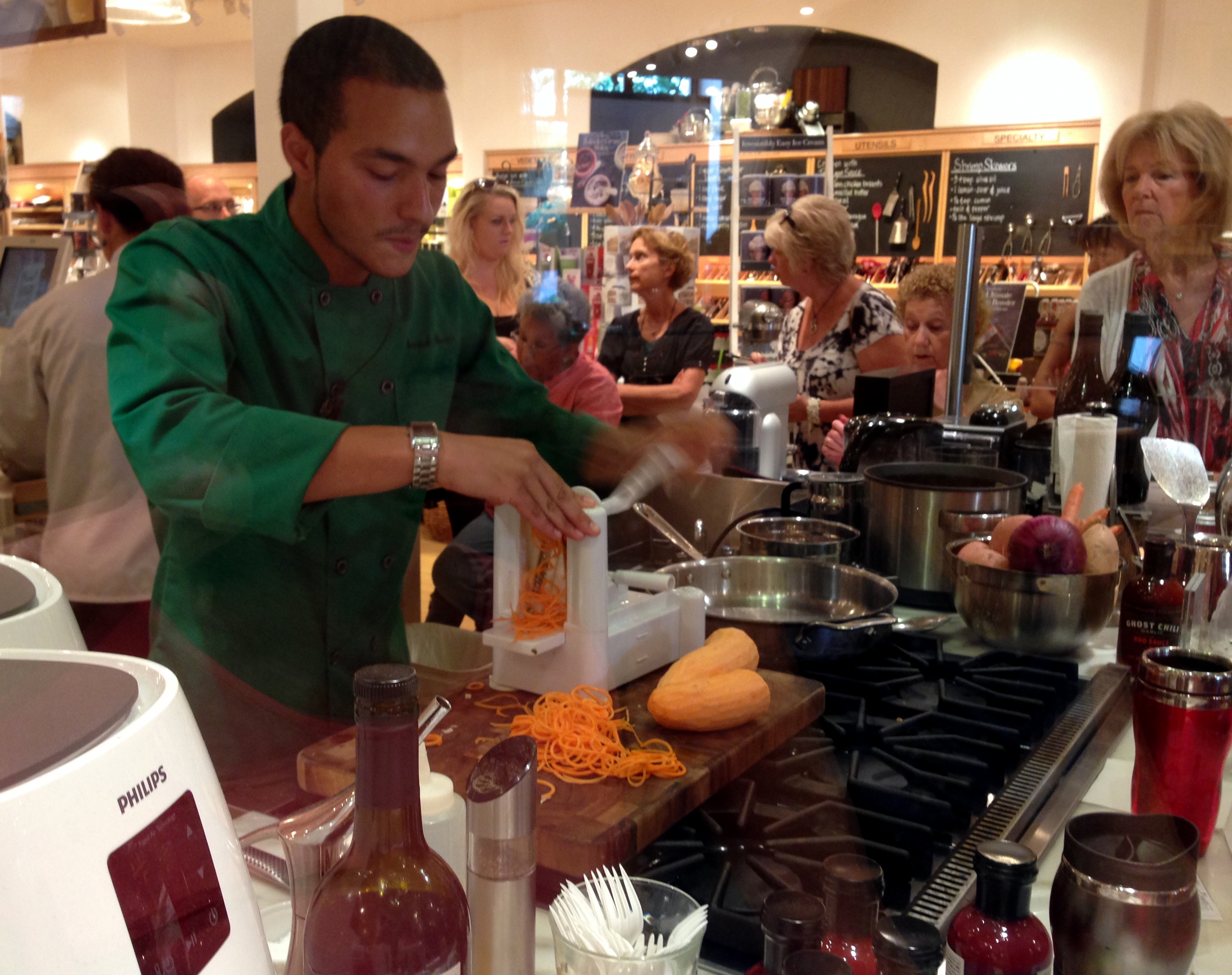 Today they demo'ed and we tasted a couple recipes from Ali Maffucci, a blogger at Inspiralized.com. Ali's entire blog is about spiralizing all kinds of vegetables with great tutorials and recipes. Yes, Ali is Italian American and she has transformed the traditional Italian food she grew up with into healthy Italian options. It's not all Italian but it all looks really good.
The Shaved Asparagus and Sausage Sweet Potato Noodles were spicy, crunchy and very flavorful. I really enjoyed them and am going to make them at home!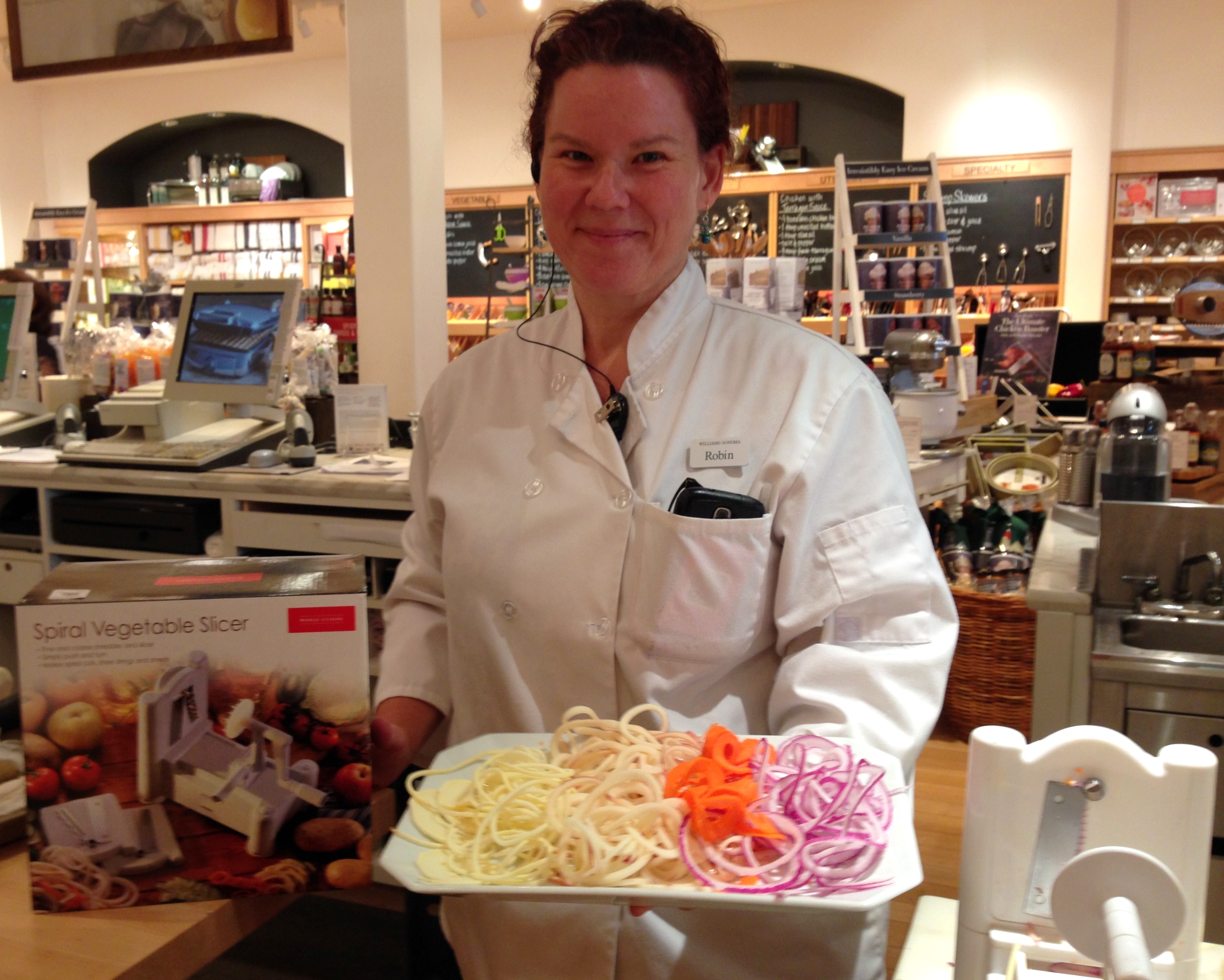 You can spiralize just about anything as long as you can get a flat side, it doesn't have a pit, is at least 1.5″ wide and 2.5″ long. Think firm veggies. Nothing squishy like a tomato. Remember it's fun to play with your food!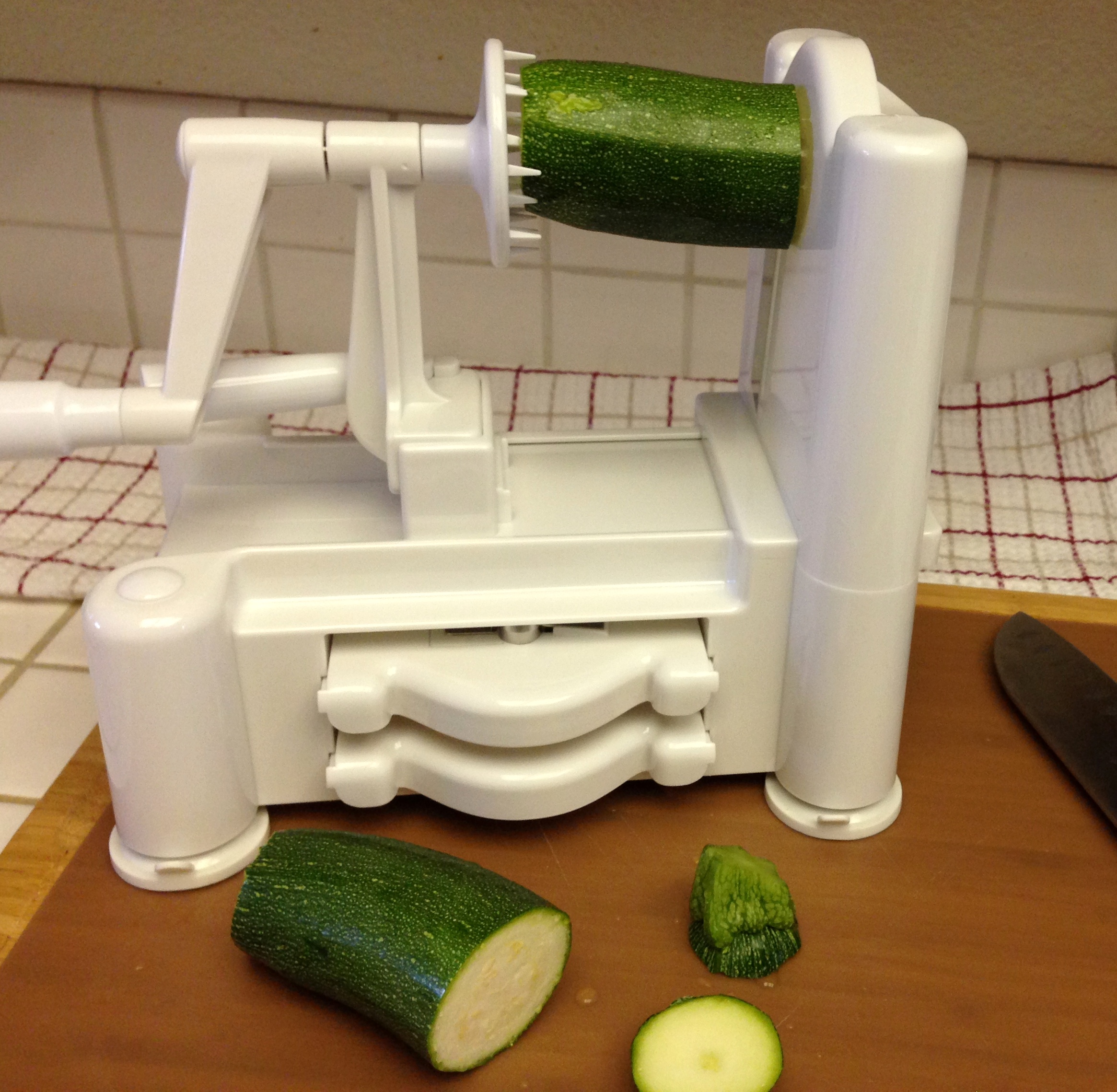 I am going to take the advice of the experts and start with a zucchini. Follow along on my 1st spiralizing adventure. I whipped this salad together last summer and took it to a concert in the park picnic. The salad has a fresh, clean, lemony flavor and is a wonderful balance to spicy or heavier flavored foods. I used a vegetable peeler for shaved ribbons or you can use a mandolin but this spiral cut is going to give the salad a wonderful crunch. If you don't have a spiral vegetable slicer, I highly recommend that you get one. The possibilities for fun, colorful, healthy food is limitless!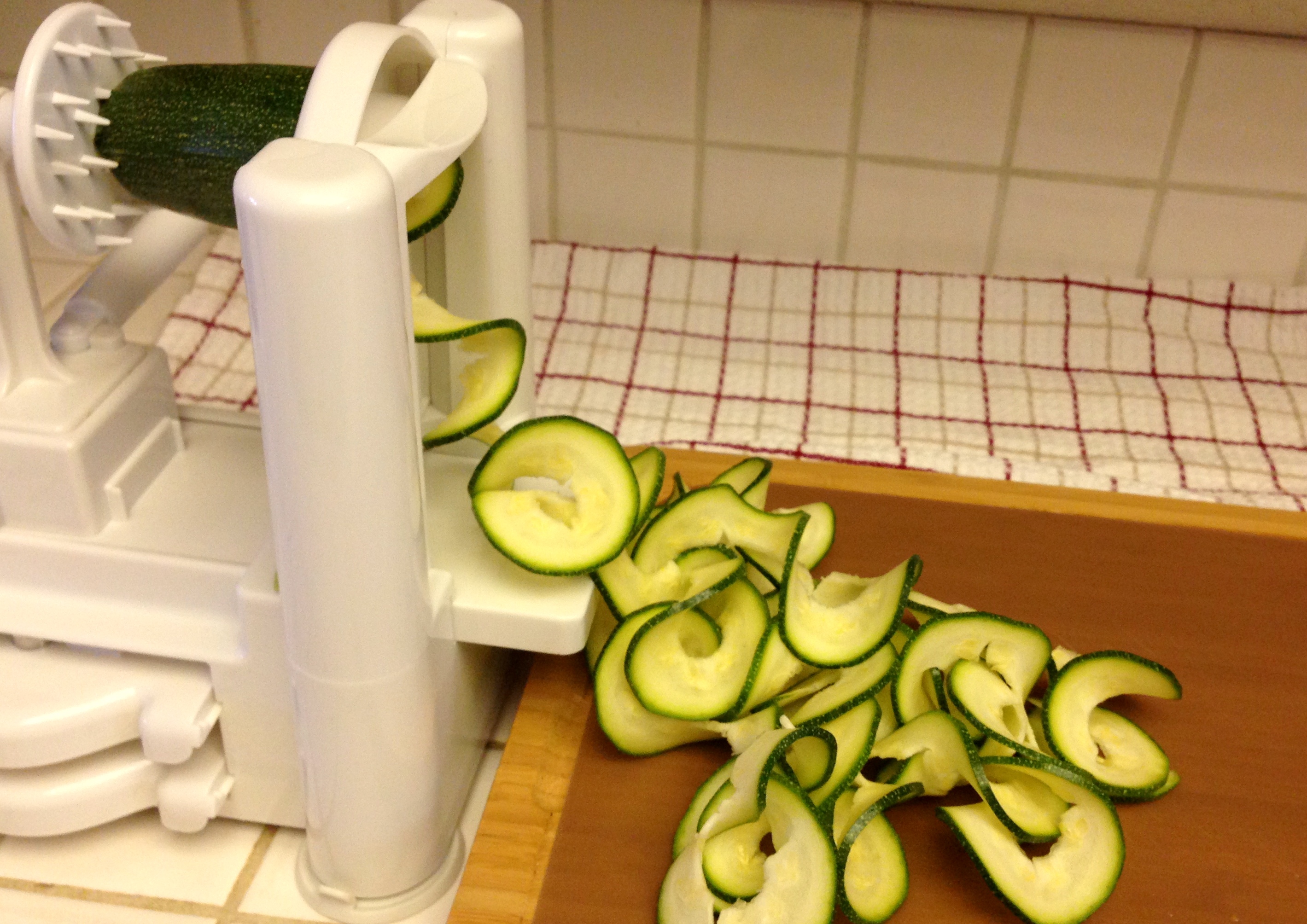 It's important to have a flat surface on the face of the zucchini to start with otherwise the zucchini just spins around and can't connect with the blades. Line it up and crank away! The curls flow out the other side like magic!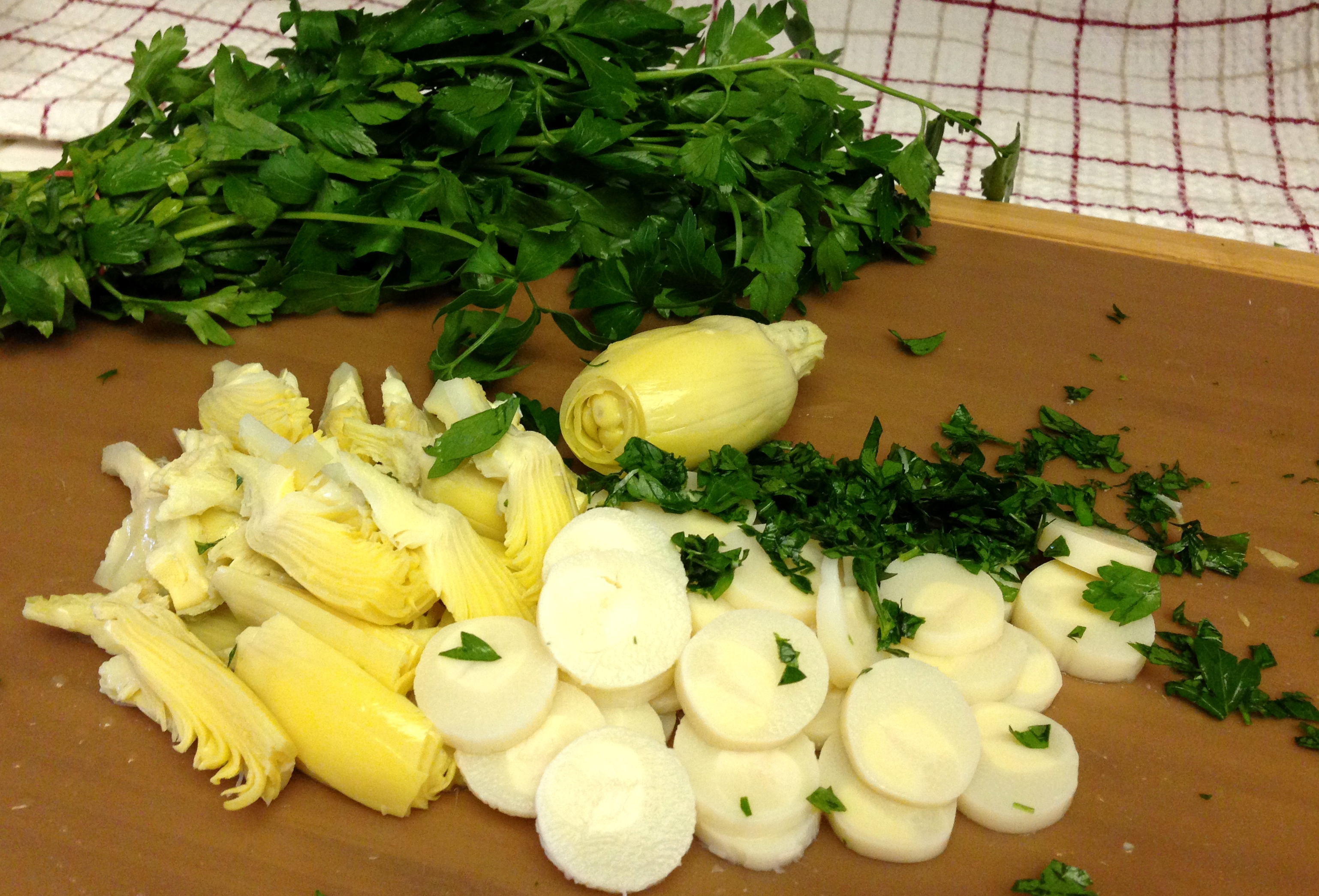 Once the zucchini is spiralized, cut up the artichoke hearts, hearts of palm and the Italian parsley. Toss them all in a bowl with the zucchini.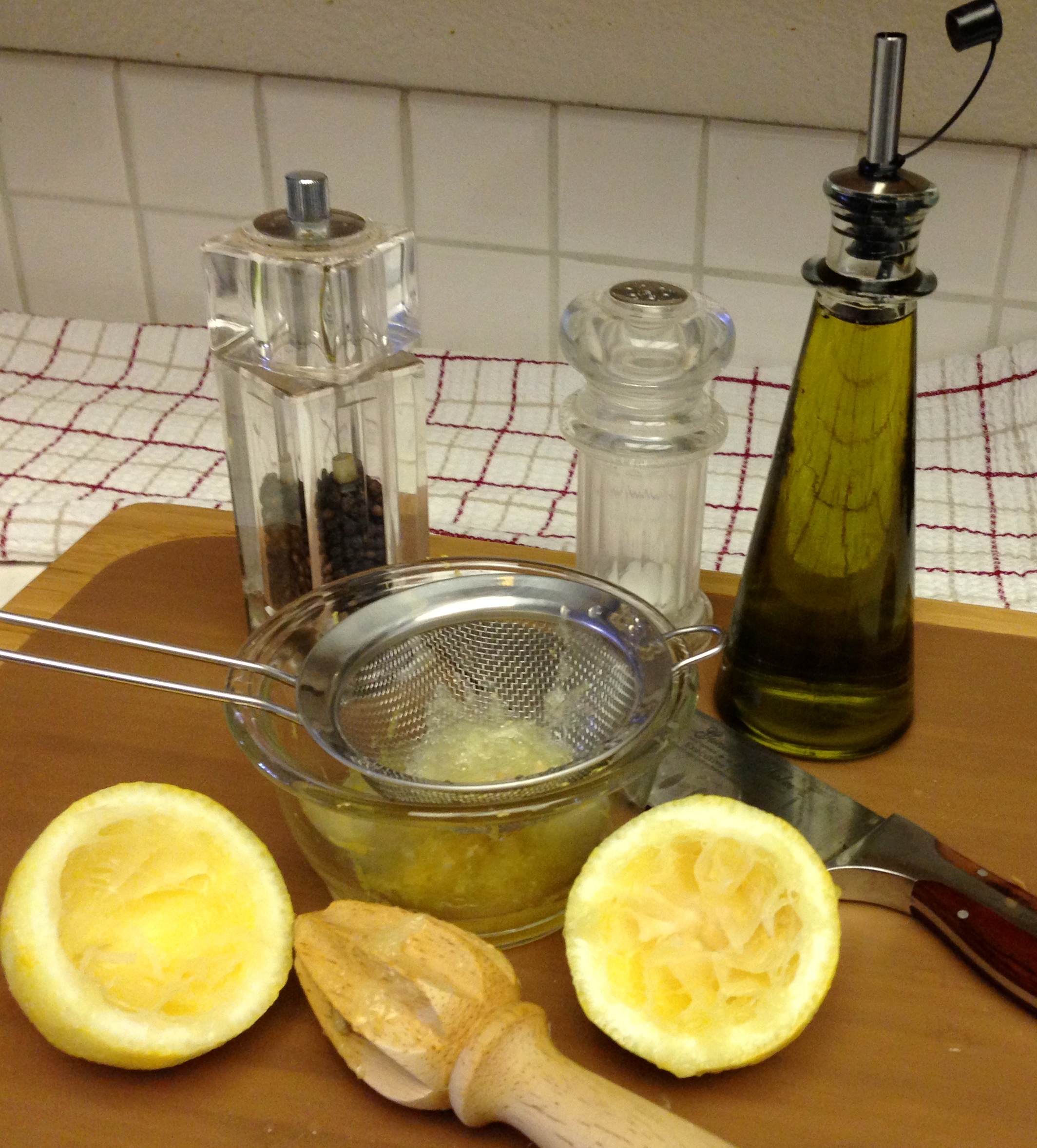 The dressing is a simple lemon vinaigrette. It will taste tart on it's own but when combined with the vegetables it brings out the freshness and let's the vegetables fresh, crisp flavors shine through.
Lightly toss the dressing with the vegetables and you are ready to serve. Check out the Paderno Spiral Vegetable Slicer. You'll love it!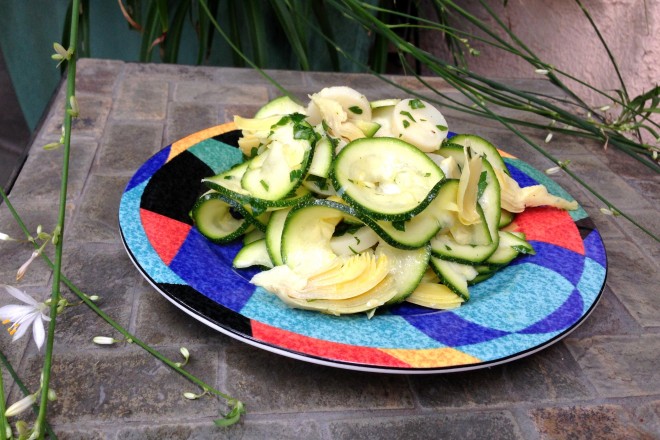 Zucchini, Artichoke Heart and Hearts of Palm Salad
2014-07-20 17:50:48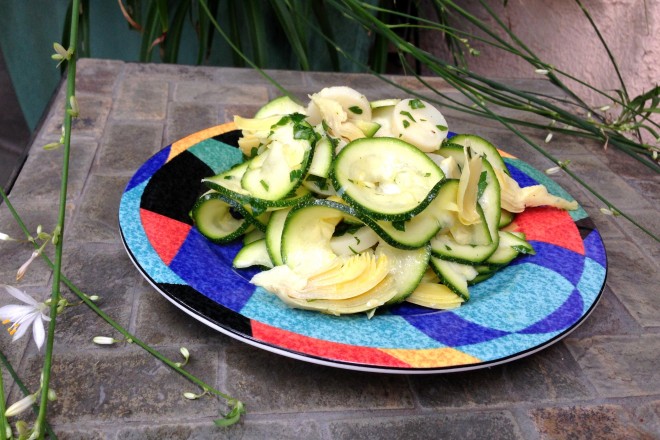 Serves 4
Nutrition Facts
Amount Per Serving
Calories 132
Calories from Fat 94
Trans Fat 0g
Polyunsaturated Fat 1g
Monounsaturated Fat 7g
Total Carbohydrates 9g
3%
Sugars 3g
Protein 3g
* Percent Daily Values are based on a 2,000 calorie diet. Your Daily Values may be higher or lower depending on your calorie needs.
Ingredients
2 medium zucchini, 1.5" wide minimum
1 can artichoke hearts, in water not oil
1 jar hearts of palm, cut into rings
1 1/2 tablespoons Italian parsley, chopped
1 lemon, zest and juice of
3 tablespoons olive oil
salt and pepper
Instructions
Spiralize the zucchini and place in a medium bowl.
Cut the artichoke hearts into quarters and half each quarter. Makes 8 pieces from each heart. Add to bowl.
Cut the hearts of palm into rings. Add to bowl.
Chop the parsley. Add to bowl.
Zest and juice the lemon into a small bowl or a jar with a lid. Add the olive oil, salt and pepper to taste and shake to emulsify.
Lightly dress the salad with the lemon vinaigrette. You may have extra dressing left over so don't over dress the salad. Chill until ready to serve.
Life of the Party Always! http://lifeofthepartyalways.com/