My husband likes to tease me by saying I have only 2 speeds….full speed ahead and crash! So for those of you who know me well, this should come as no surprise that I have packed more into the last 3 weeks than is clearly healthy or sane! But was it a blast? You bet! Now it is time to relax and replenish and to me that means a lovely cup of tea and a few hours with Julia Child and Julie Powell, via the movie Julie and Julia.
I take you back 3 weeks ago when David and I were planning and packing up for our 1st RV camping trip with friends. Our biggest goal, and much loved and talked about fantasy, is to travel across this beautiful country of ours in an RV; sharing our adventures with me cooking my way through every state. As they say, the journey of a thousand miles begins with a single step, or something like that. So we rented an RV and laid the foundation for our future travels.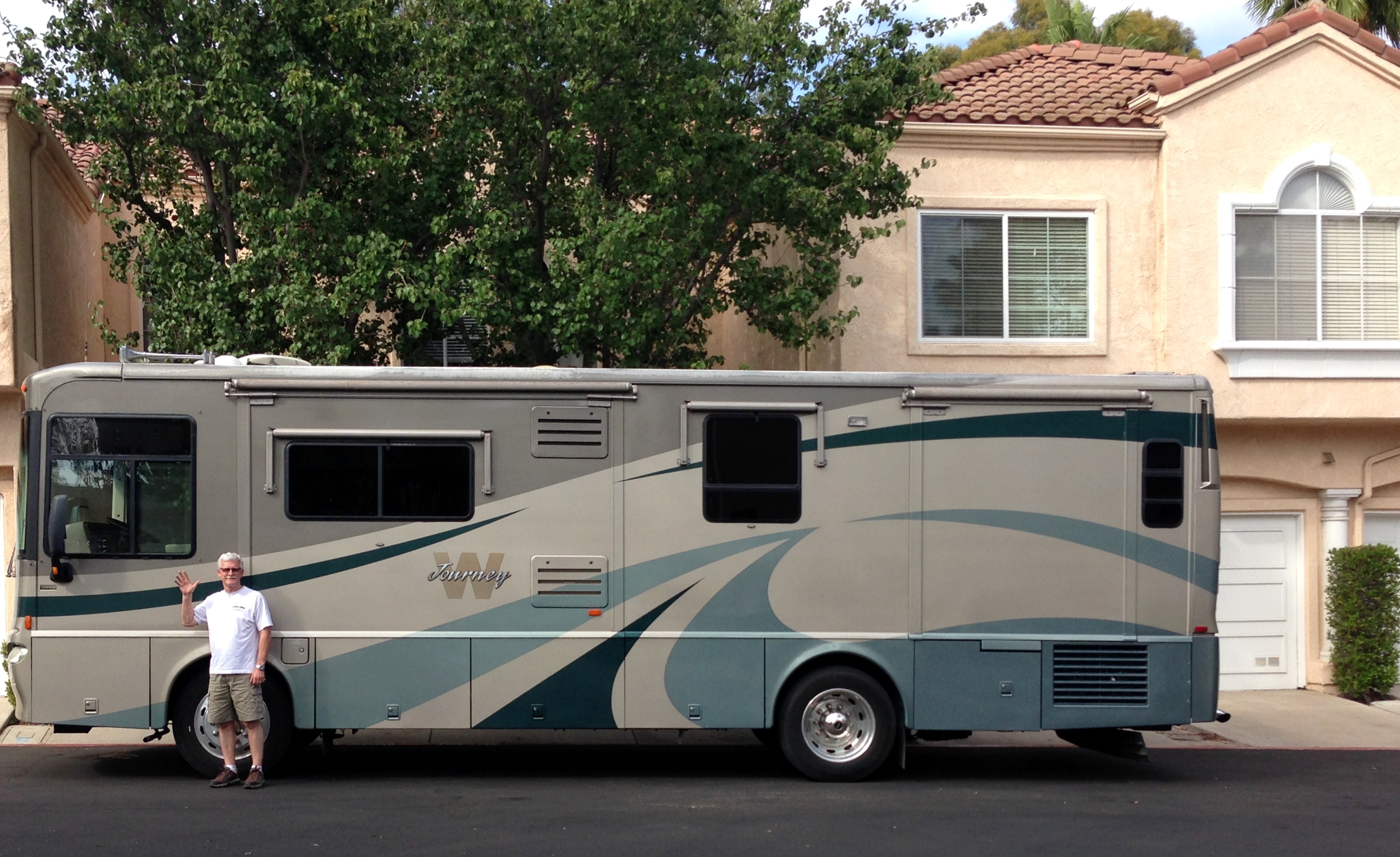 Now our trip started to take on what I can only call my special spin on life – everything happening at once! But at the time, in my mind, it all seemed totally doable! The RV trip just happened to coincide with my 40th high school reunion. This was a big deal! Everyone was coming including my dear friend Robin from Rhode Island and Debbie from Sacramento! But I had to go on the RV trip too!
I convinced my husband we could split the trip up. We'd do a shorter RV trip than the rest of our friends, I'd rush back home, do a back flip, repack and catch a train to head north for the reunion. Then when I got back, I'd whip together the food for my friend Heidi's 50th birthday party for 50 people! Sounds good, right? As Bette Davis would say, "Fasten your seat belts, it's going to be a bumpy night (ride)."
So, back to the RV trip – we are so excited! It's 4 AM, the RV is loaded and we are heading out! My cell phone rings and little do we know, this is the beginning of "Mr. Toads Wild Ride" (think Disneyland!) We are set to meet up with Steve, our fearless leader, to begin our caravan, but one of his tires has come off the rim. Where do you get a new tire for the inside wheel of a "dualie" (dual wheels on each side of a rear axle) at 4 AM? He suggests we try and catch up with another part of our group while he works on getting his tire fixed. We tear off up the 15 N in hot pursuit of the next group, already ahead of us!
We are back on our way and I realize I am getting a bit peckish, so I think a little nibble of cheese will tide me over. I stroll back to the refrigerator, while we're still underway mind you, and open the frig door. Yes, I have lost my mind! Everything comes flying out at me and I end up with a smorgasbord on the RV floor! At my exclamation, David tells me to turn on a light so I can see to clean things up, but this is not my RV, it is still dark, so where are the lights?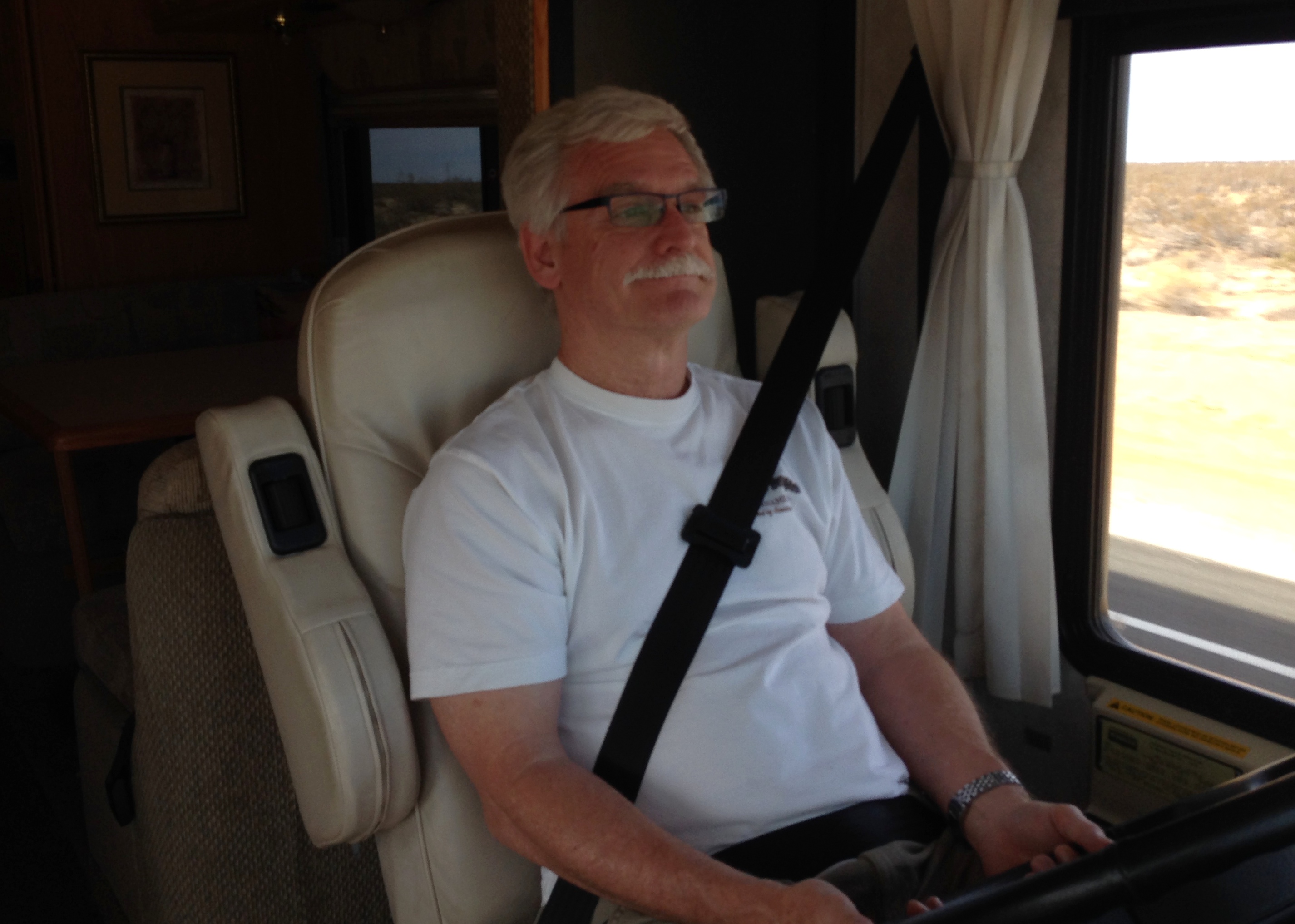 After the Ringling Brothers juggling act, cleaning while being continually jolted from side to side, the circus is back in control and cruising down the road again.
It is so beautiful to see the dawn through the massive window of the RV. Life is good! Now it's 9 AM and we are making great time, closing the distance between our friends and us, when we get a call saying Scott and Connie have just had a tire blow out and are getting a CHP (California Highway Patrol) escort to a tire store in the little town of Ridgecrest, along highway 395. Are all the wheels falling off the RV wagons? Not fun (for them), but rather dramatic and it gives us a chance to catch up!
Eventually we do all meet up in Bishop – the whole thundering herd of us. Even Steve has the tire back on his RV and has caught up with us. Not because we are poking along, but because we have all arrived at varying intervals at the local Carl's Jr. for lunch, only to find out the 395 is closed for a HazMat spill ahead of us, blocking our way forward!
The reports from the CHP and people having already passed through the zone of destruction heading south are saying the road will be clear in 2-4 hours or 1-2 days….so hard to tell at this point!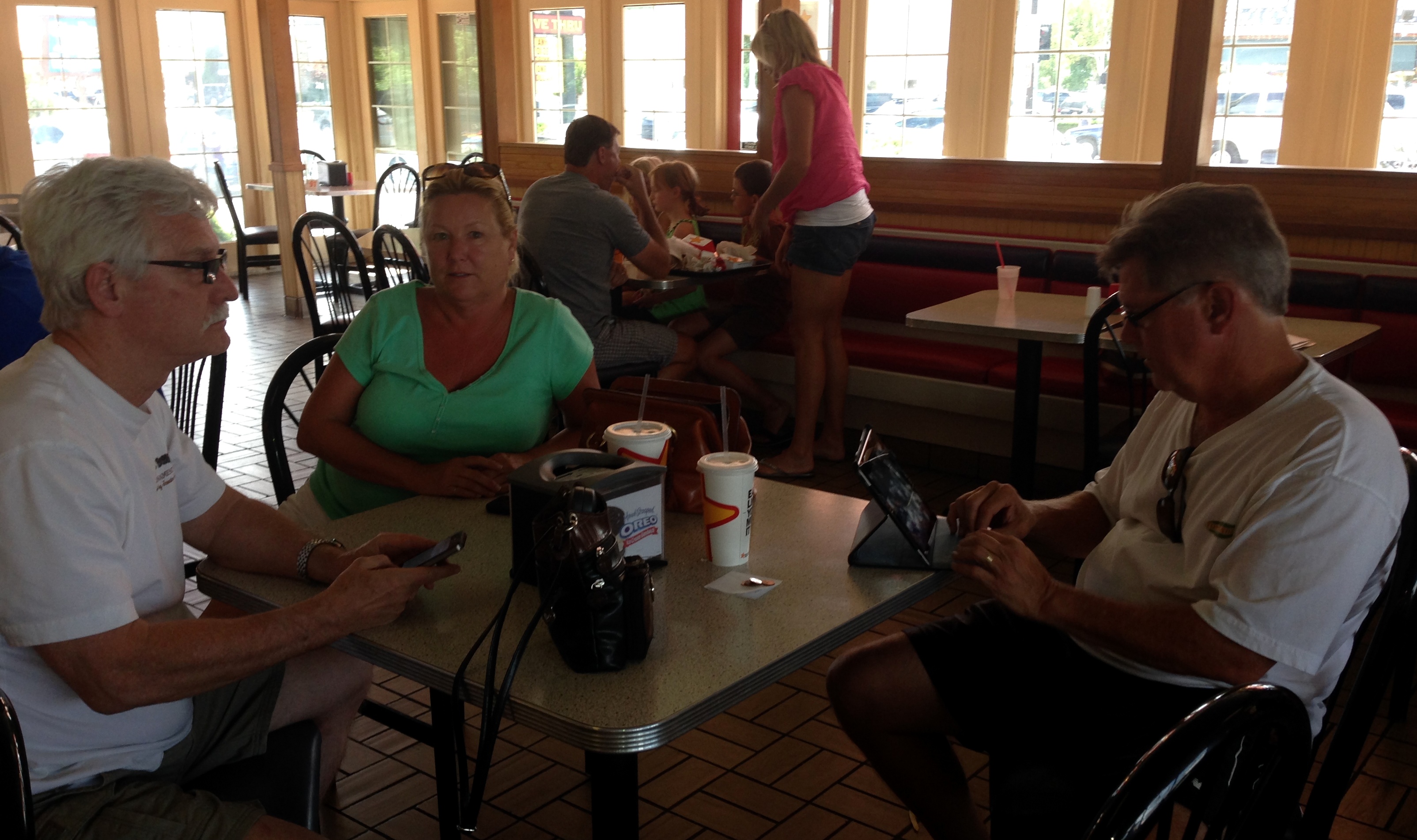 Thank goodness for technology! We all jump on our phones and iPads to figure out our next course of action. Where in the world are we going to camp, with four RVs, at the last minute? Since we can't get through the HazMat spill at Bridgeport, which just so happens to be the turn off for our final (original) destination of Twin Lakes, we have to regroup!
Later we find out what happened. A semi truck was traveling northbound US-395, near Point Ranch, when the driver braked for a deer crossing the roadway. The cargo inside the box trailer shifted, broke open and began to leak. The driver, noticing material leaking from his trailer, pulled over south of Bridgeport, CA (why not north of Bridgeport, so we could have had clear sailing?) and requested assistance from the California Highway Patrol Bridgeport Area. Just another twist in the adventure called our vacation!
All calls tell us that every campground is booked due to the road being blocked but we decide to head up the road, hoping to find a place or at least a wide spot in the road to camp until morning!
One of my favorite things to say is "Everything always works out"….just not always the way you think it will! This is part of the fun of life and we are about to experience just that!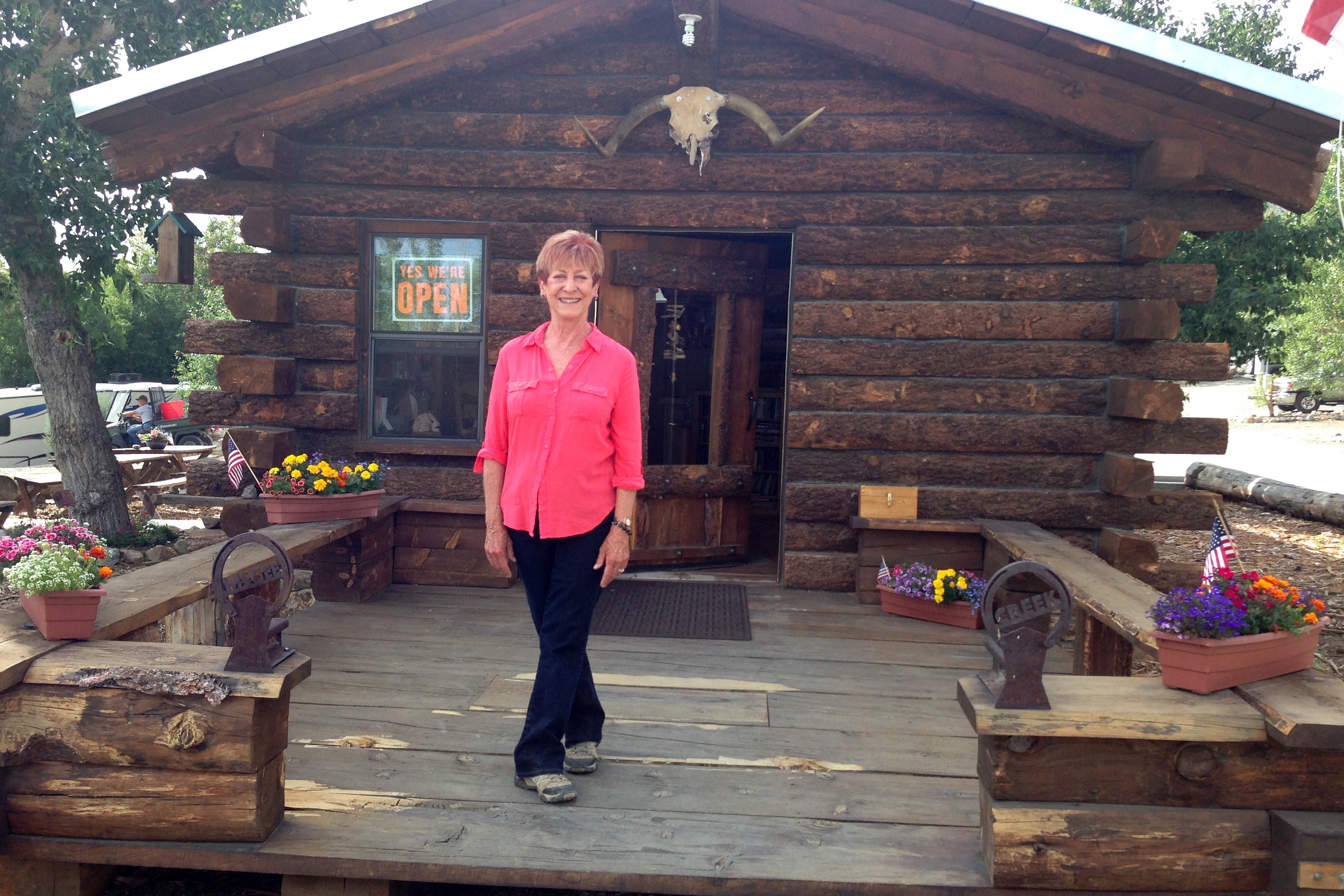 Enter Tess and Bob at McGee Creek RV Campground! McGee Creek RV Camp is full but we pull in and meet two of the most wonderful park hosts, Tess and Bob. They listen to our tale of woe and tells us they have a couple of tent sites that would accommodate our two 32 foot and two 23 foot RV's for the night.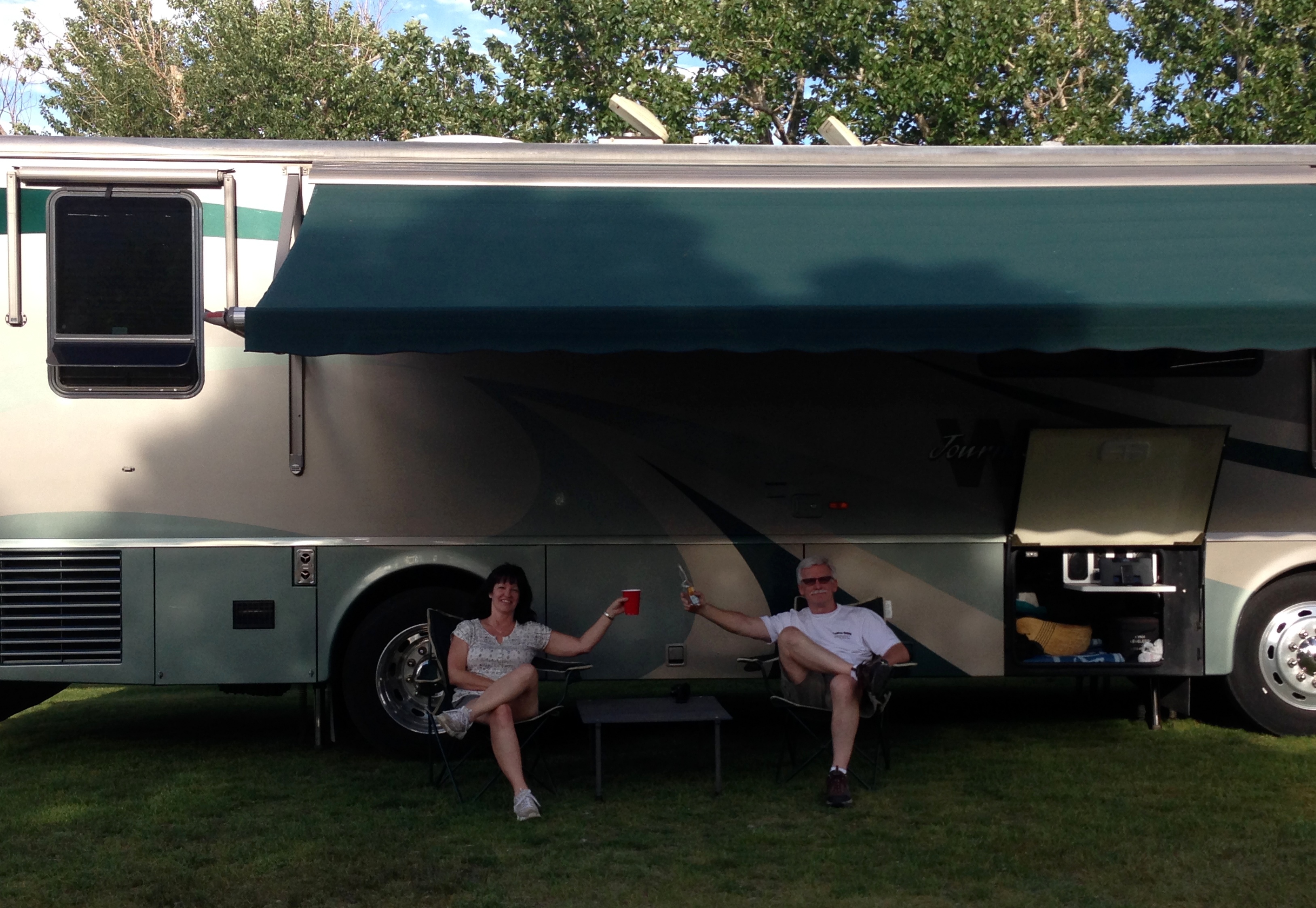 We are thrilled and find it is a beautiful camp ground! Our 1st RV campsite and it is on GRASS!! We are styling now! Time for cocktails and dinner!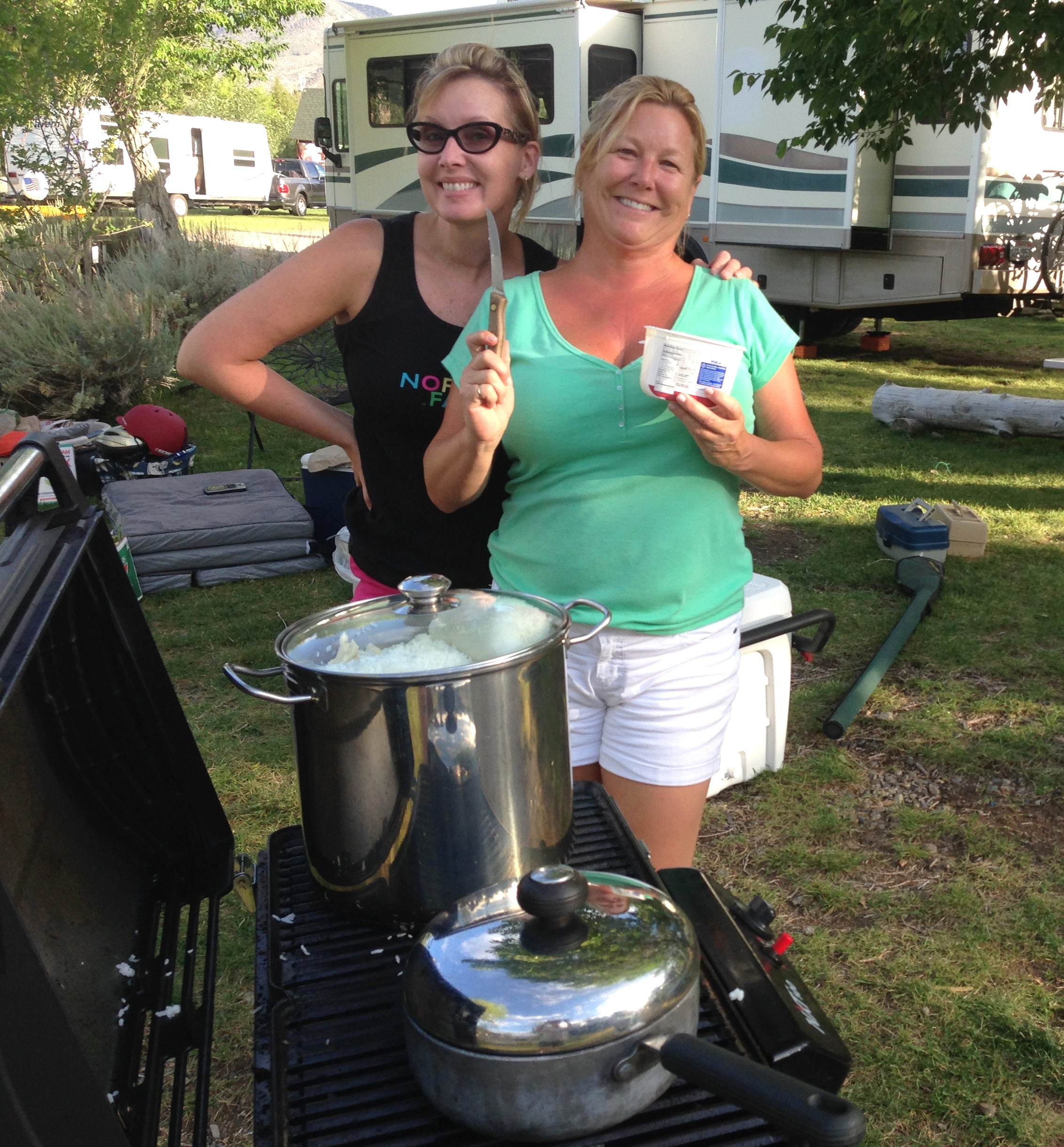 Gourmet cooking in the great outdoors! Julia Child would have been proud; lots of butter in that rice! Stacey and Connie whip together grilled tri-tip and rice and I contribute a hearty green salad and PB & J Brownies for dessert!
We are happy campers and decide to stay one more day to relax and unwind. From our campsite we can see from California into Nevada and Mount Jefferson in the background.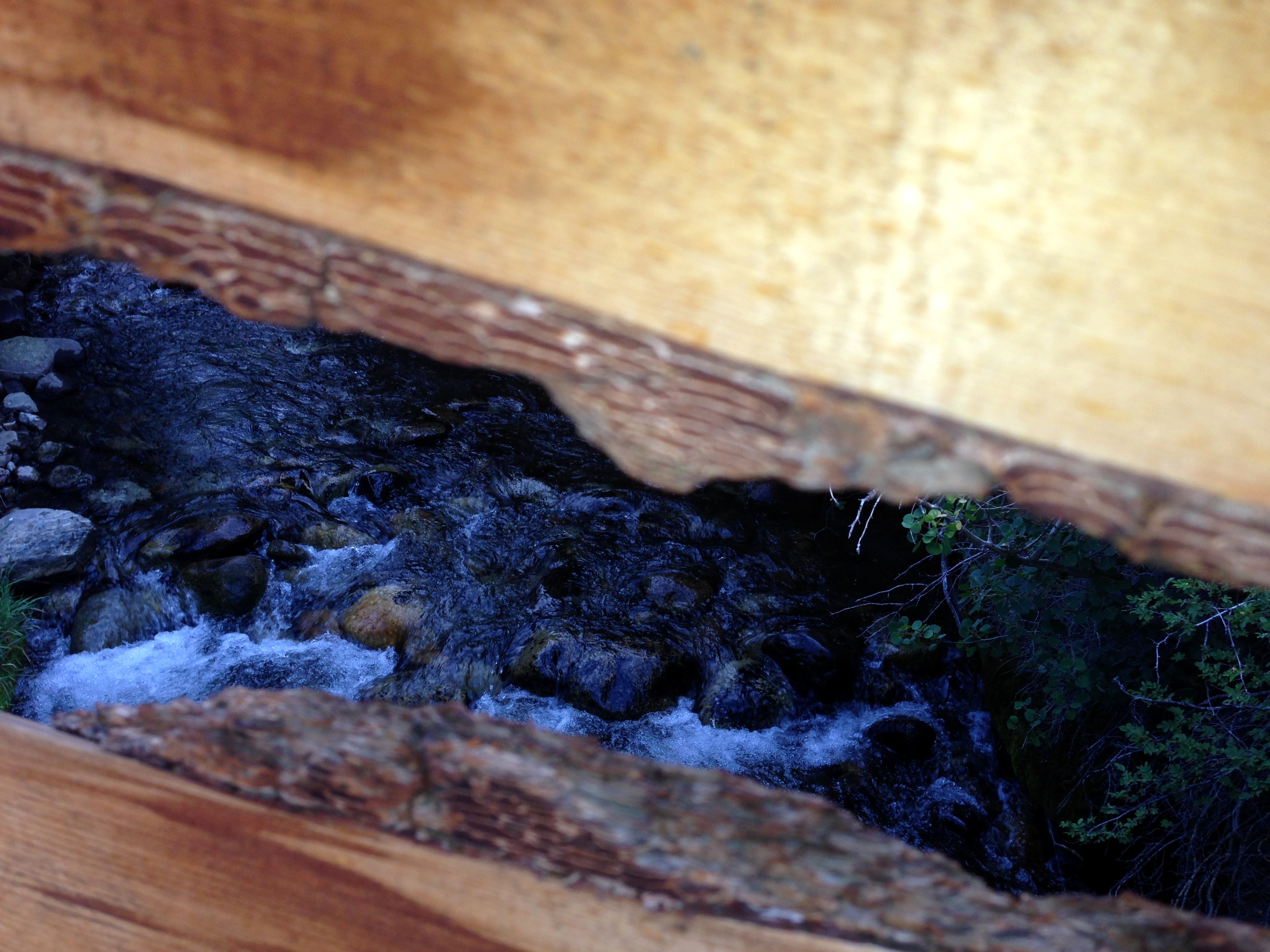 A little peak through the slats of the wooden bridge across the creek (filled with trout), the trout pond…….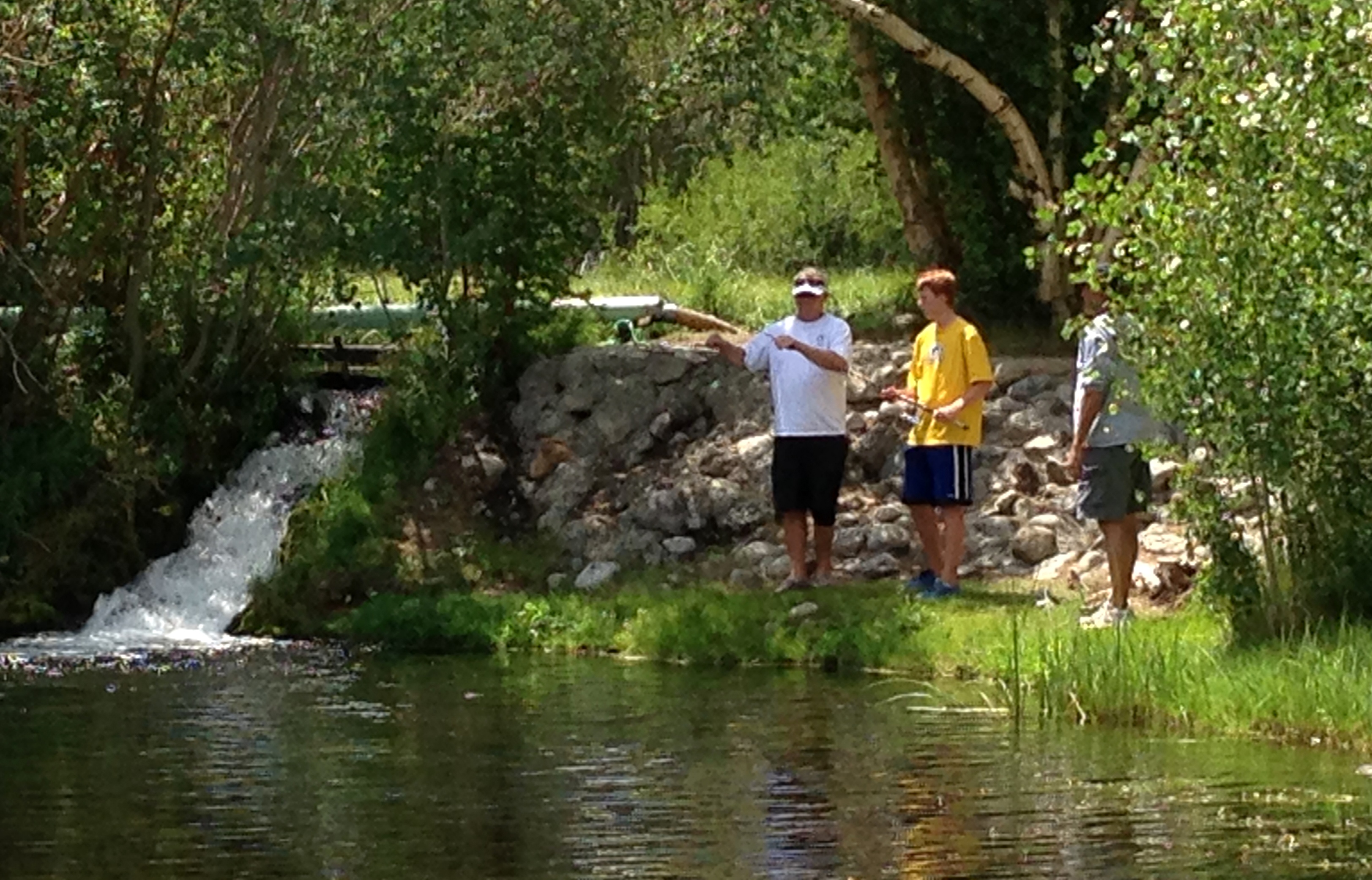 and the beautiful wild flowers were just some of the beauty that surrounded us and our friends, finally all in one place!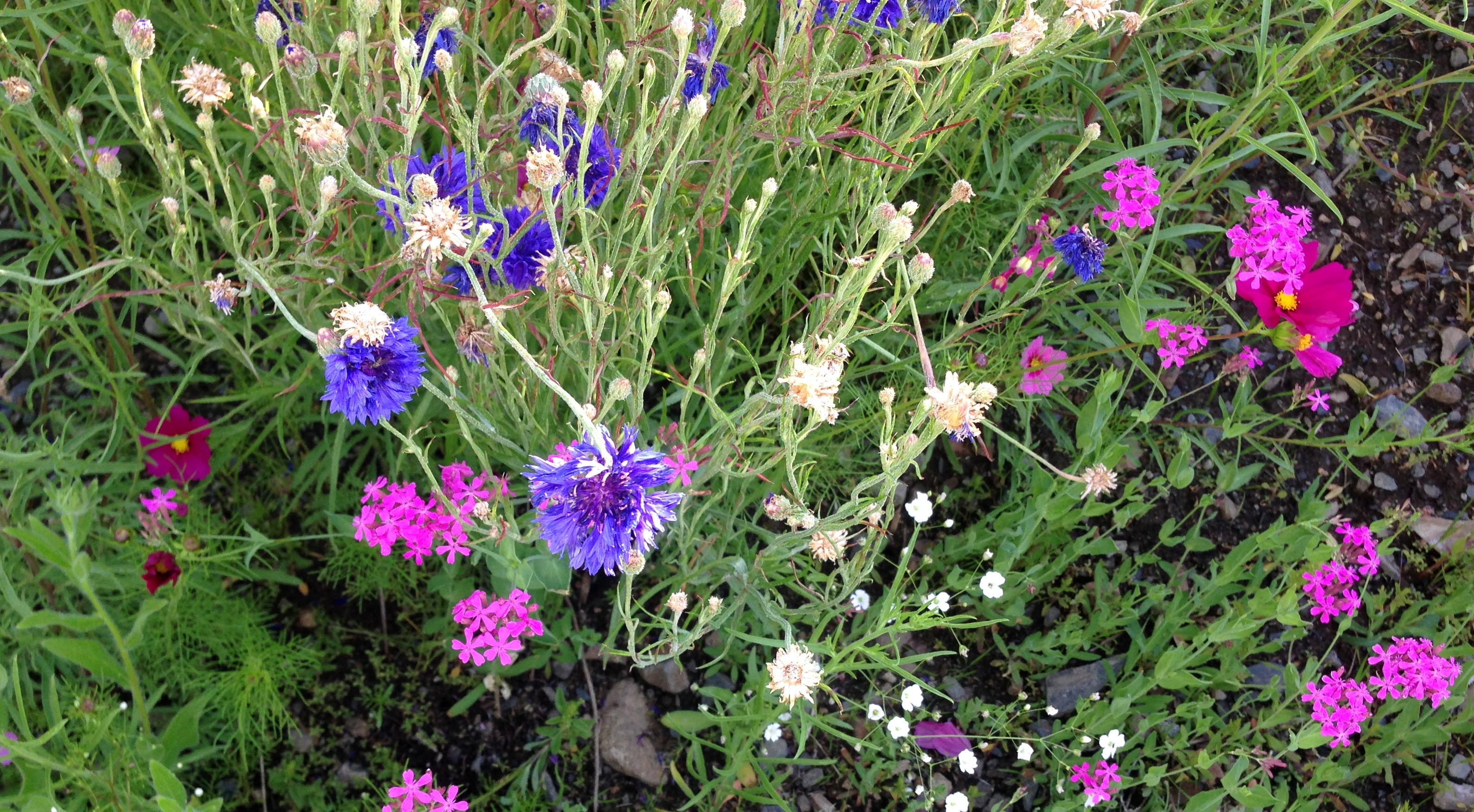 The road is cleared, engines are revved and we are off to meet the rest of the group at Twin Lakes! Yes, we are still spread out. It's been like herding cats with so many different schedules to accommodate. Carolyn and Leslie have arrived in the wee hours of the morning, with 3 boys freshly off a lacrosse tournament. What we all do to be together!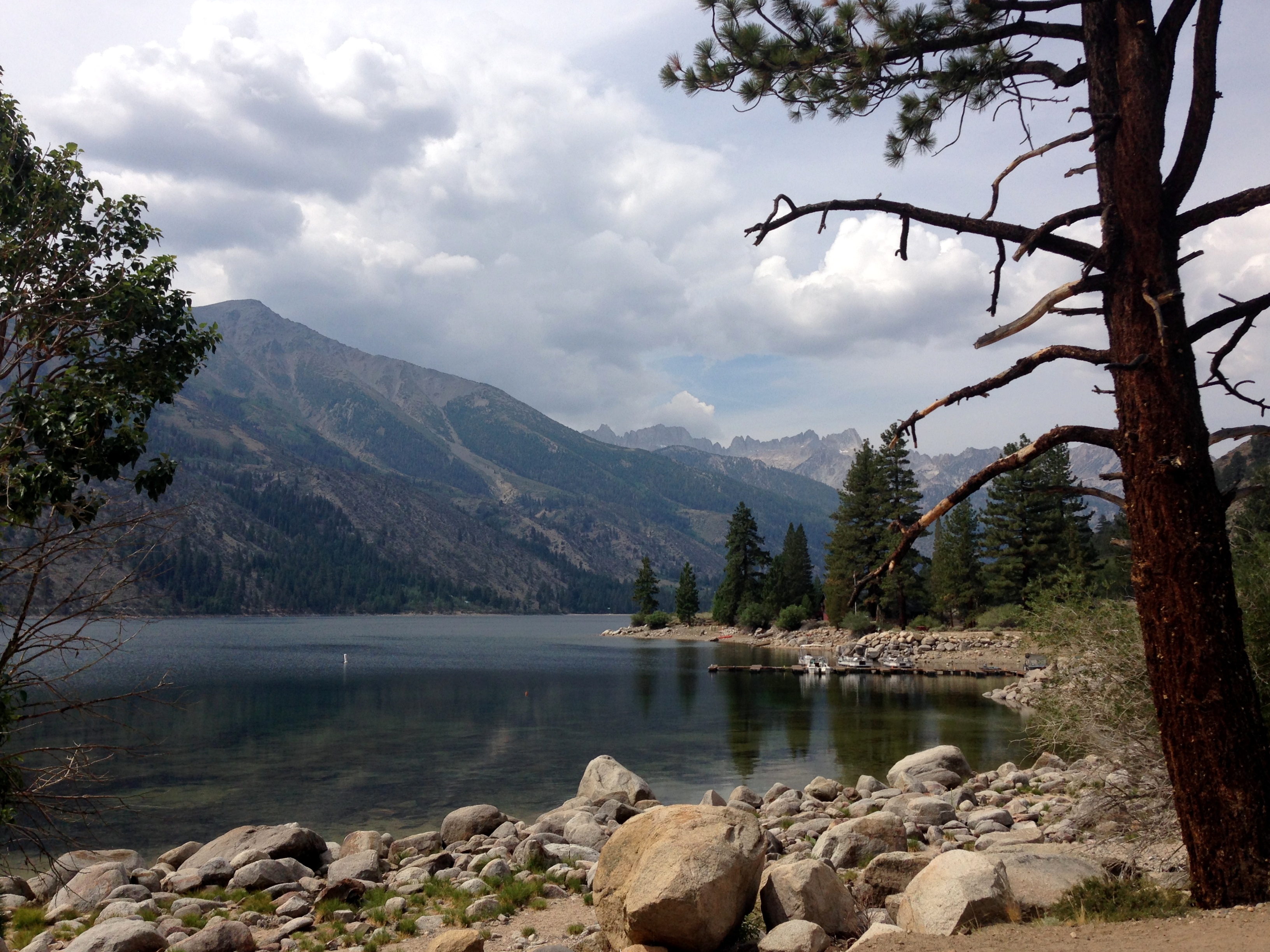 As we pull into Twin Lakes I am taken back to my childhood by the sights and smells of the lake and pine trees. I feel a calm come over me. Part of me wishes we could stay here longer and part of me is grateful for the delay and the experience of being treated like family by Tess and Bob at McGee Creek!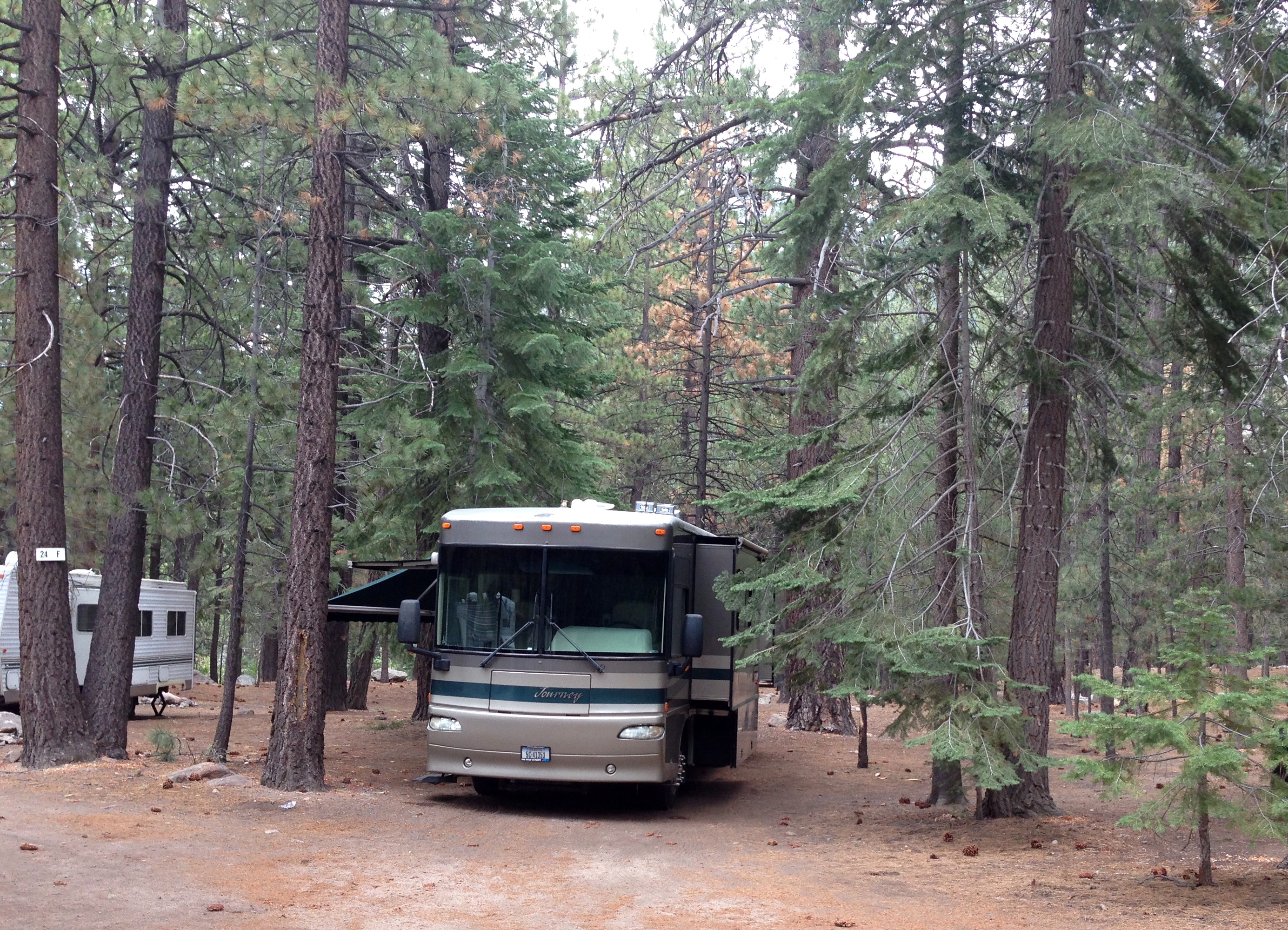 Oh what a sweet spot to park our home on wheels! We are so happy to be here and we are hungry! Time for the long awaited Omelettes in a Bag! (recipe to follow) I have heard about this for so long and am finally going to experience it first hand! Breakfast for my fantastic driver first!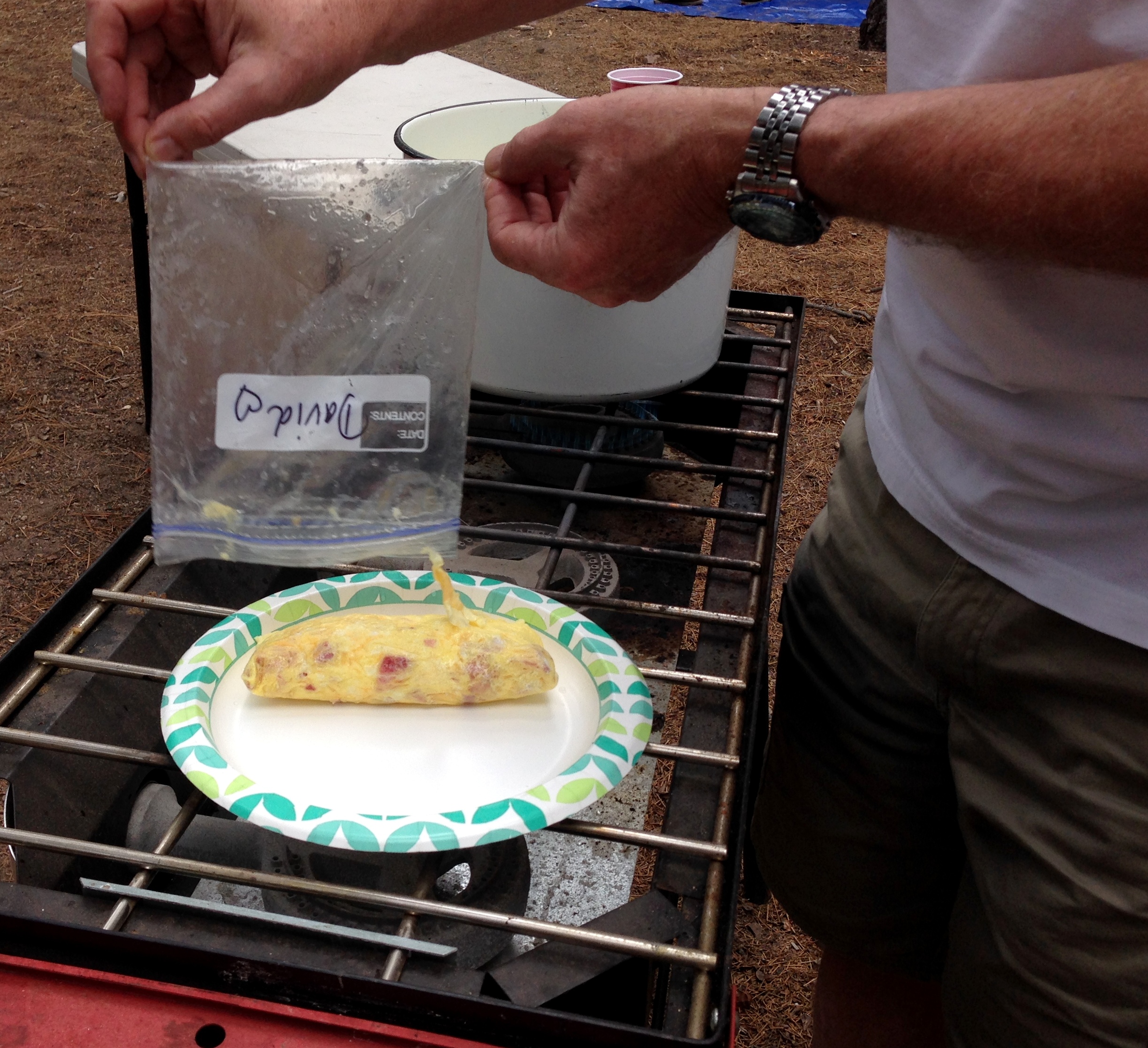 As the next group of friends arrive, the first group of guys supervise and give their expert advise! Too funny to watch and listen to! All they need is some popcorn! How come the wives can't give this kind of smartie advise and get away with it??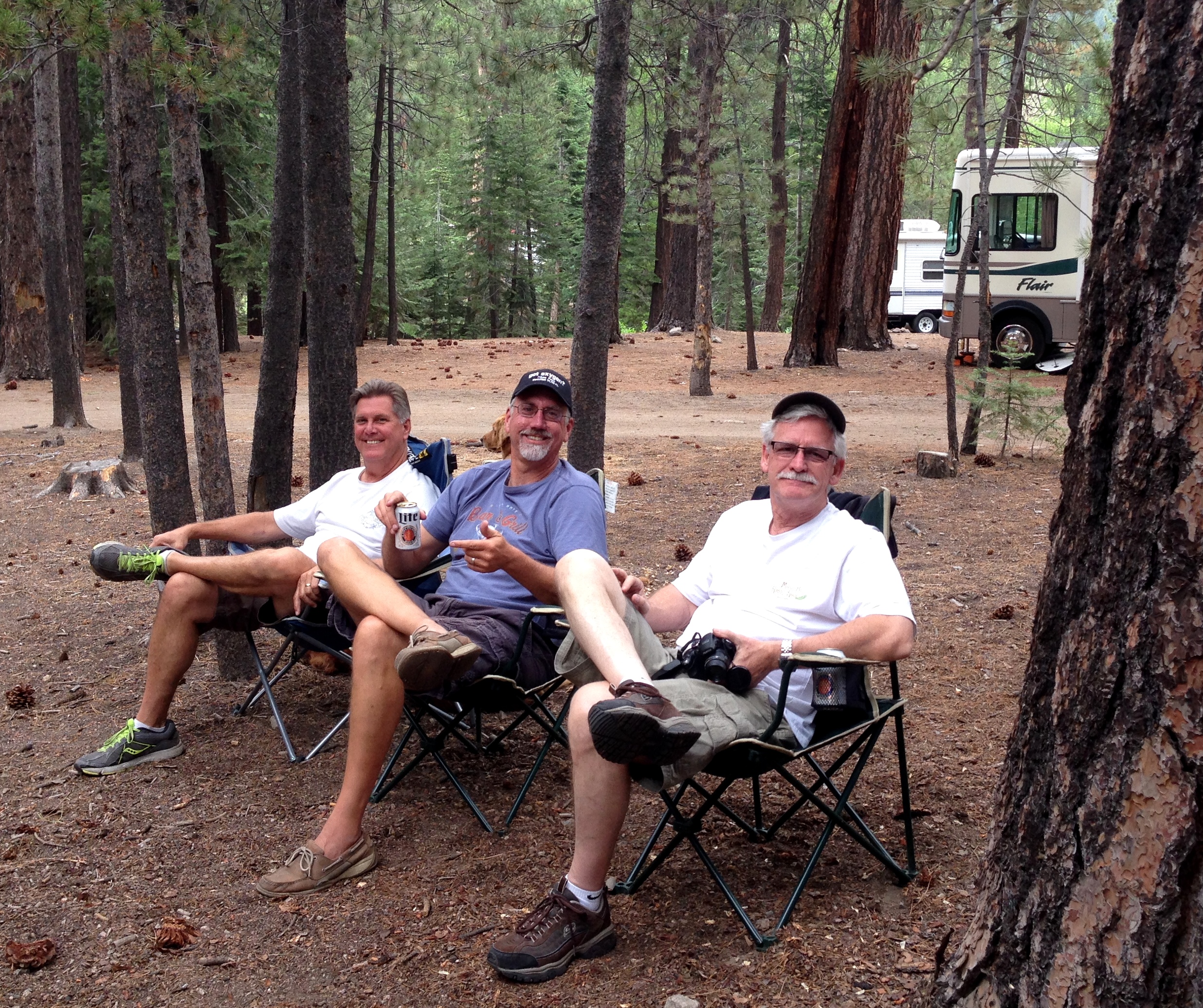 Every meal is amazing with a group of foodies in the great outdoors! Why is it that everything just tastes better when you're dining outside? Very discreet photo bomb girls!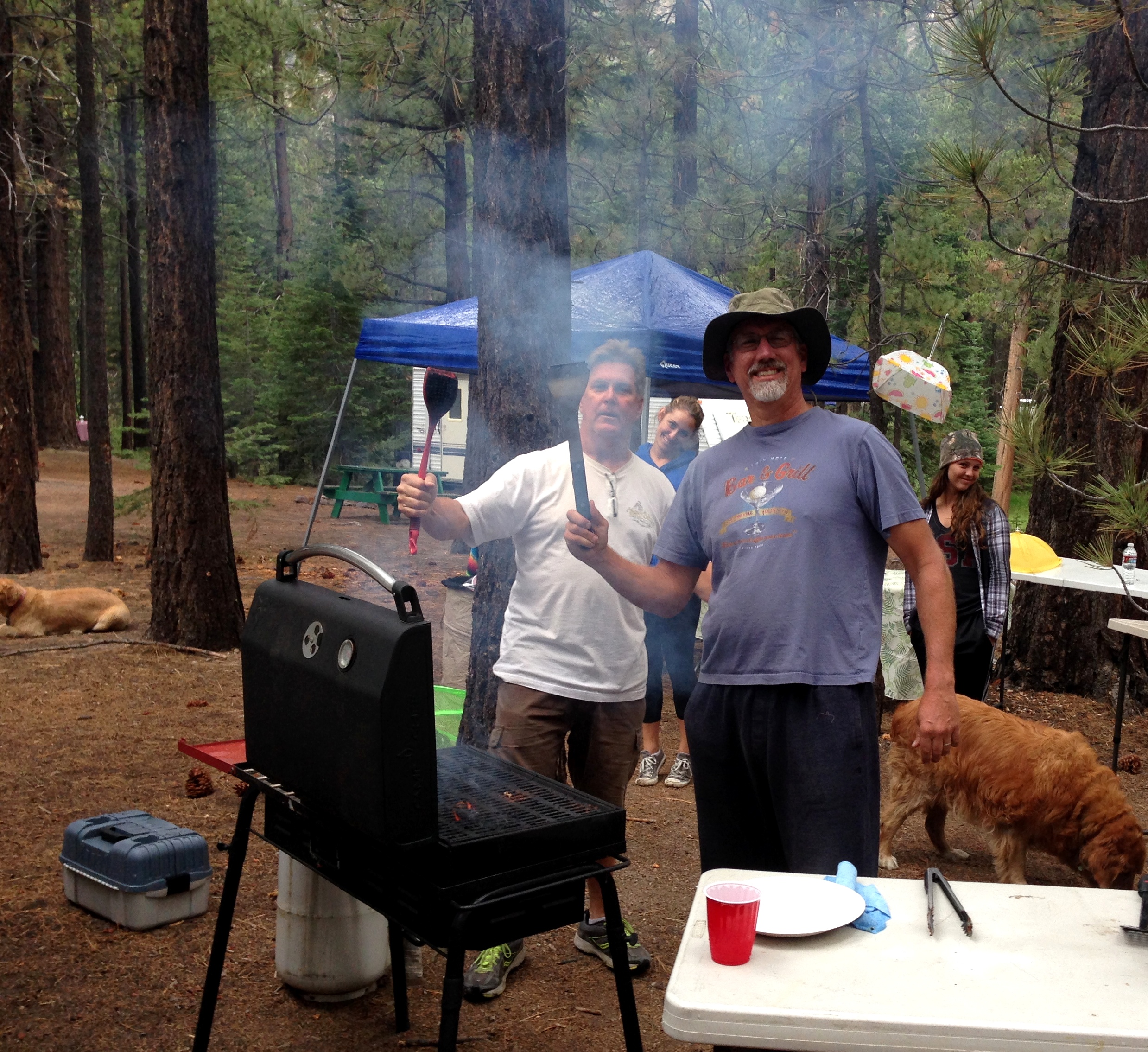 Our grill meisters tonight, Steve and Joe, making Hawaiian Chicken. The girls are whipping up foil packets of asparagus, zucchini and onions for the grill. A little pilaf and salad rounds out the meal.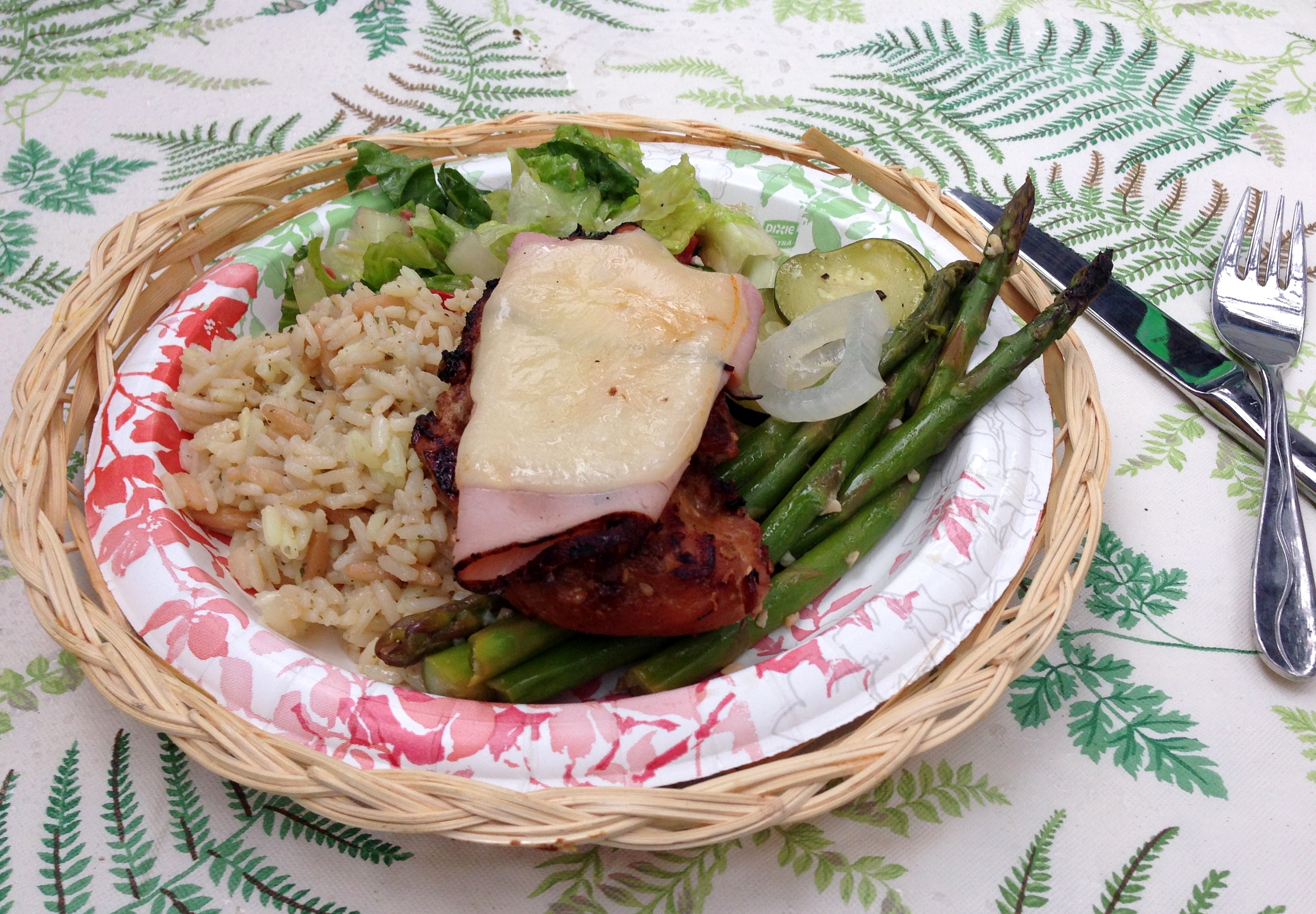 Our dining room under the pines is a place where we shared food prepared together, laughed, told stories and drank fine wine.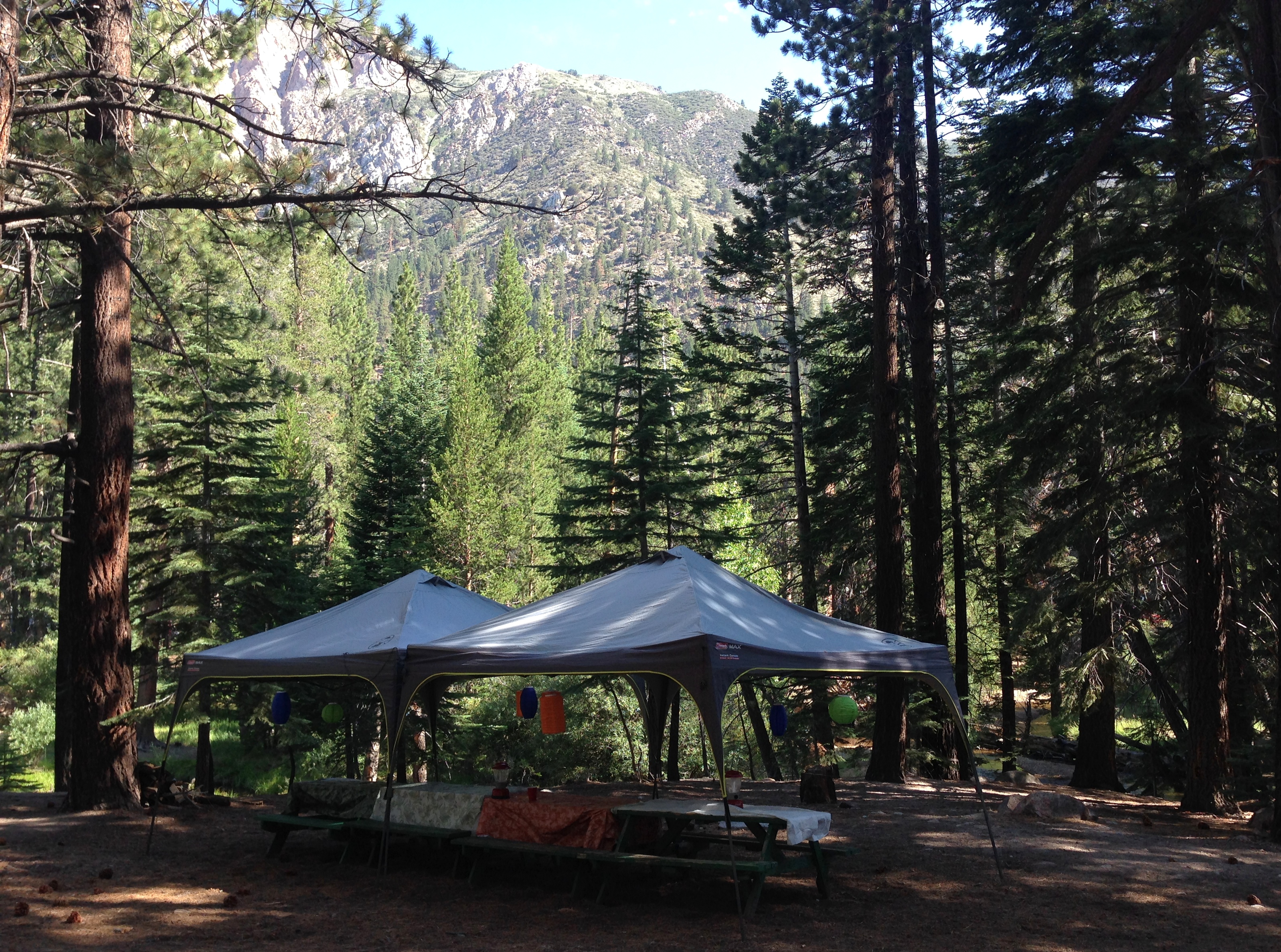 You never had to ring the dinner bell twice to get everyone in the chow line! Certainly a life one could get used to very easily!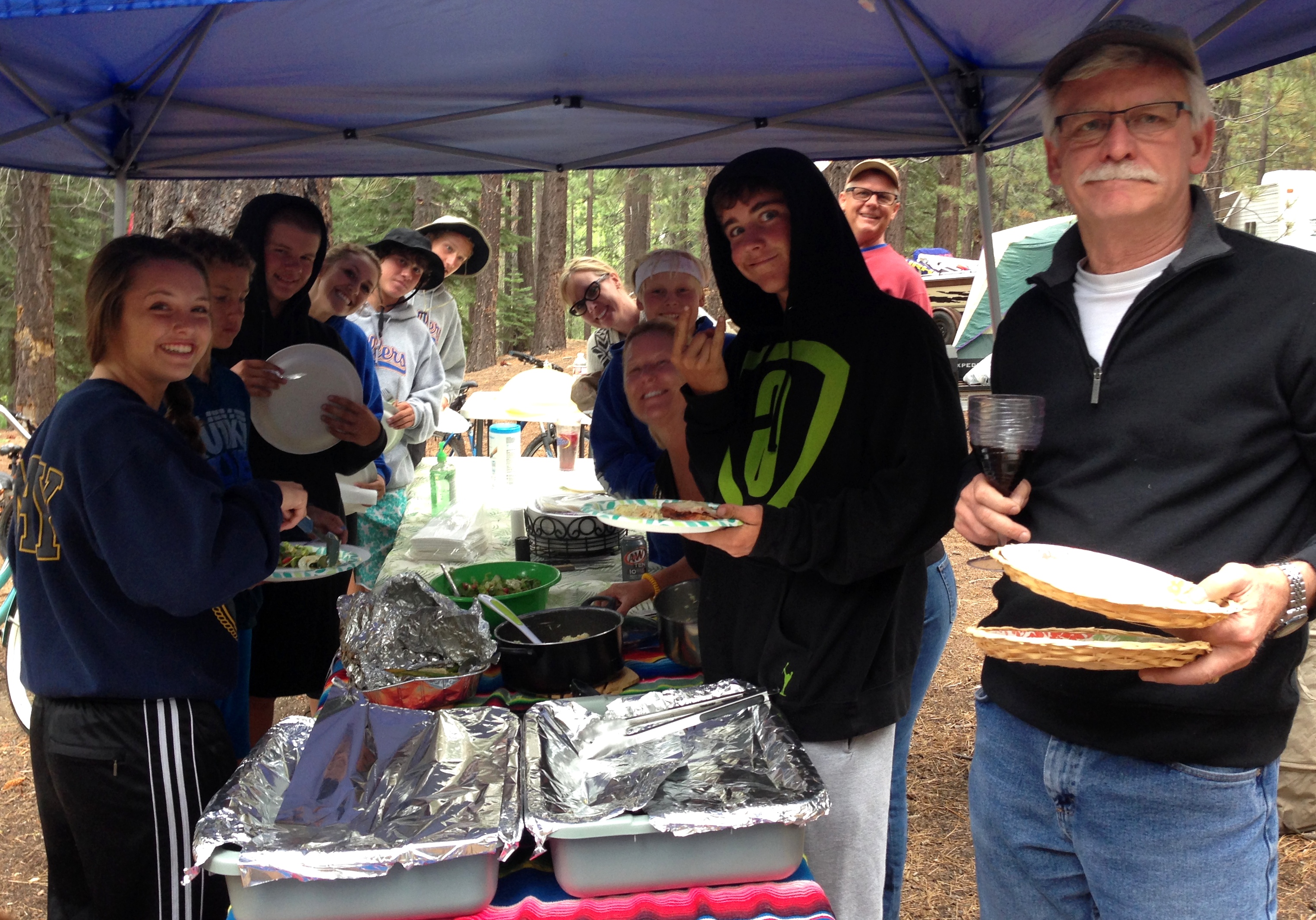 Not the best tablecloth to do a jigsaw puzzle on but this group craves a challenge! We would fold the tablecloth over the puzzle and eat dinner and unfold it when puzzle time rolled around again.
Carolyn, Leslie and I were very dedicated but we welcomed the occasional passerby to jump in and add a few pieces. Then they were off for a hike, or a try at fishing.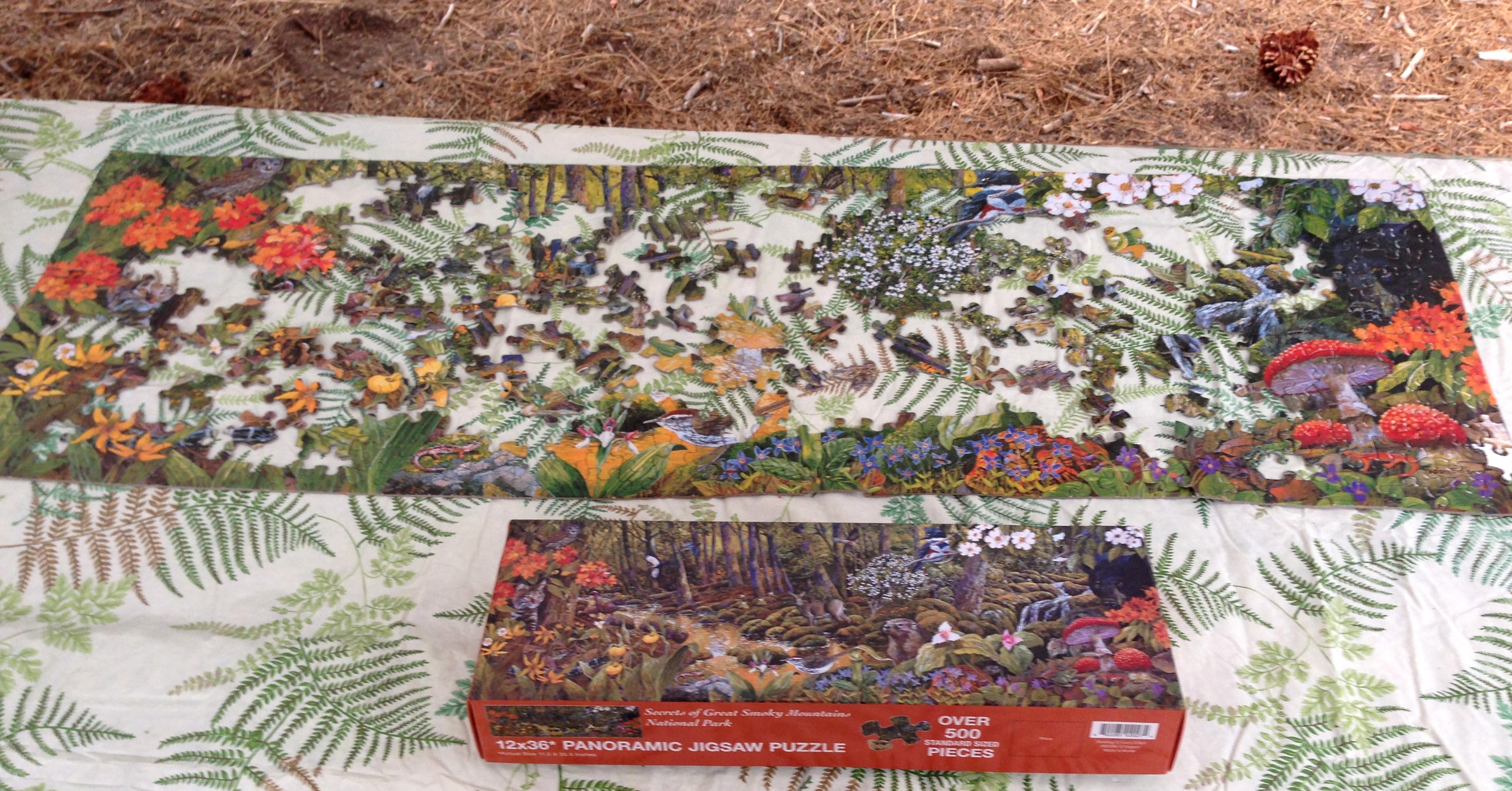 We were not the only guests who came for dinner. A beautiful pair of deer wandered into our camp several times.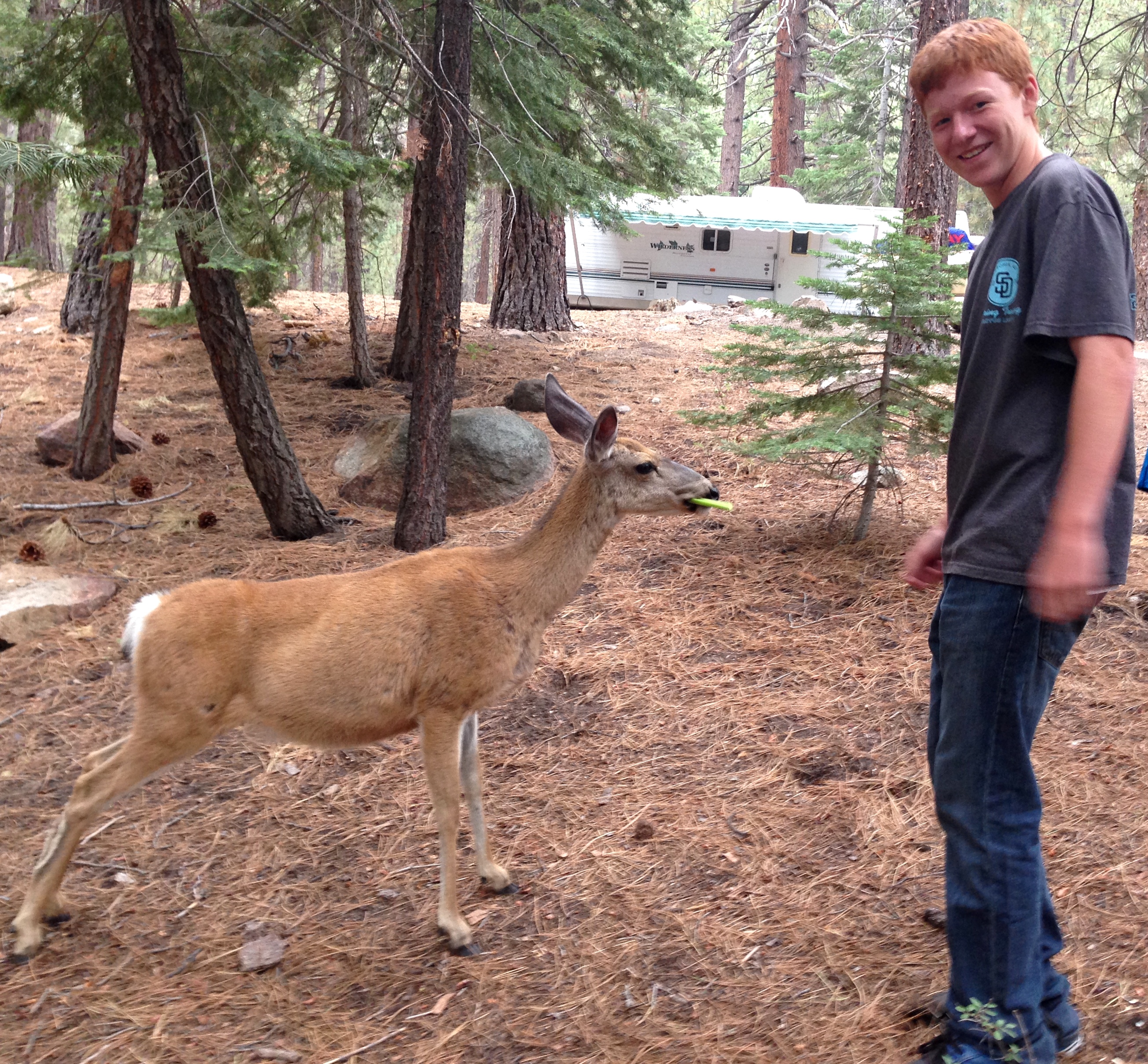 We had the amazing experience of hand feeding them carrots and celery. Smart deer knowing about survival of the fittest and finding food where ever they could.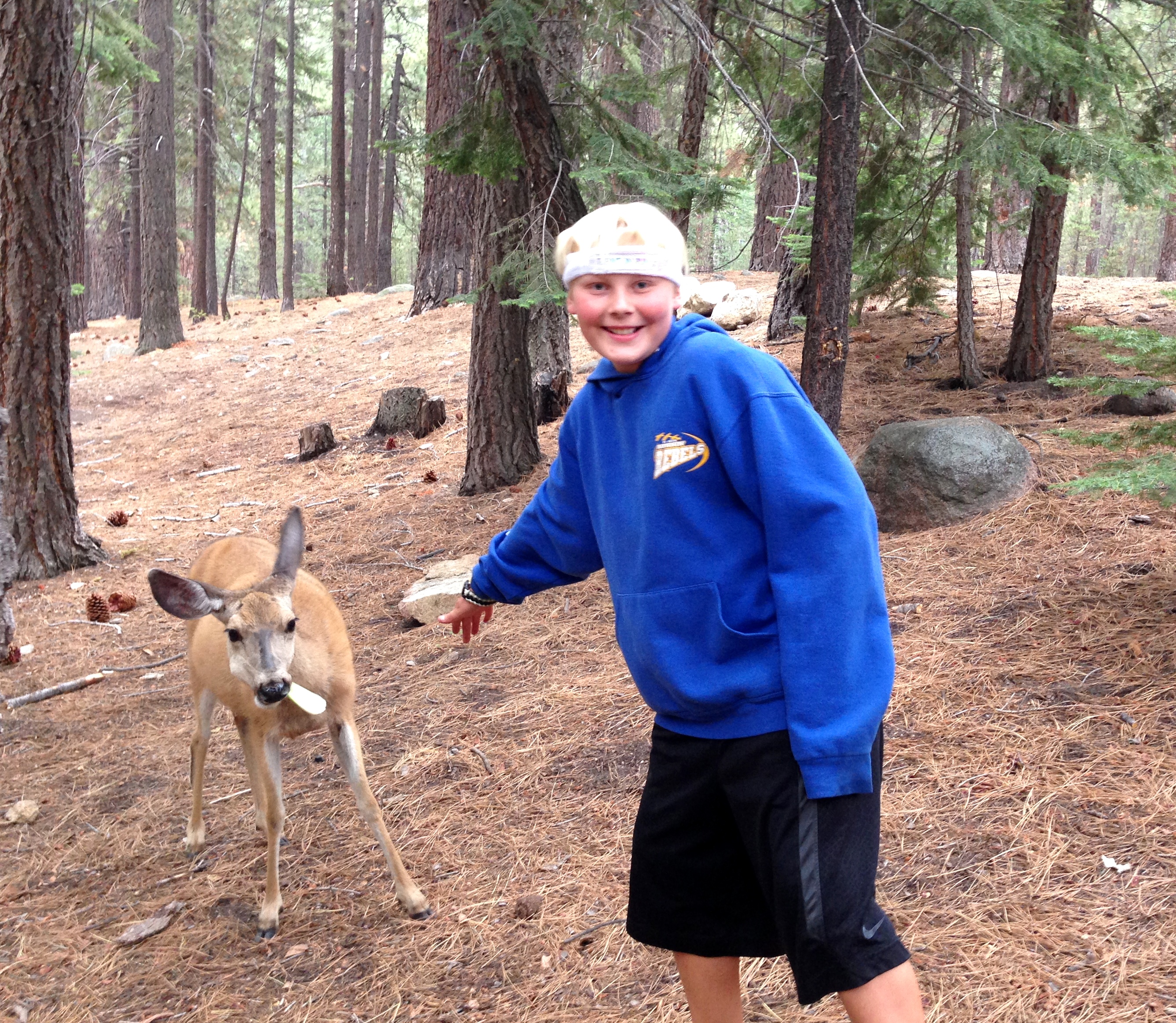 Time for the big fishing event! Boat is rented, lunches are packed and most of the group heads down to the lake. At 12:30 the boat is launched…at 12:40 the sky fills with the sound of thunder and the flash of lightening!
The rain comes pouring down and the beach goers and fisher-people come running back to camp! The timing of the rain is almost hysterical! We have all resigned ourselves to the fact this is not going to be an ordinary camping trip!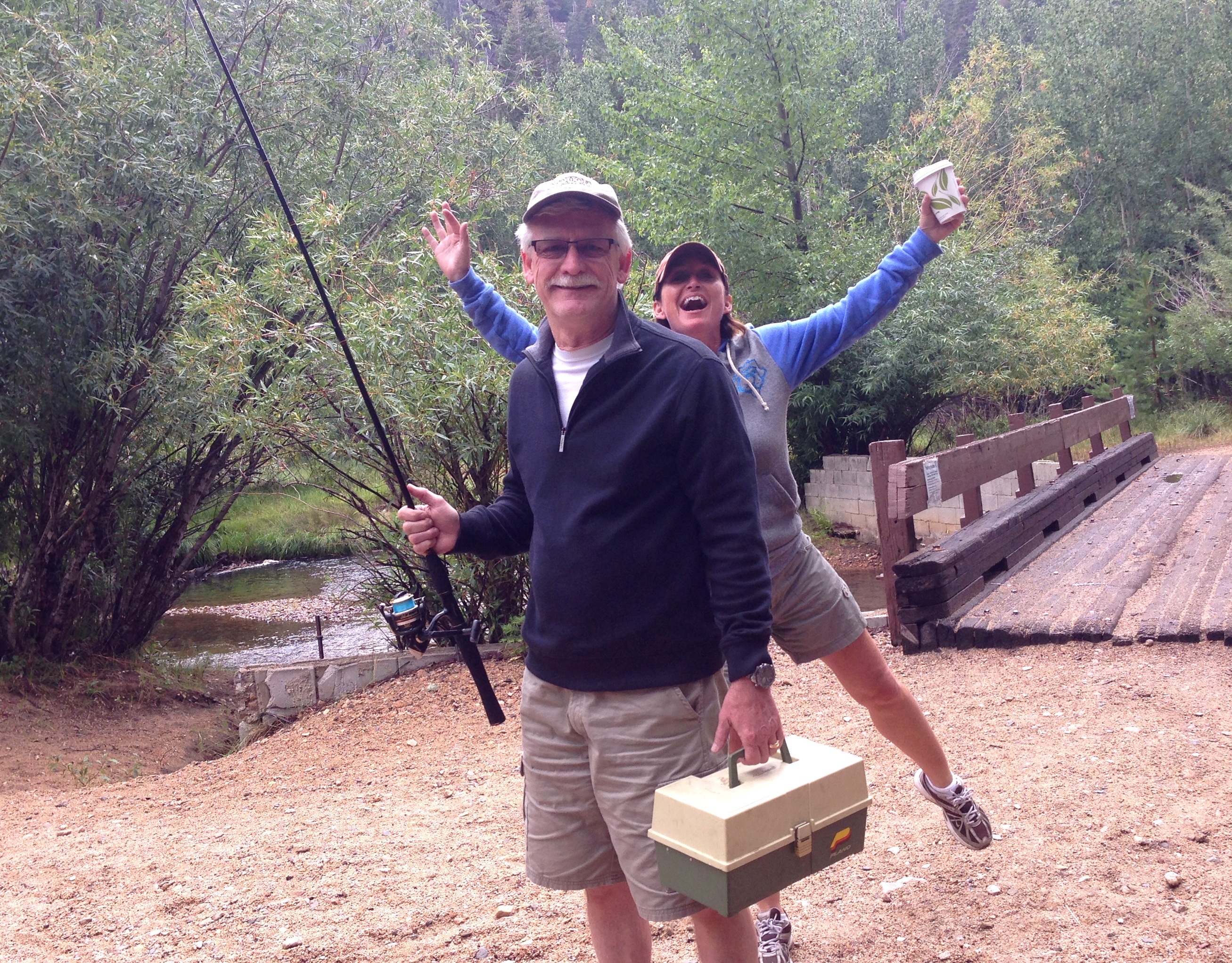 After the rain, such a welcome rain because of the drought, we all head off in different directions to fish (photo bomb courtesy of Carolyn) …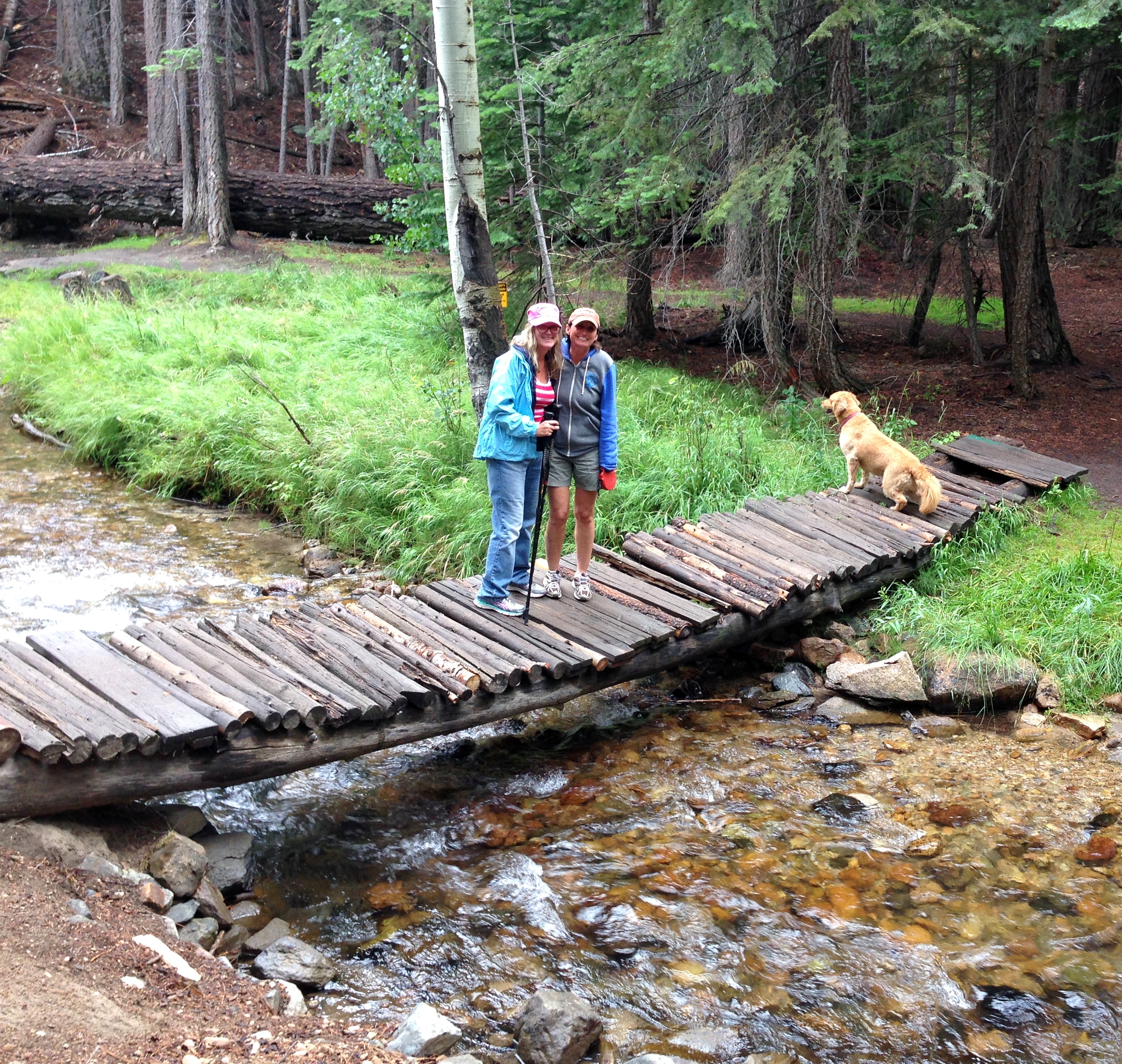 … or a short hike up the mountain to the first of many waterfalls with Carolyn and Leslie. The air is so fresh and clean, the squirrels and chipmunks are chattering away in the trees, all is right with the world!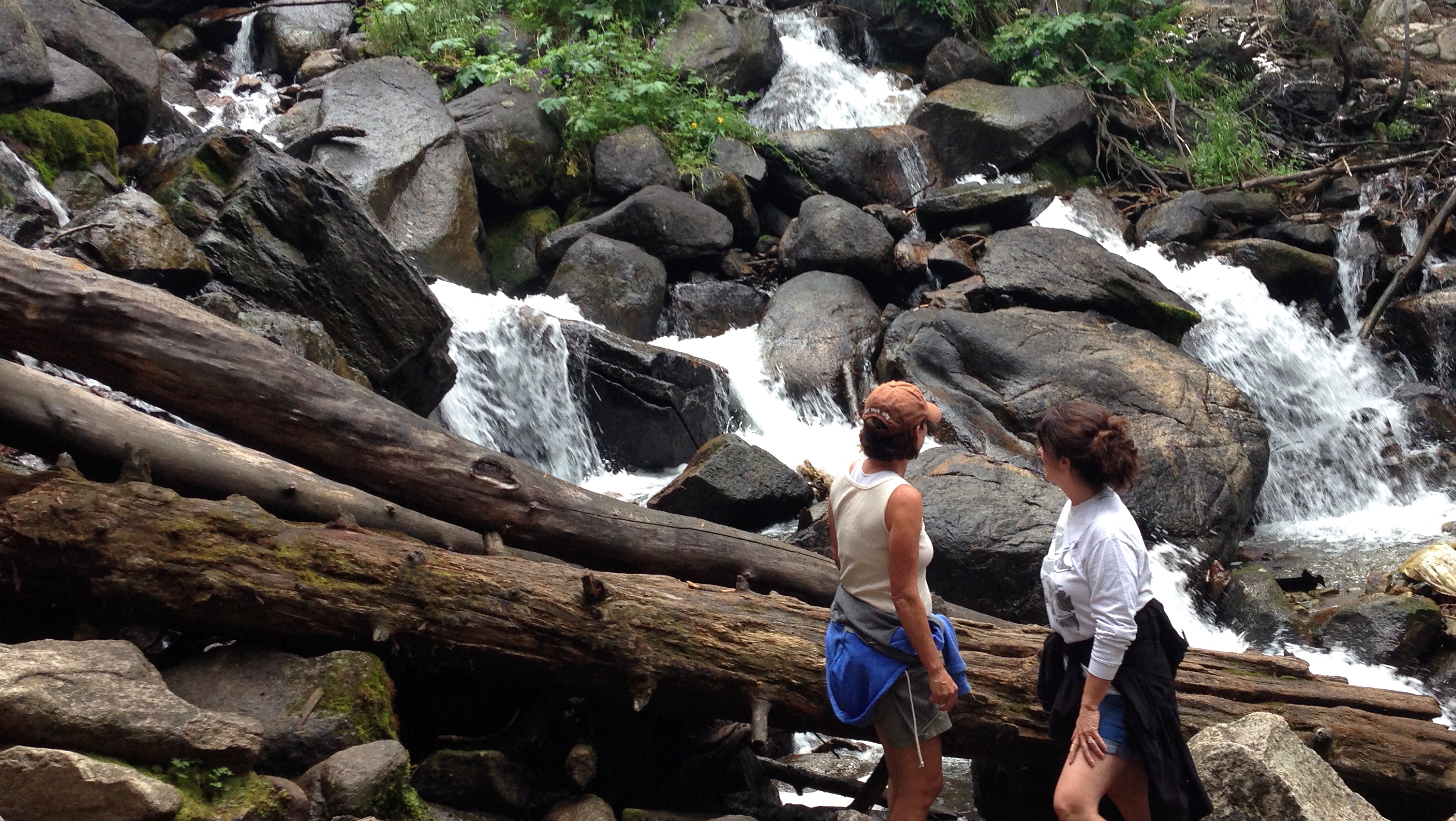 We stop to gaze at the beauty of the water cascading over the rocks. The plants have little gems of water on their leaves. Nature is amazing and she doesn't even have to try to be beautiful, she just is!
Alas, our time has come to leave the group and head home. My next adventure awaits and we have to hurry home, return the RV and pack my bags for the reunion!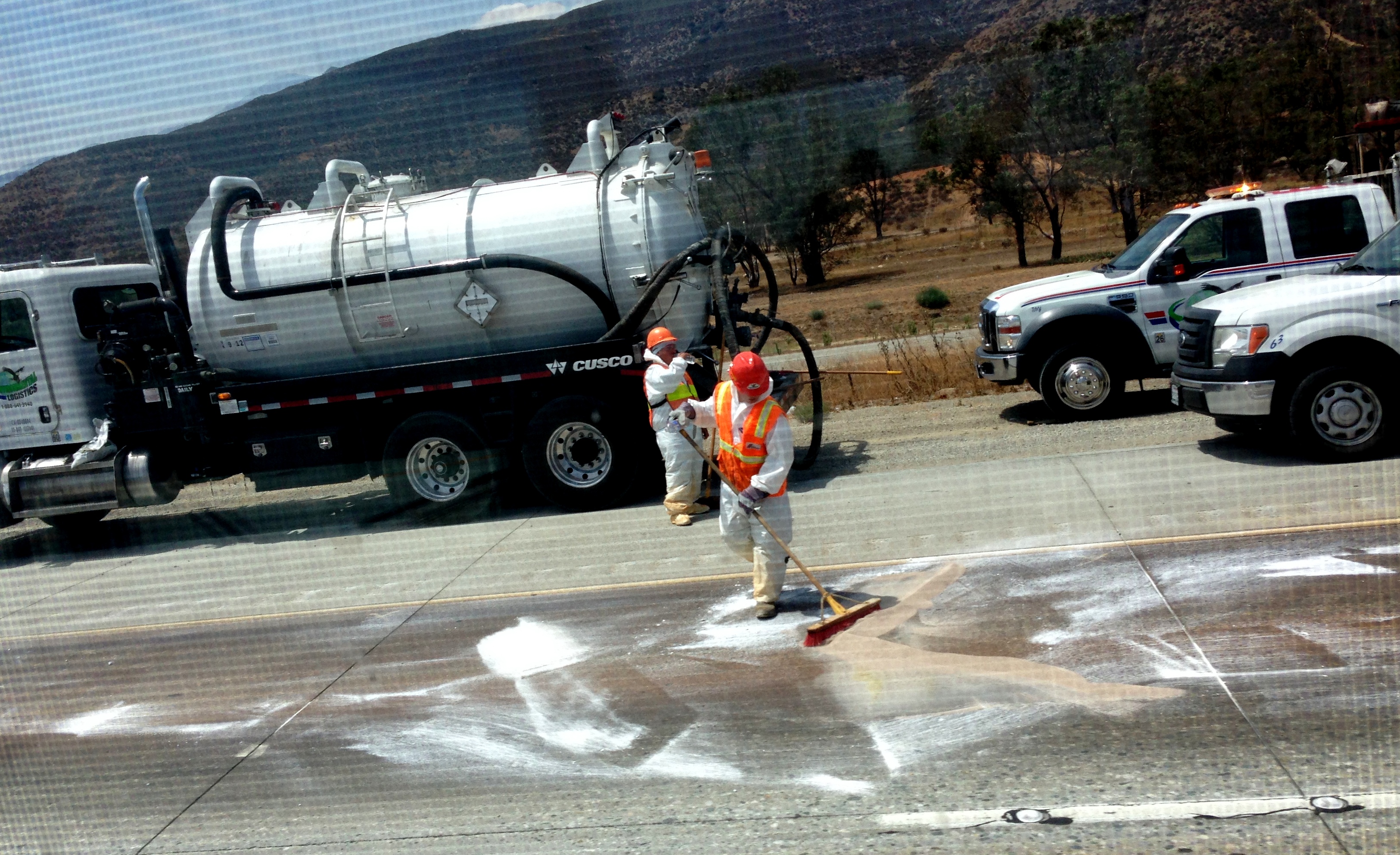 But no! There will be no hurrying! What are the chances of another HazMat spill on the way home? If I could get these odds on the lotto ticket, I'd be a millionaire! Bookends of HazMat!
We arrive at home with only 45 minutes before the RV place closes! We leap into action, furiously unloading the RV, trying to make the deadline to return it. But wait…..did I mention it is trash day and we have to jockey for position with the trash truck!
Running out of time, we decide to take the RV back and unload the rest of the things into our Jeep. David takes off and I am going to follow him to bring him back home.
As he drives away, I suddenly realize I have left my purse, keys to the Jeep and cell phone on the couch of the RV and it is driving off down the road! I start to run after the quickly disappearing RV with the trash man man staring at me, completely bewildered. Breathless and exhausted, I can not catch it.
Flippity Zip!! I call and leave a message with David so he understands why I did not follow him. The irony of the situation is, he can't call me back. The land line I use at home for my business is forwarded to my cell phone in the RV so I will never get the call. It's just a vicious circle…..oh so vicious! It is quite the fur-ball to say the least! Fortunately, Pat the manager from the RV rental place is house sitting near us and offers to take David home. Moral of the story…….Everything truly does work out, just not always the way you think it will!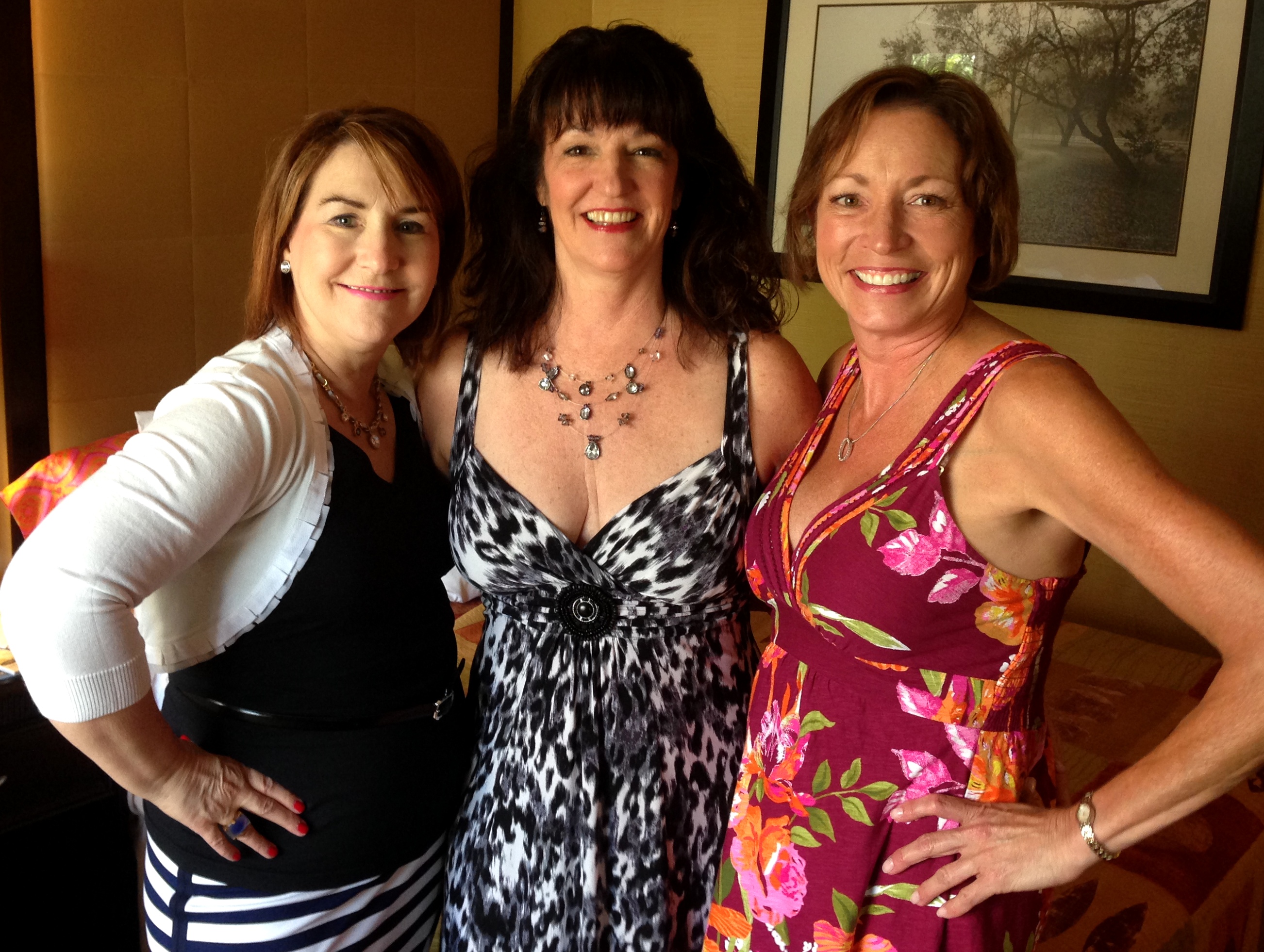 Yes, the reunion was an amazing time of revisiting the crazy antics of our youth, along with friendships that will last a lifetime.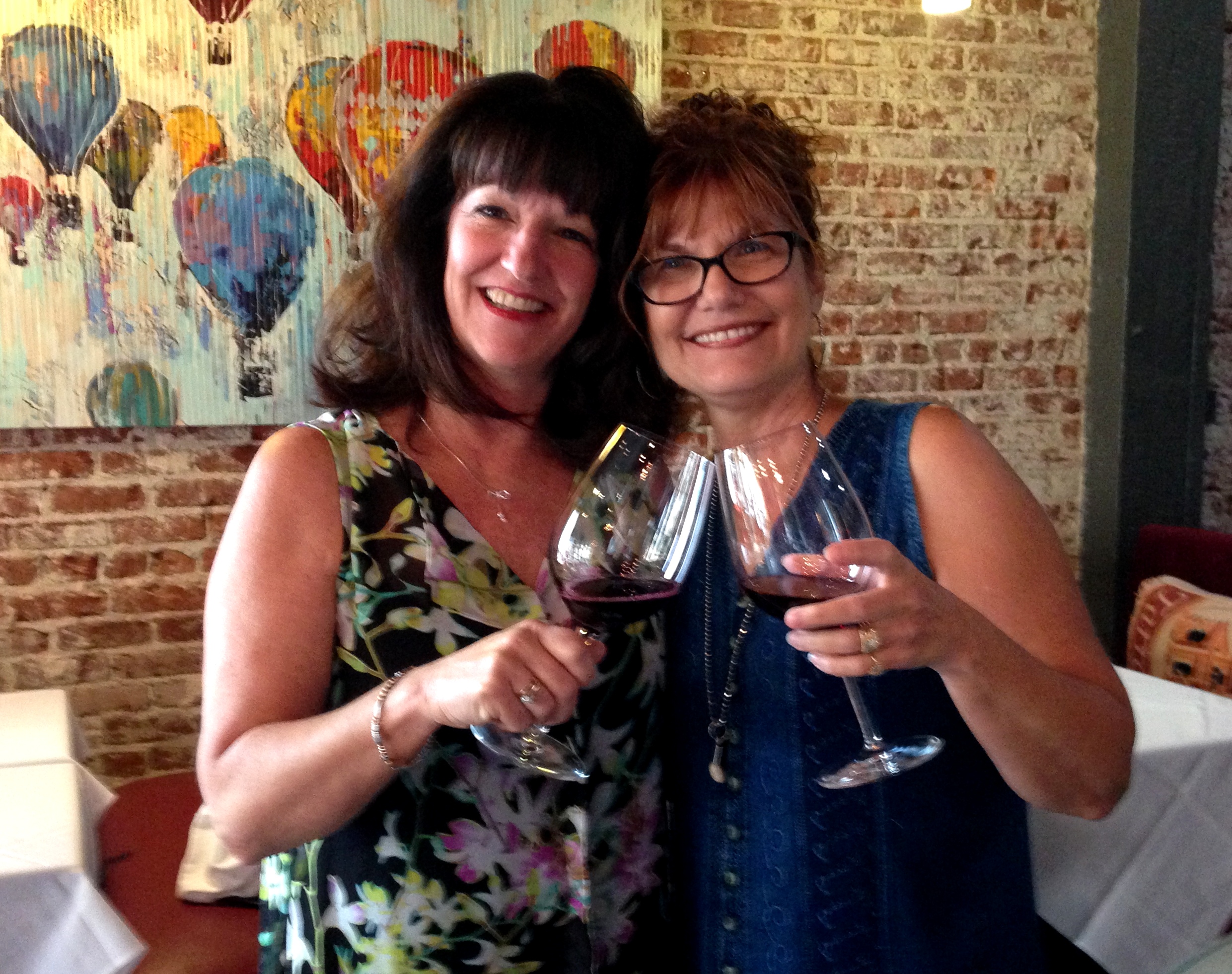 A quick 24 hour fast forward of the last 30 years with my friend Donnene. We were once inseparable as kids and I think we discovered the bond is still holding strong!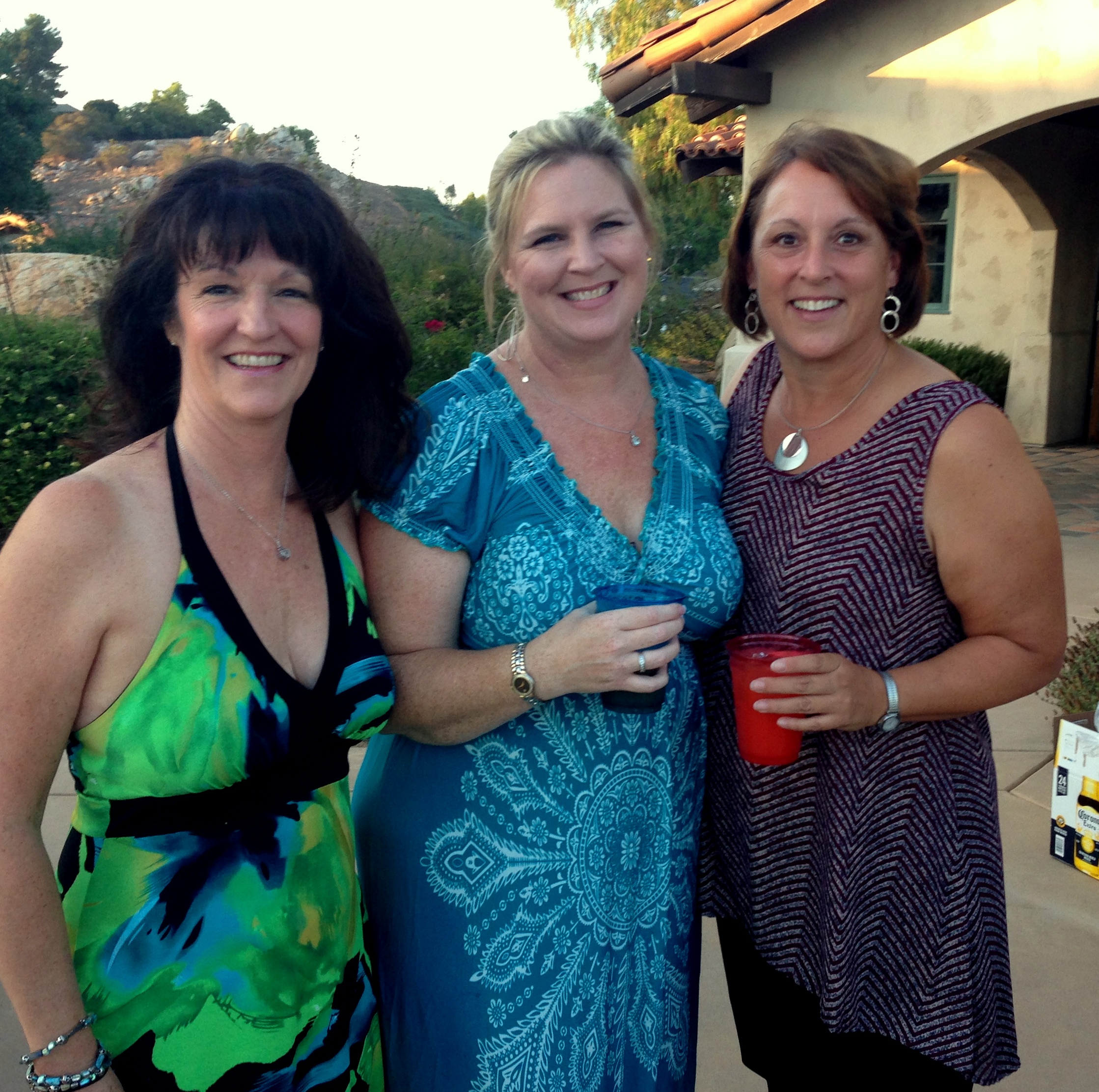 And Heidi's 50th birthday party was a complete success, enjoyed by the birthday girl and all of her fantastic friends! But those are both tales for another time and recipes still to share. I think that's it in a nut shell!
Back to present, with my movie, relaxing and replenishing. Enjoying the relationship Julia and Paul Child share that so reflects the relationship I share with my husband! He, like Paul Child, quietly watches and gently encourages me as I go through all my evolutions looking for my place in the world. I am a very lucky woman!