Happy 19th Anniversary Steve and Carolyn! 19th anniversary on the 19th must be a sign of good times and more fun to come. If the Biking Pub Crawl is any indication, the good times are a cinch! Need a fun idea for a celebration in a whole new way? Try a Biking Pub Crawl! Here's how ours rolled out.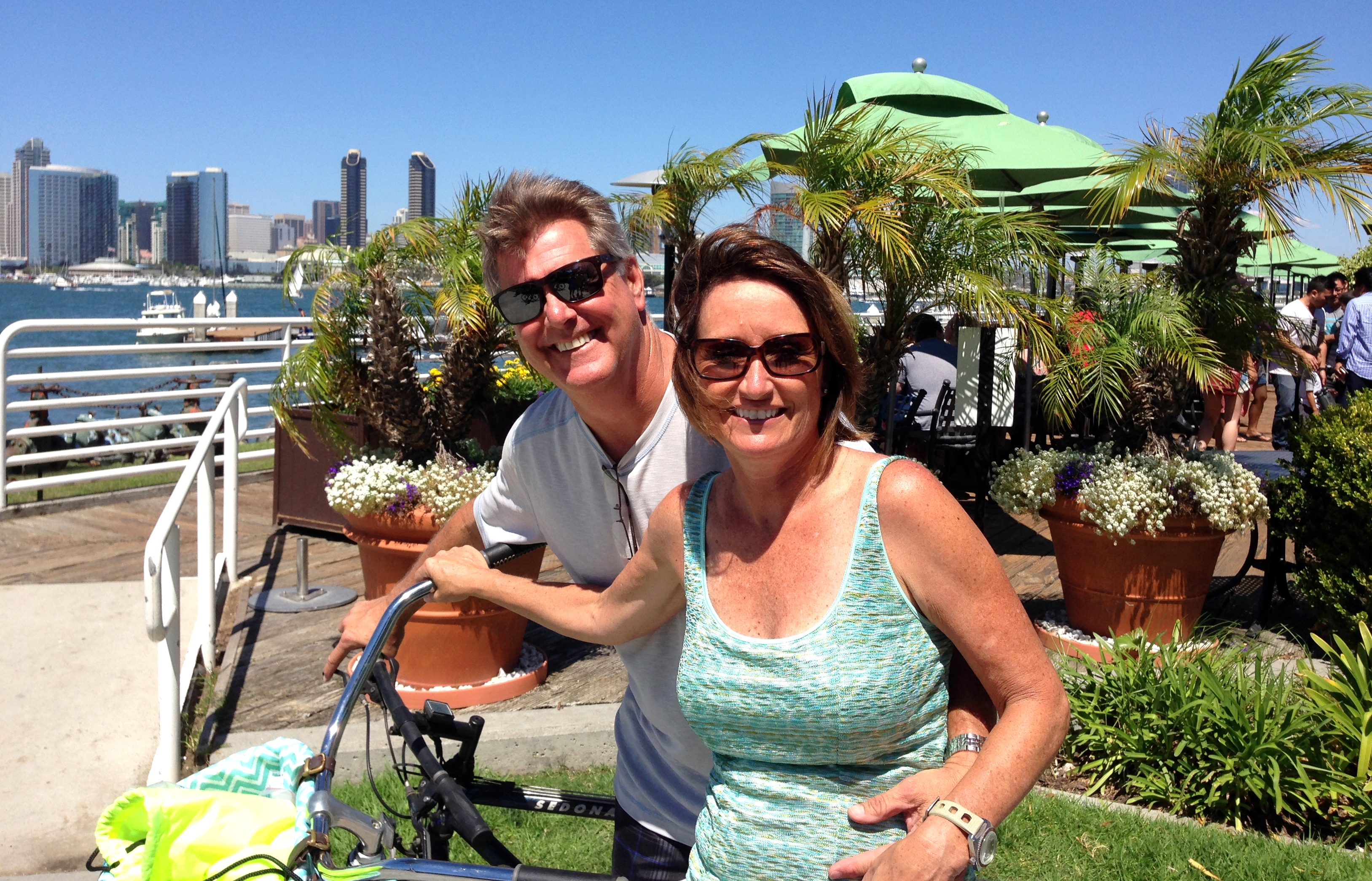 Sunday was a glorious day on Coronado Island, CA….which most days are…but this was extra special. We were on an anniversary biking pub crawl starting at Peohe's.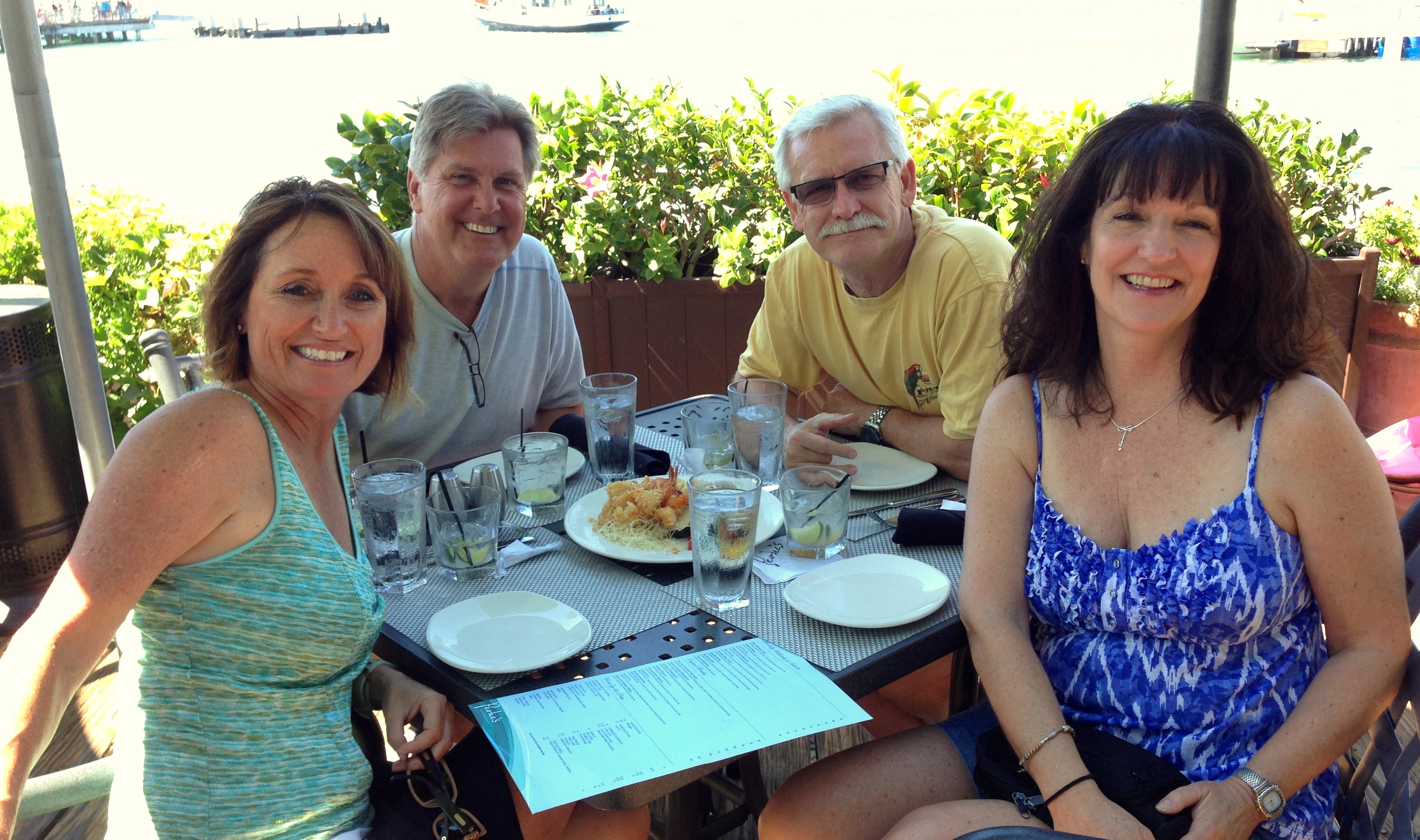 There was a long beach path ahead of us, plus we had to get our parking validated, so we pulled into Peohe's to fill our tanks! Thanks Morgan for the friendly service and the group photo!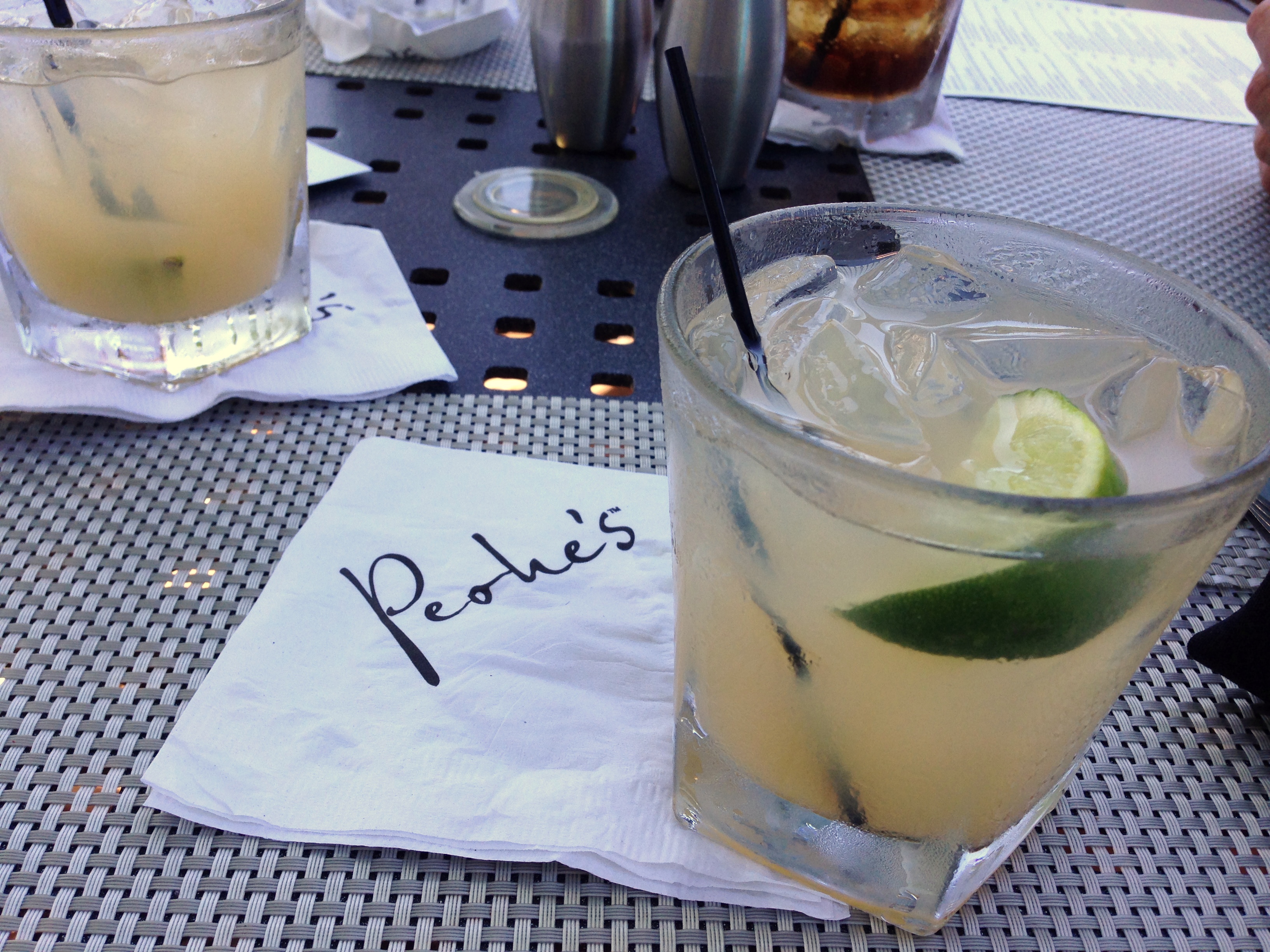 On a hot summer day, a Greyhound cocktail is just the ticket with refreshing grapefruit juice, Ketel One and a quick squeeze of lime! Thirst is quenched! TIP: When venturing out on a Pub Crawl, your best friend will be "Buzz Management" meaning a glass or two of water between each cocktail. Ya don't wanna fall off your bike or drive off into the bay!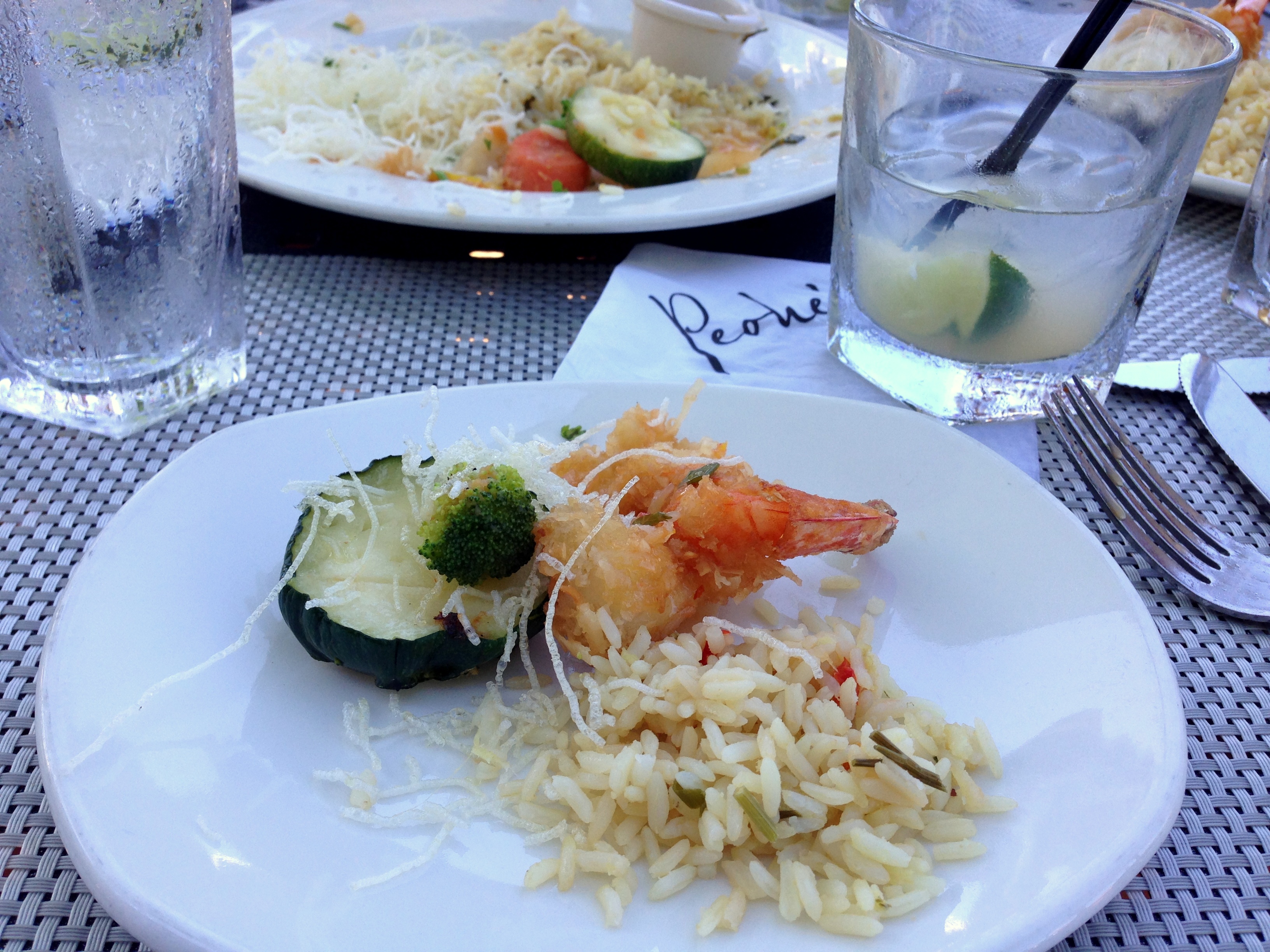 Now for the gentle rumbling in the stomach. Coconut Shrimp in the form of an entree is a great split for 4 people. We got a little rice and veggies along with the Coconut Shrimp and it was the perfect amount for our 1st stop. If you're planning to hit several spots in one trip, like a pub crawl, then this is a very clever play! Entree into an Appetizer! Thanks David for the great idea! Don't forget to tip your waiter well if he gives you great service!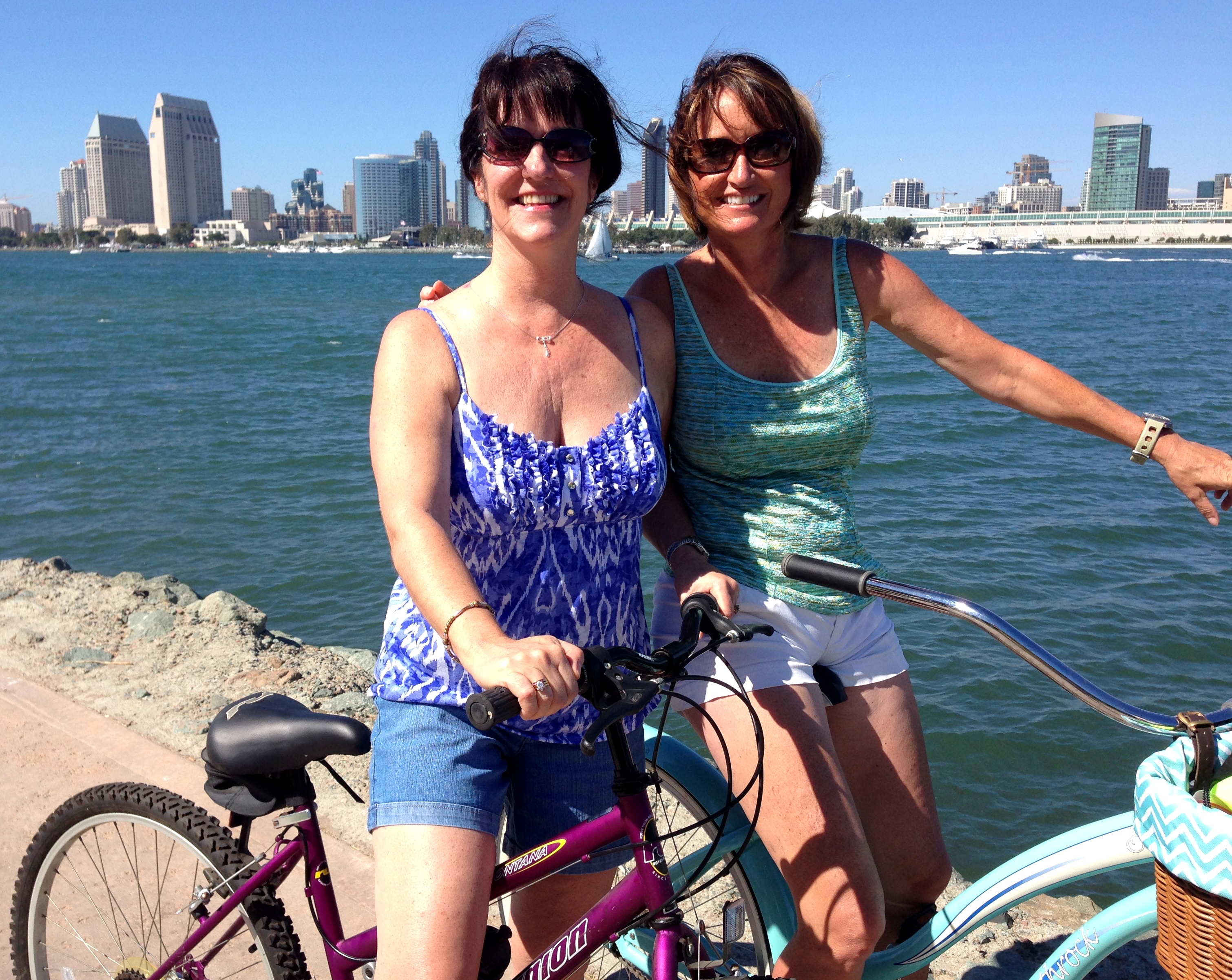 Jump on those bikes and peddle away! Sunshine feels so good and the breeze is so cooling!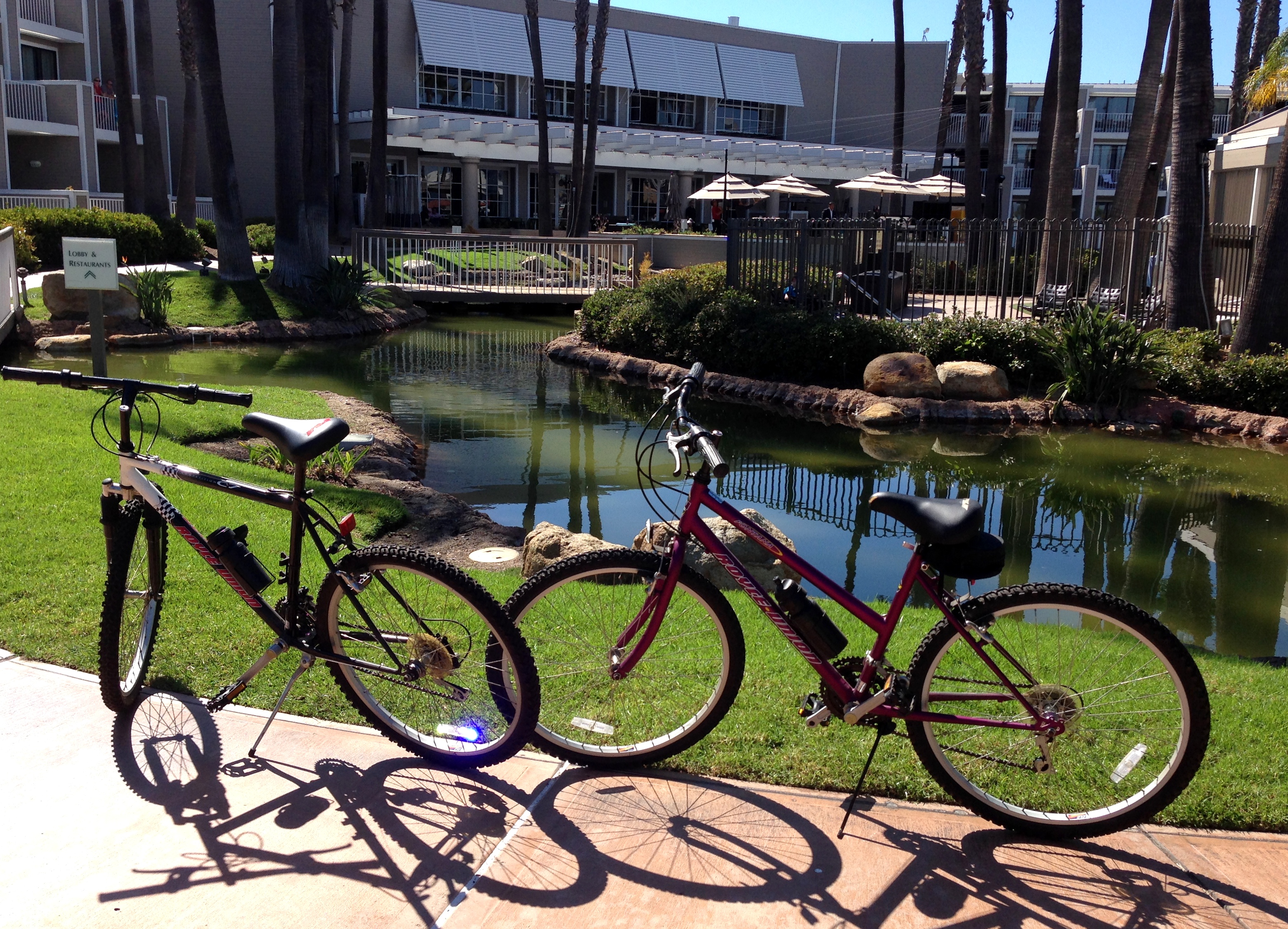 We didn't have far to go before we hit our next destination, Coronado Island Marriott. When Steve and Carolyn got married it was the Meridian, not the Marriott. We only had the structure and our memories left, but it was all we needed. And we were grateful we could remember 🙂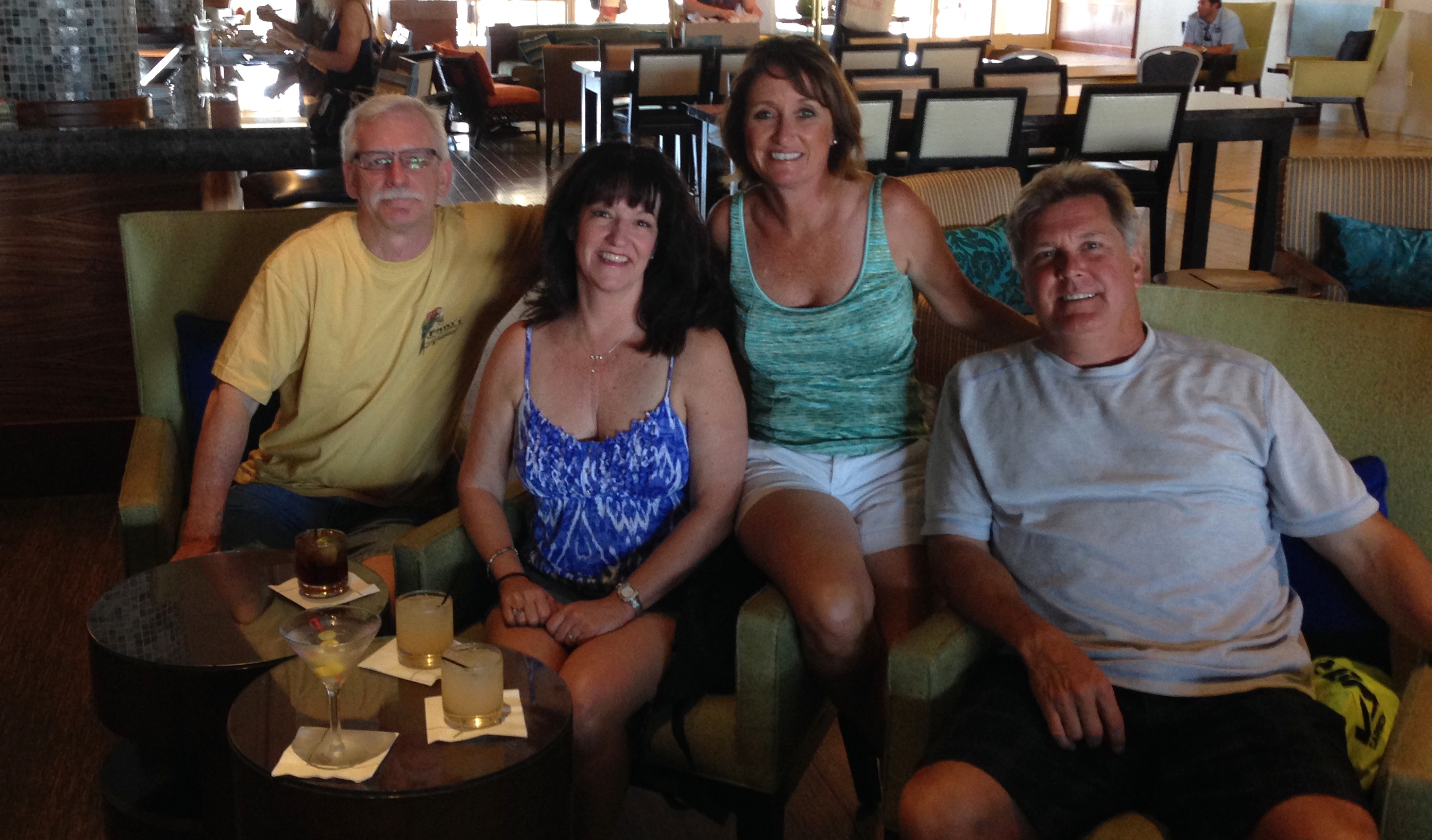 Oscar, our witty bartender, poured us fabulous drinks and graciously took our pictures. As we relaxed in the cool, comfortable bar we took a walk down memory lane reflecting back on the food and festivities of the wedding reception and all of our escapades since. Those escapades brought back memories of all the fun and loads of laughter!
Refreshed and invigorated, it was time to hit the bikes for the "long" leg of our ride. We cruised around the Coronado Golf Course trading one liners with passing bikers, as the soft warm breezes blew through our hair. What a great feeling! This path we were on seemed as though it was designed just for us as we peddled past some of our favorite Coronado haunts. Down the tree lined streets with some of the most beautiful and varied architecture along our path.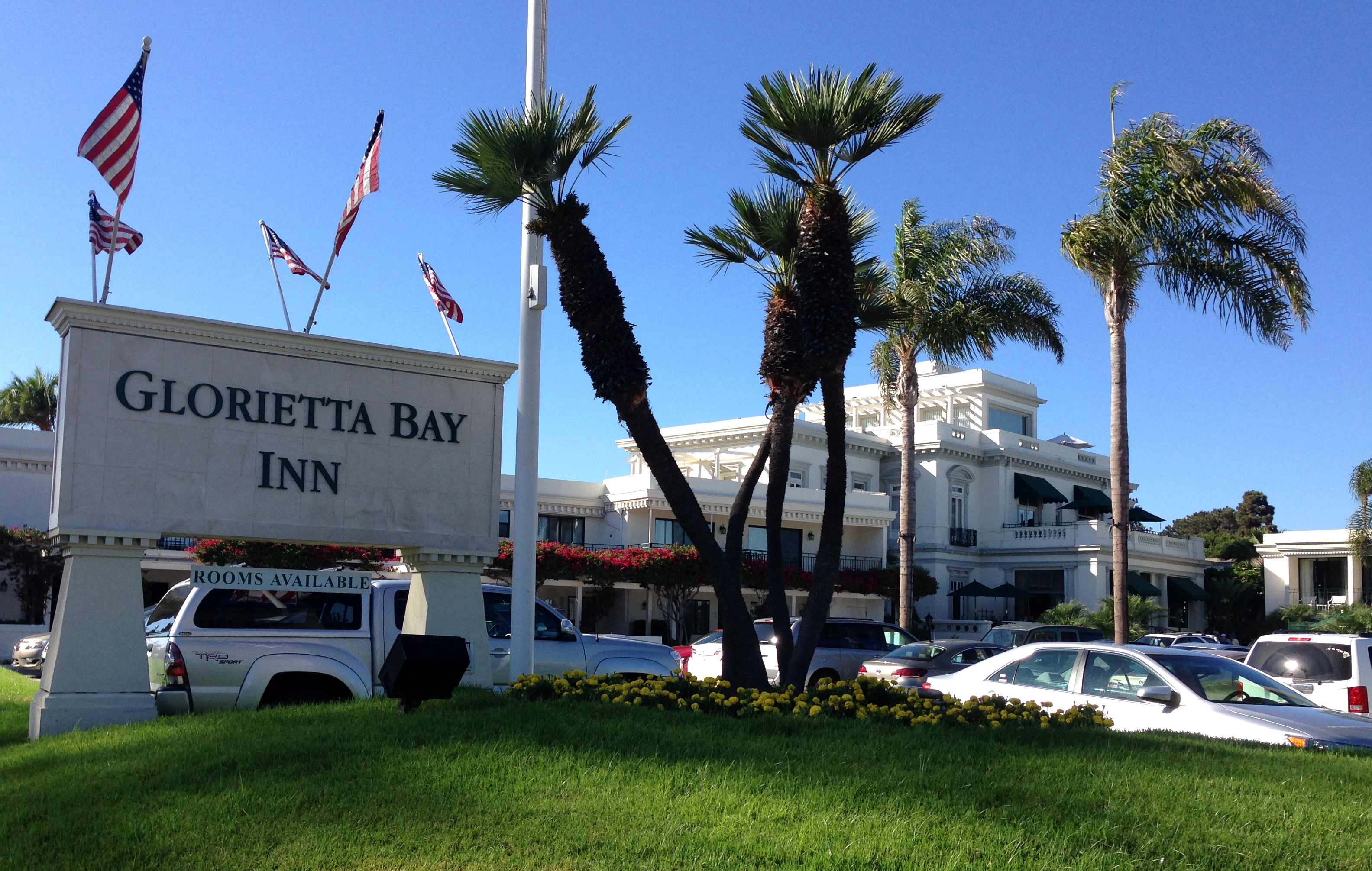 As we rounded the corner, we came upon the 1st hotel in San Diego I ever stayed in. Glorietta Bay Inn, the 1906 mansion of John D. Spreckels, was a lot smaller, more like a quaint inn, way back then. In 1973, while still in high school, I sang with a group of 16 girls called the Knightengales, from Thomas Downey High School in Modesto,CA. We were invited to sing at a convention at the Hotel Del Coronado right across the street. It was January, the sun was shining and it was way too hot for the winter clothes we had packed. In that instant I knew this was where I wanted to go to college and live! And so I did!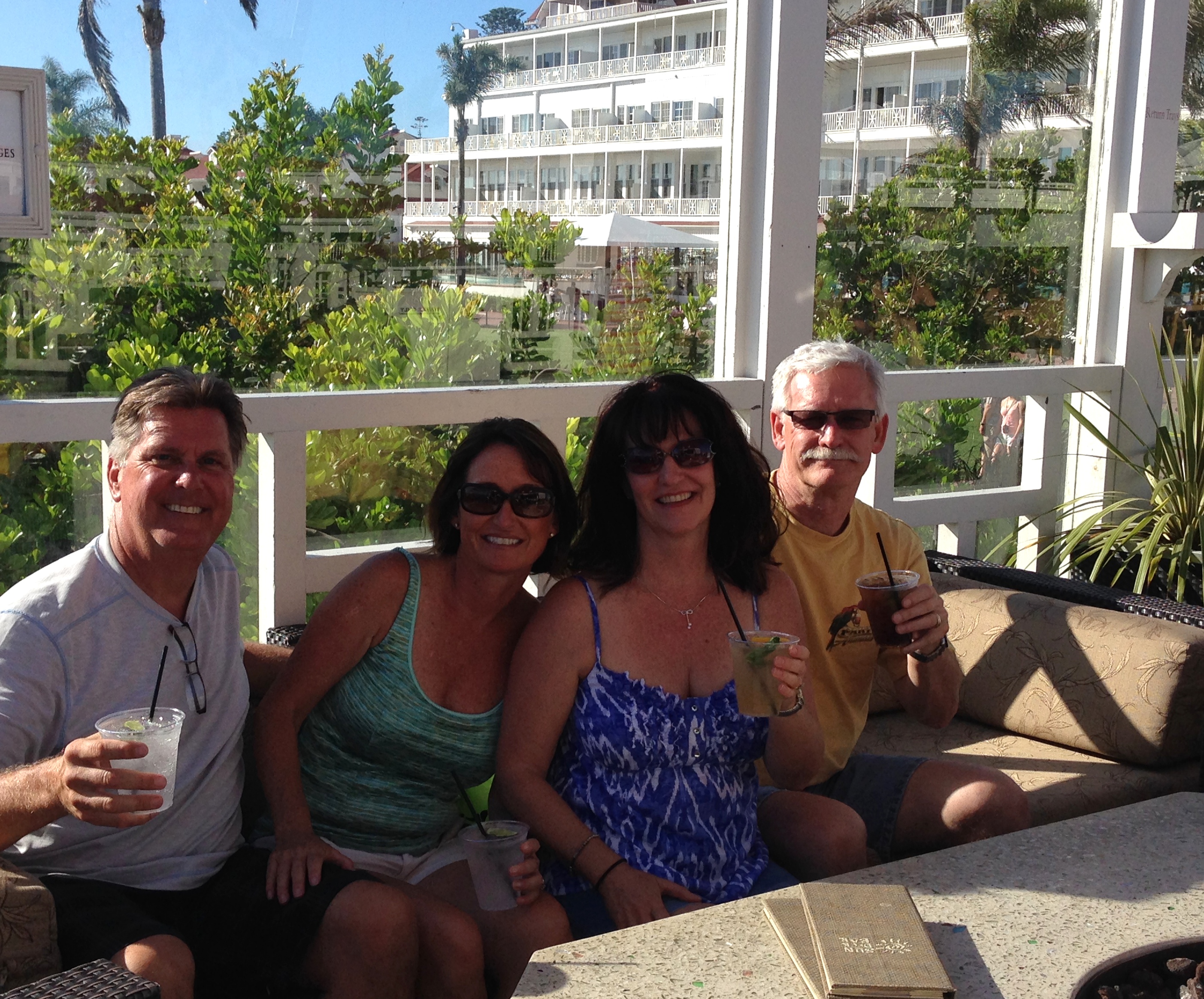 Time warp across the street to the Hotel Del where I am now old enough to have a cocktail. What a capital idea! We slide into the sandy bike parking lot, AKA the beaches edge, and trot ourselves up the stairs to the expansive deck, grab a shady couch and order a drink!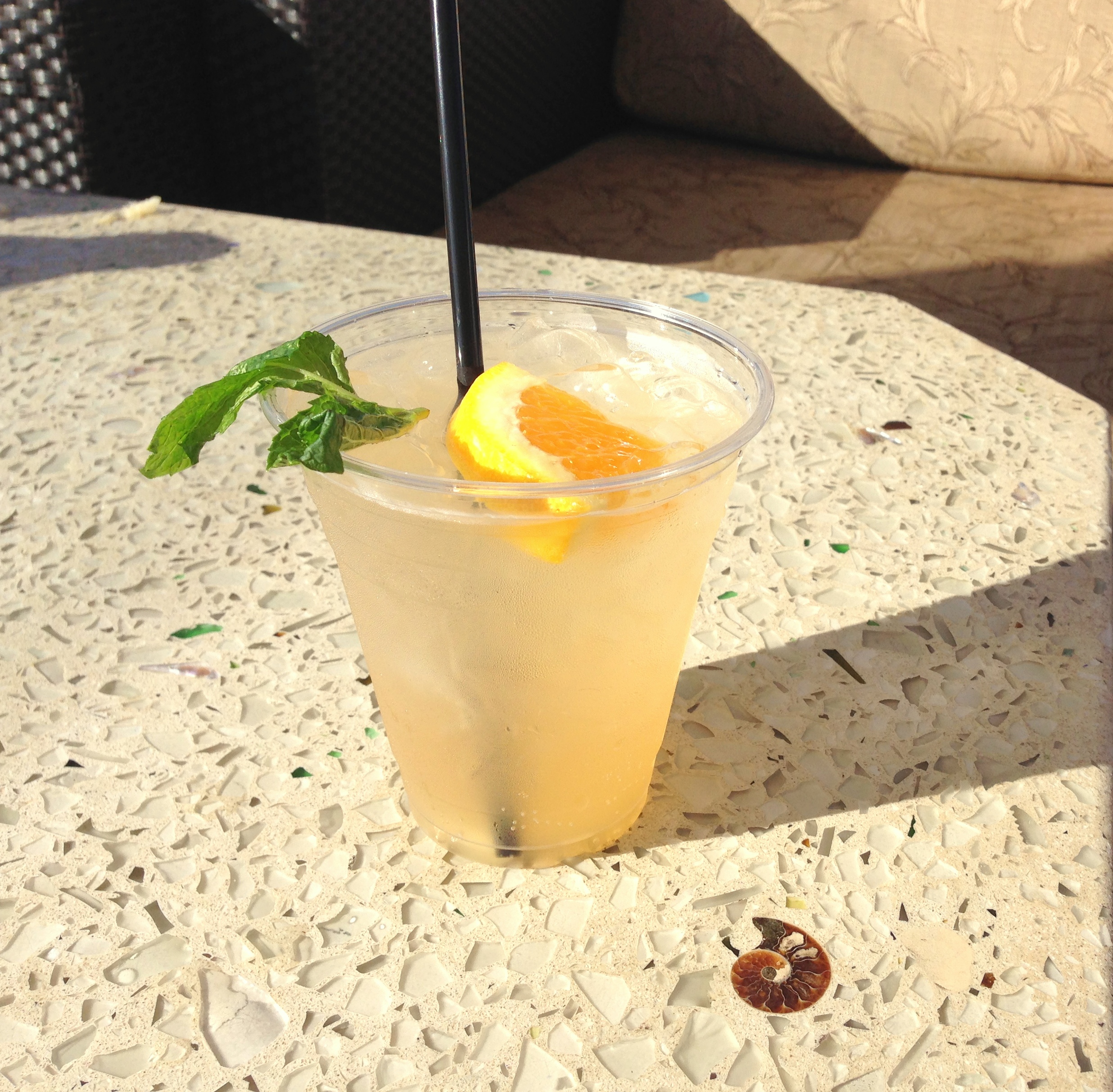 Much to our horror, the kitchen has just closed at 5 o'clock and it is 5:02! Not a crumb left for us to nibble upon! What a difference 2 minutes can make! Thank goodness the bar never closes and a spicy, orange concoction is still available. Behold the Orange Avenue cocktail! Ketel One Oranje Vodka, Stirrings Blood Orange Bitters, Ginger Beer and mint. Really yummy! You get a zippy tingle from the Bitters and Ginger Beer and it cools you right down!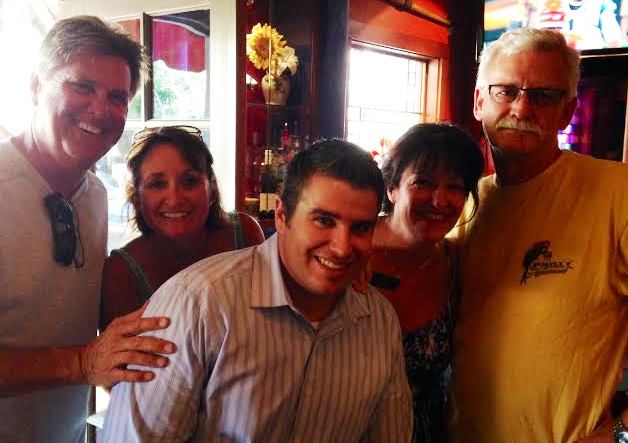 With stomachs growling, we head out to our final destination, Miguel's Cocina for dinner and last call for cocktails for this Biking Pub Crawl group. The restaurant business is called the Hospitality Industry for a reason. And hospitality is just what we got when we arrived at Miguel's. A large bin of chips and a tub of salsa helped to put us back in perspective. Brian, the manager, realizing there was no room at the bar, made a place for us as we waited for our dinner table. Brian knows guests before employees at the bar is the hospitality we were craving! Thanks Brian!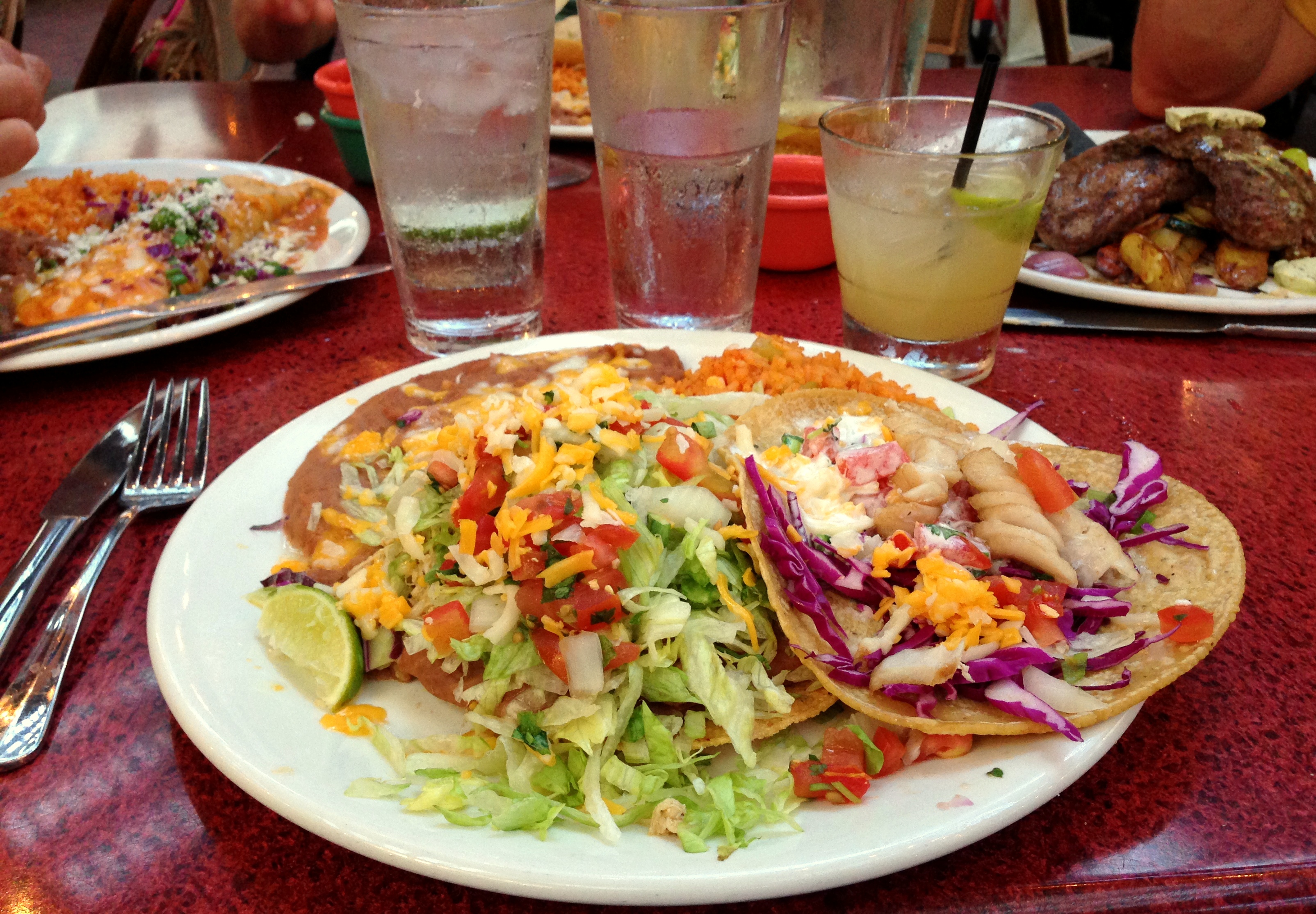 It wasn't long before the dinner bell rang, I mean the cell phone text came through, and we were off to dinner. Woo Hoo, 'cuz we had worked up quite an appetite and it was soon to be sated. Fish and Chicken Tacos for me and Carolyn, David had the Flank Steak Special (very tender and flavorful) and Steve used his "I don't know what to order" technique. He asked our wonderful waiter Isaiah what month he was born and ordered a #4 for April! When you go to Miguel's, the chips and salsa come with a dish of "Jalapeno White Sauce" that tastes like nothing you have ever eaten with chips before. I mean I could live on this sauce and chips!….well almost! Cheesy, creamy, spicy and just down right amazing!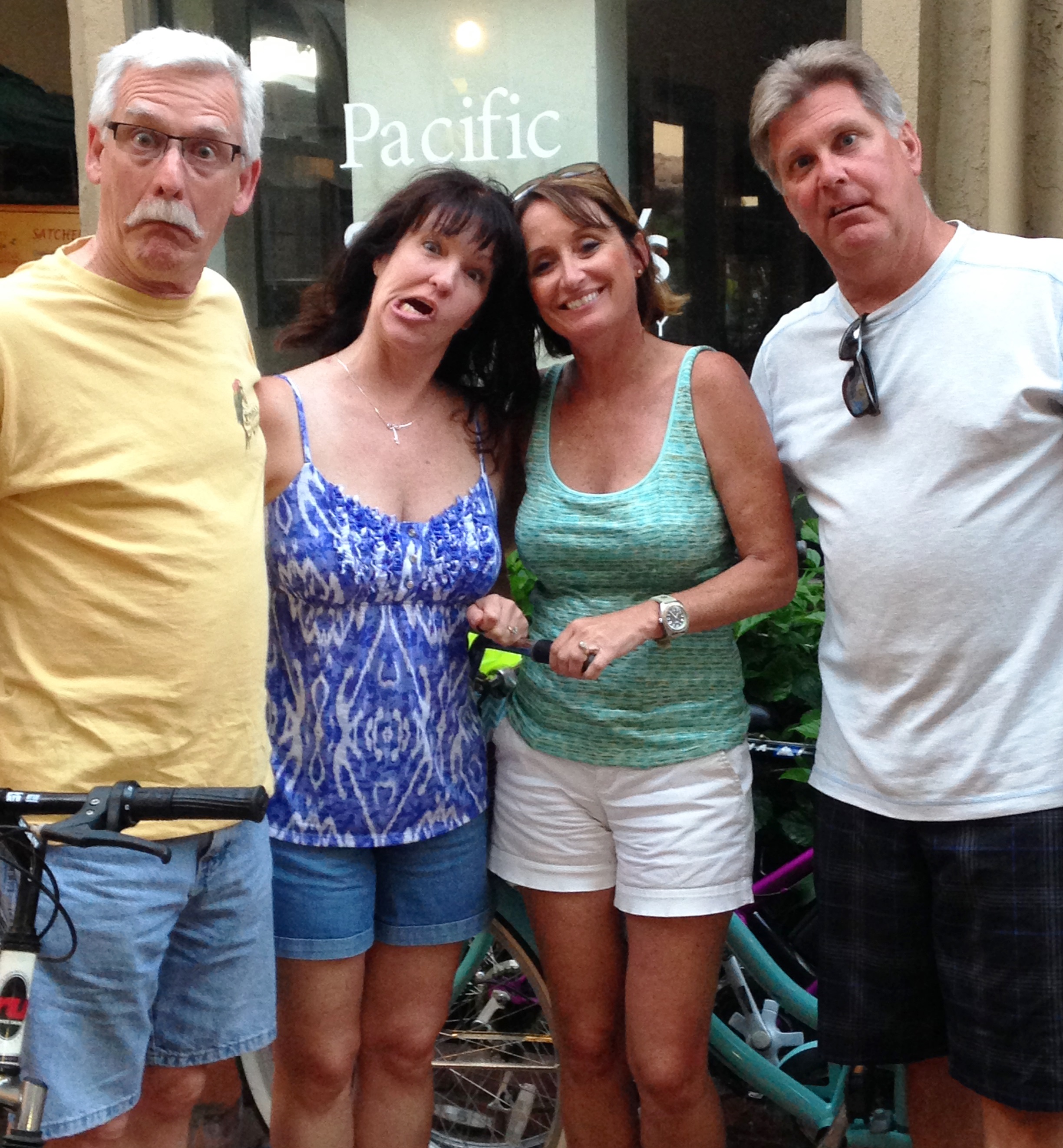 So we leave you with our best goofy faces (the happy couple needs to practice this a bit for the next photo op!) All in all it was the perfect day filled with the sharing of laughter and memories with long time friends, tasty cocktails, snacks and dinner and wonderful service from most of the people we met along the way! You've been mentioned and we thank you for helping to make our Anniversary Biking Pub Crawl something we will talk about for years to come! All of you out there, pump up your tires and hit the road for a Biking Pub Crawl of your own!