The next time you are in the Del Mar area, Urban Pi is a good choice for a quick and tasty lunch. The concept is fast and casual but with an upscale wine bar kind of feeling. The fun part is you get to create your own lunch or dinner with the help of the friendly staff. The name says Creative Pizza but it is so much more with house made soups of the day that aren't your usual soups, a variety of salads and oven fired sides to choose from. Something to rave about with one of those sides too! Oh, and there is always dessert!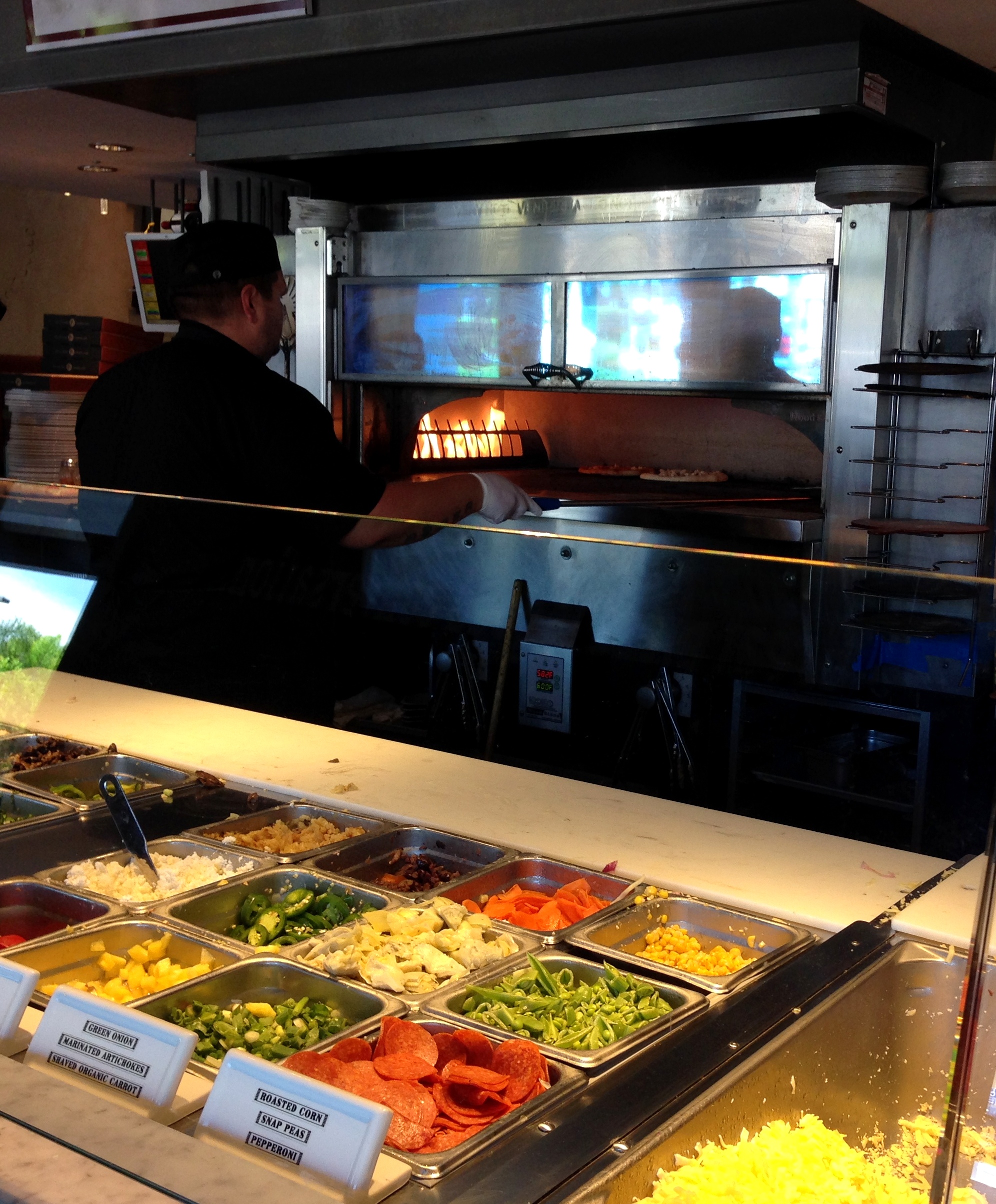 When you walk in, you are faced with several food/topping stations and an over head menu to get you started. You can order straight from the menu or customize your meal a bit. The first station is for the Pizza Wizard in you. You just can't beat a custom hand crafted pizza with unique topping choices like Shaved Brussels Sprouts, Roasted Broccolini and Rosemary Ham. They offer a Gluten Free Pizza Crust option also which is so great to see.
When you place an order for a gluten free crust, you are asked "allergies or preference"? They ask because they understand if you have an intolerance to gluten, it can be a very serious health issue. The staff will all change gloves, wipe down the Pi bar, and clean all utensils if the request is made due to allergies. Pretty impressive!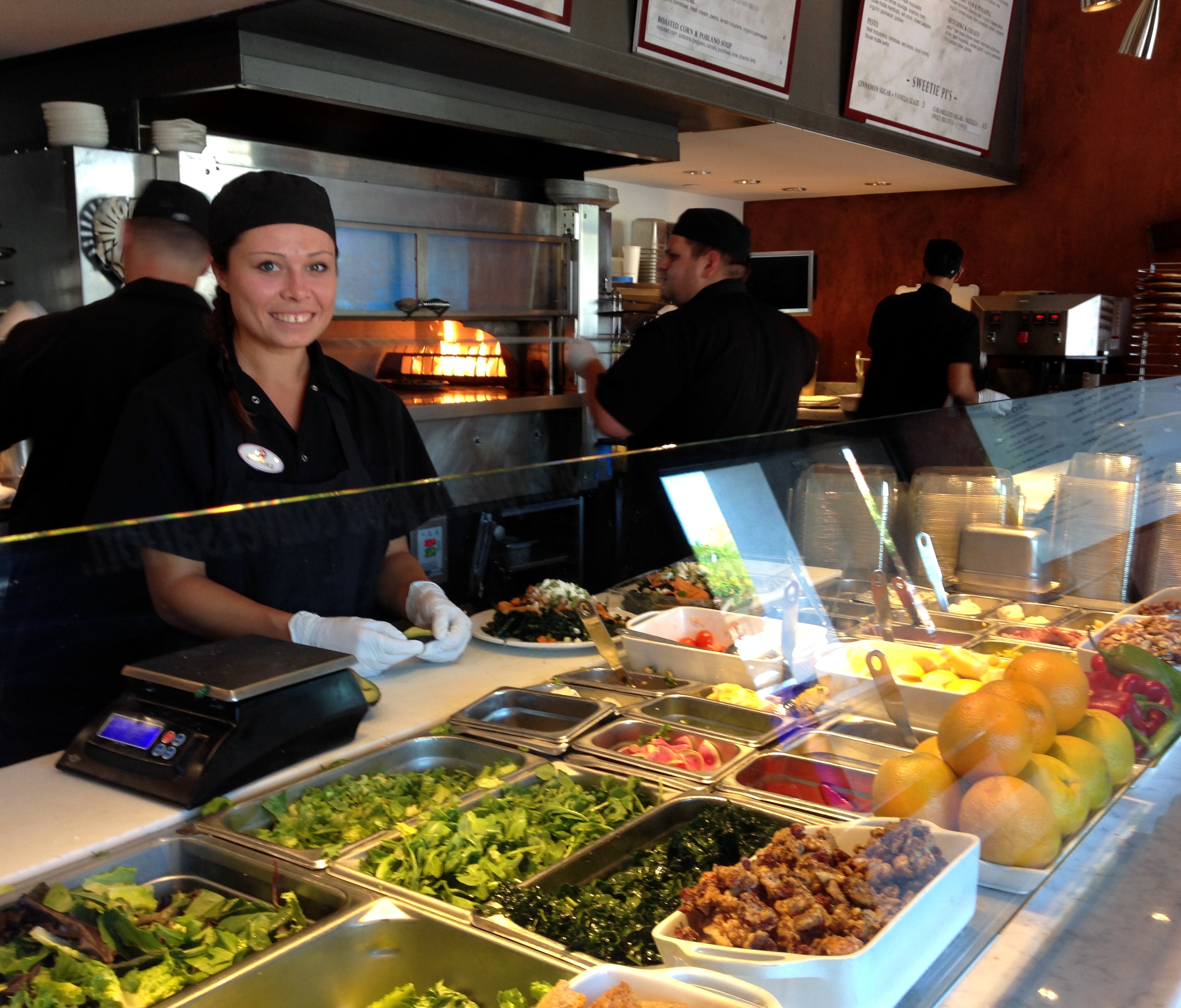 Next is the Salad Station where they toss together your salad of choice. You can add a side of chilled salmon, which I did. The variety of salads is great to see also. Beet and Arugula Salad with shaved fennel and grapefruit tarragon vinaigrette or Moroccan Kale Salad with cumin-cilantro marinated chickpeas, feta and lime vinaigrette, to name a few.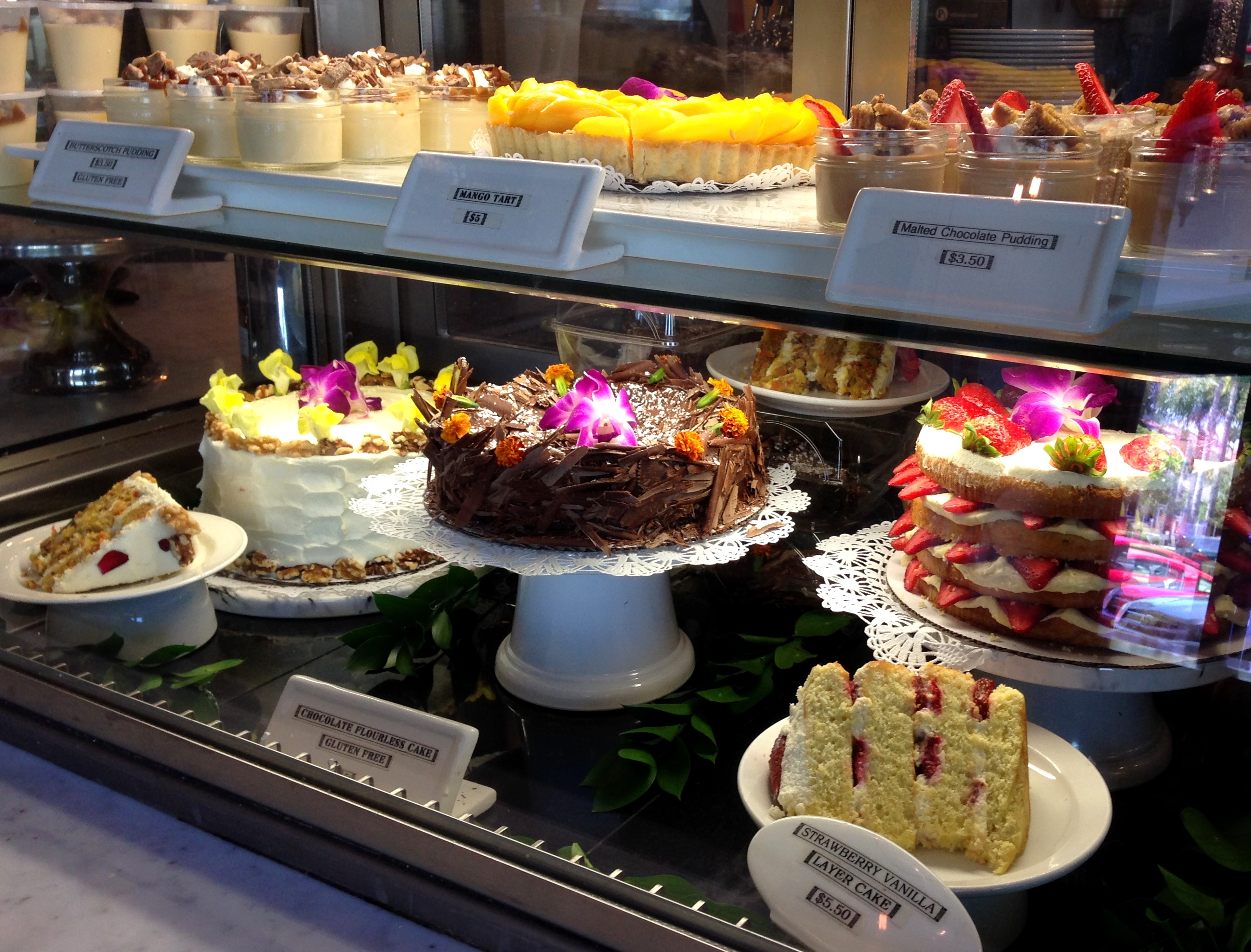 There's always room for dessert….until there isn't! The Dessert Station is right around the corner and boasts a collection of heavenly desserts of which the Mango Tart is locally famous . Whoa! I am not a big dessert eater but this case of sugary delectables stopped me in my tracks! Pineapple carrot cake, double chocolate pudding, caramelized brownies, strawberry vanilla layer cake, gluten free chocolate chip cookies and chocolate flour-less cake (GF).
My friend Sherri started with a chocolate chip cookie. Something to nibble on while waiting for lunch and it was the size of her bread plate! The cookie was gone before I could snap a picture….So many desserts, so little room left. I will definitely try the Mango Tart next time because legend has it, it tastes more like a mango than mangoes do! Maybe I'll start at this end and work my way backward!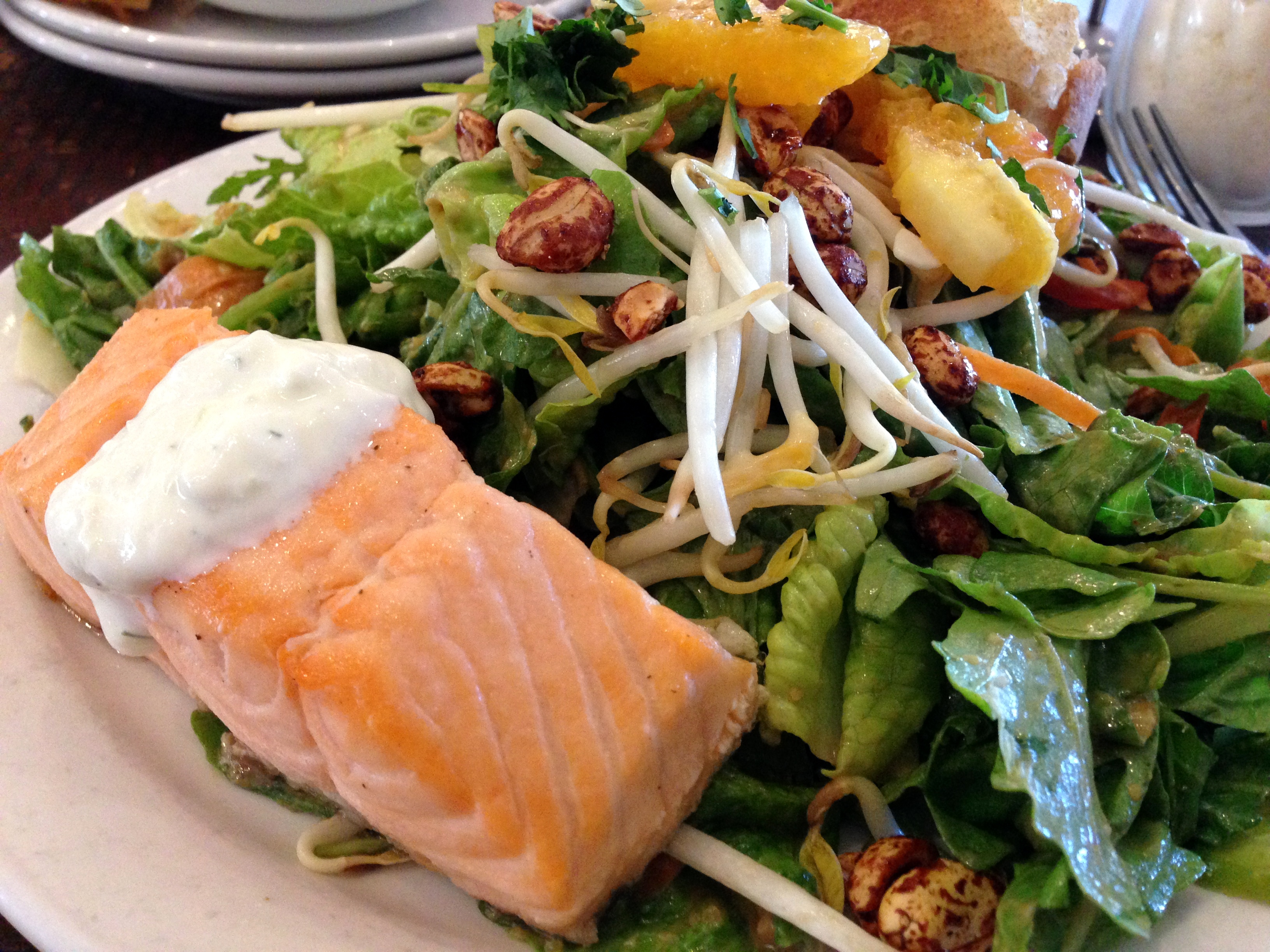 Lunch is served. I had a nice sensible Asian Salad with snap peas, peanuts and orange segments in a Thai peanut dressing. Note the "wild" side of chilled salmon with a yogurt dill sauce I daringly added to my salad. After a week of eating outside the bounds…whatever that is….I took a walk on the mild side.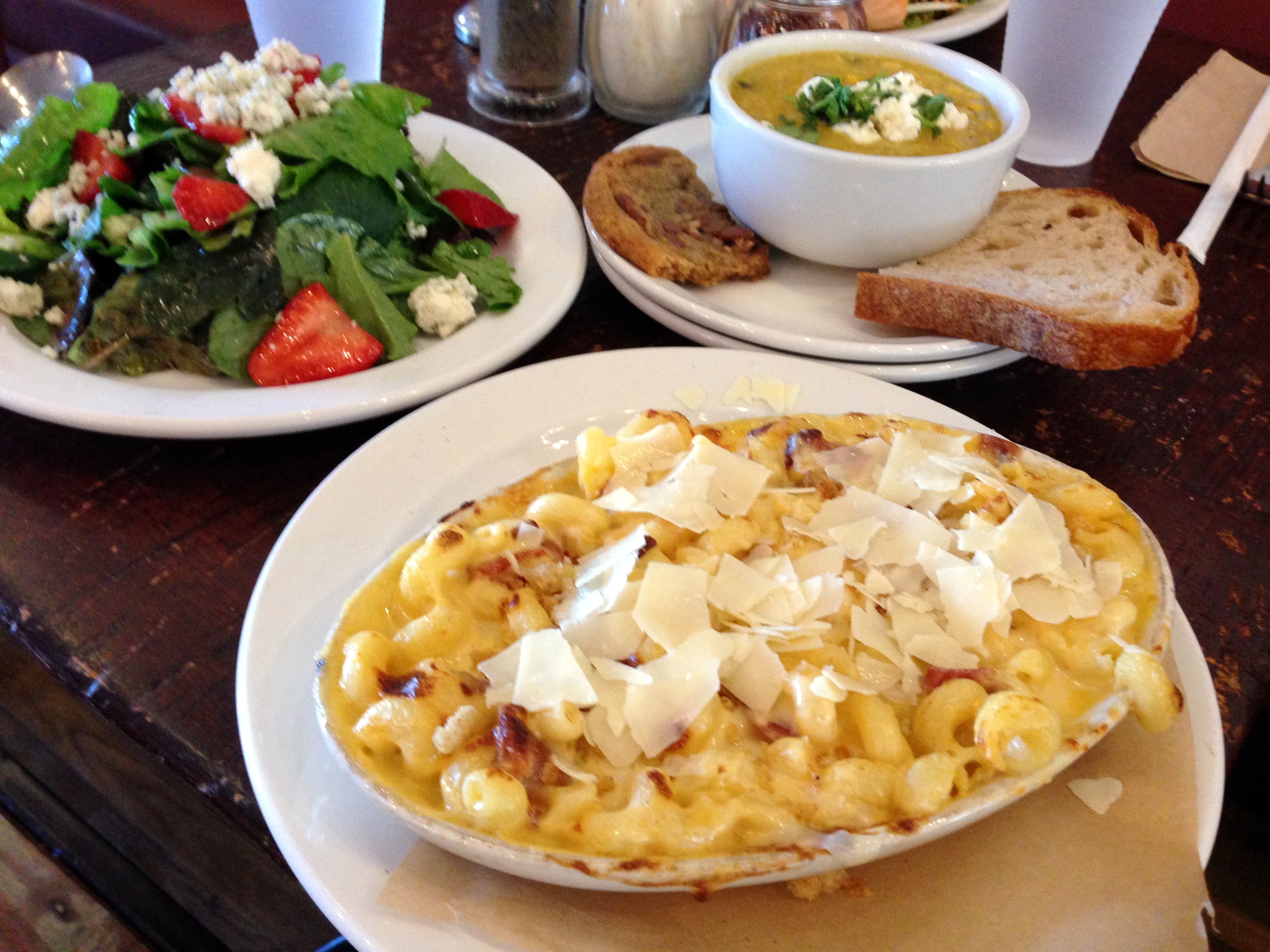 Now Sherri's approach, which is usually more my style too, is to try as many different things as you can possibly imagine eating! Clockwise – House Side Salad with candied cranberry walnuts, strawberries, bleu cheese and a honey ginger blood orange dressing, Soup of the Day Poblano Corn Chowder and center stage, the side to rave about, Bacon Mac and Cheese!
Wait a minute! I see some of her cookie hiding behind the soup! Evidence that it did exist!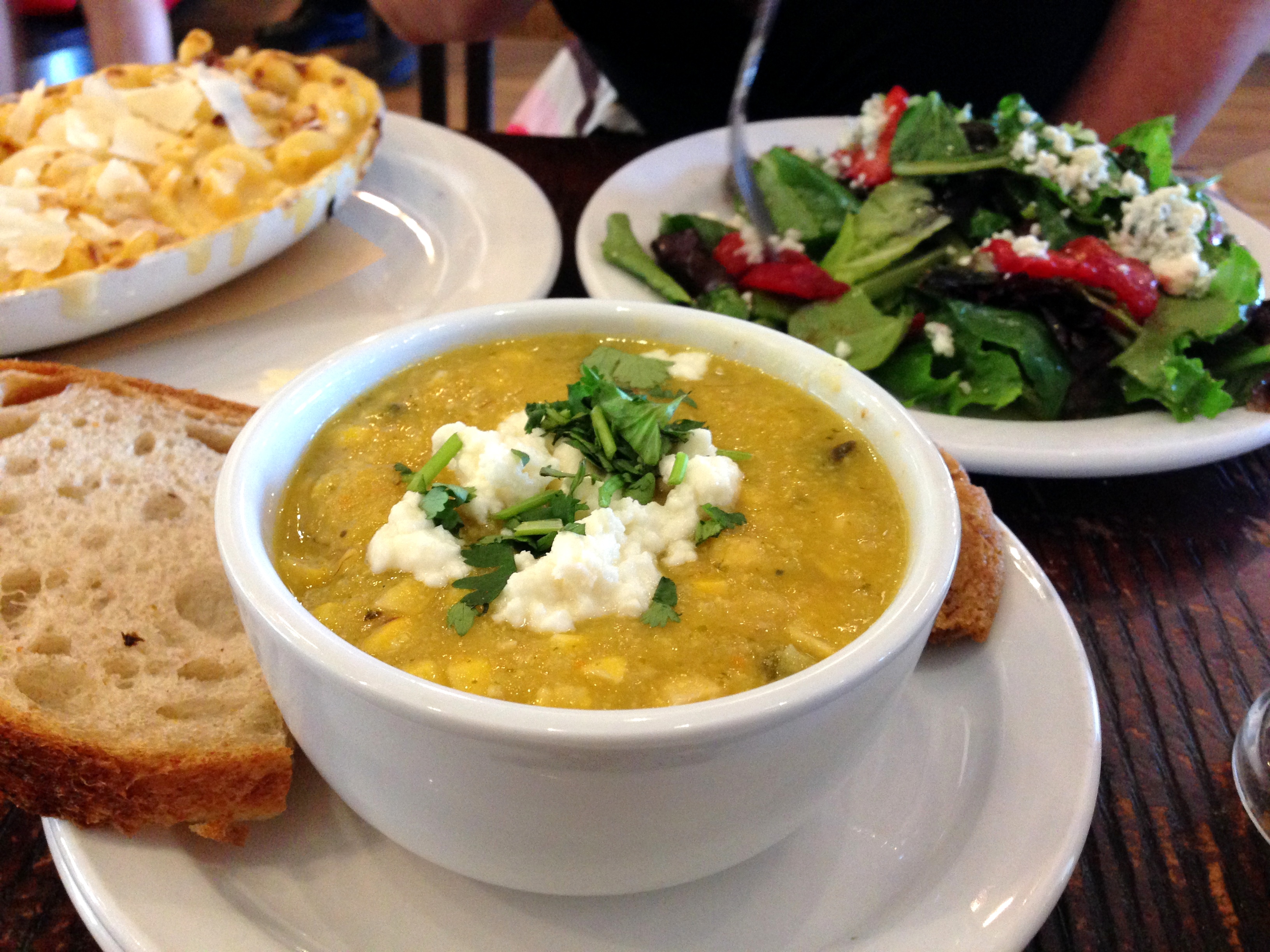 The Poblano Corn Chowder was quite good with a smokey hint of heat from the poblanos, crunch from the corn kernels and a creamy texture to the soup. Oh yes, I had spoonfuls of this wonderful soup! It was my duty, as a good friend, to save my friend from over-indulgence, right?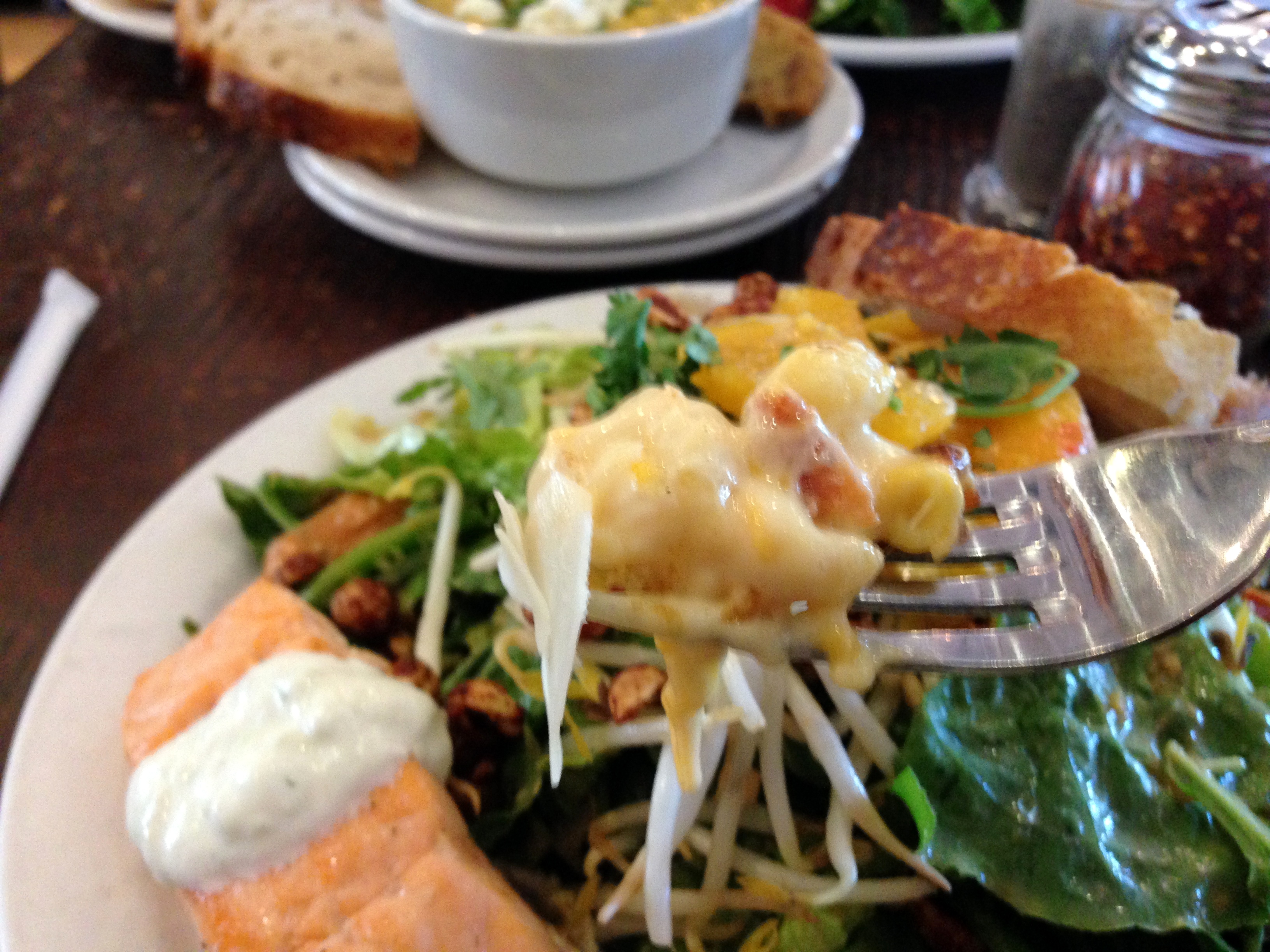 Sherri had the advantage because she'd been here before and eaten off of her friend's plate last time. Which is exactly what I did to her this time! One of the many stolen bites of her Bacon Mac and Cheese! This is Mac and Cheese the way the Chef Gods intended it. Sharp cheddar, asiago and organic parmesan cheeses create a very rich, creamy sauce the noodles and apple wood smoked bacon are bathed in. A crunchy topping of herb bread crumbs, more shaved parmesan and you are in Mac and Cheese heaven.
The staff are friendly and ready to help you create your masterpiece of a meal, the restaurant is tastefully decorated and the food is very good; some of it outstanding for a fast and casual dinning experience! Next time you are in the neighborhood, pop into Urban Pi for a bite. I think you'll have fun and a good meal too!