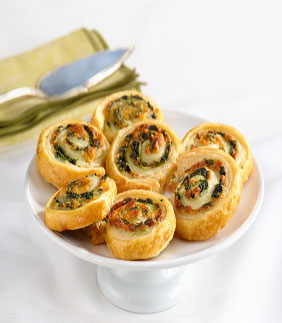 Today was one of those warm days we have in January in Southern California and it was beautiful! We spent the afternoon down by the pool playing cards and relaxing. It was just one of those days that you don't want to end. I love day light savings time because it feels like you get more time in a day and today finally felt like it would be here sooner than later. Possibly just wishful thinking but it felt good to think this way.
On days like this a light dinner before the sun goes down is such a treat. This is a fast and easy dinner that is so satisfying.
Spinach Cheese Swirls
Thaw: 40 minutes
Prep: 20 minutes
Bake: 15 minutes
Cool: 10 minutes
Makes: 18
These tempting appetizers look like they're difficult to make…but they're not. They feature a spinach, onion and cheese filling simply rolled up in flaky puff pastry and sliced into pinwheels.
Ingredients:
1/2 of a 17.3-ounce package Pepperidge Farm® Puff Pastry Sheets (1 sheet), thawed
1 egg
1 tbsp. water
1/2 cup shredded Muenster cheese or Monterey Jack cheese
1/4 cup grated Parmesan cheese
1 green onion, chopped (about 2 tablespoons)
1/8 tsp. garlic powder
1 pkg. (about 10 ounces) frozen chopped spinach, thawed and well drained
Directions:
Heat the oven to 400°F. Beat the egg and water in a small bowl with a fork or whisk.Stir the Muenster cheese, Parmesan cheese, onion and garlic powder in a medium bowl.Unfold the pastry sheet on a lightly floured surface. Brush the pastry sheet with the egg mixture. Top with the cheese mixture and spinach. Starting with a short side, roll up like a jelly roll. Cut into 18(1/2-inch) slices. Place the slices, cut-side down, onto baking sheets. Brush the slices with the egg mixture.
Bake for 15 minutes or until the pastries are golden brown. Remove the pastries from the baking sheets and let cool on wire racks for 10 minutes.
Tip: Make sure to remove as much liquid as you can from the spinach before adding it to the pastry. If it's too wet, it may make the pastry soggy.
Serve with a crisp green salad and a glass of Chardonnay and this is a perfect end to a perfect day!