I am a big fan of traditions but sometimes you just need to shake things up! My friend Kathy did just that for this year's Thanksgiving feast. We have known each other since we were 3 years old so her family is my family and their children are our godchildren. That childhood takes us back to Modesto, CA and we are die hard San Francisco 49er fans!
Thus the theme for this Thanksgiving is the 49ers, since they are playing in the Harbaugh Brothers Duel, against the Baltimore Ravens. This game is being billed as the "first meeting between head-coaching brothers in NFL history". The family theme carries through with the game and the dinner.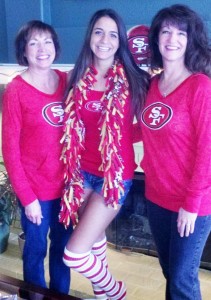 We all had to "suit up" for the game in our 49er apparel. The only hold out was Brandon. He apparently was conflicted with his 49er leggings and his Vikings jersey. Don't ask how he came up with that one but he did mix up some pretty fine Pre-game Cosmos in keeping with the 49er color theme!

The table is set to reflect the gold and red of the 49er colors with roses, 49er cups and pencils. Flags fly from flower pots and strings of 49er pennant lights are strung in the game room awaiting the kick off.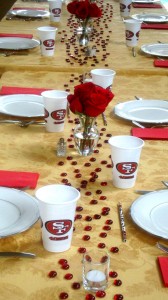 The fans all gathered for the Pre-game meal and it was indeed a feast of Thanksgiving! All our family favorites brought to be shared and enjoyed by all. The extra excitement of the game and the joy of being with wonderful family and friends had us all counting our blessing.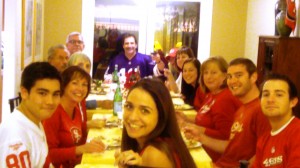 Julie, our godchild, was the perfect cheer leader for the festivities! Always enthusiastic and never lacking for humor, she was waving her flag and cheering on our team!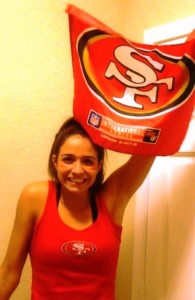 It was fun to have the added theme to our traditional Thanksgiving Day feast. Next time you are thinking of doing any holiday the same way you have done it for the last 20 years, consider that sometimes a curve ball is just the play the coach should call……Mixed sports, mixed themes, sure worked for us! GO 9er's!!