While I had everything else going on for Thanksgiving dinner I decided to add more thing to the mix. It seemed reasonable since I had every other appliance out that I fire up the crock pot and caramelize a bunch of onions for later.
I had read about this but never tried it before and the only thing I would change is to slice the onions before they go into the crock pot. Why I thought they would just fall apart and become perfect little slices from a whole onion is beyond me. Possibly too much going on even for a multitasking super woman?
Even though many people recommended this method, the onion did not magically slice it's self! I ended up with large pieces of beautifully caramelized onions. A little messy but salvageable.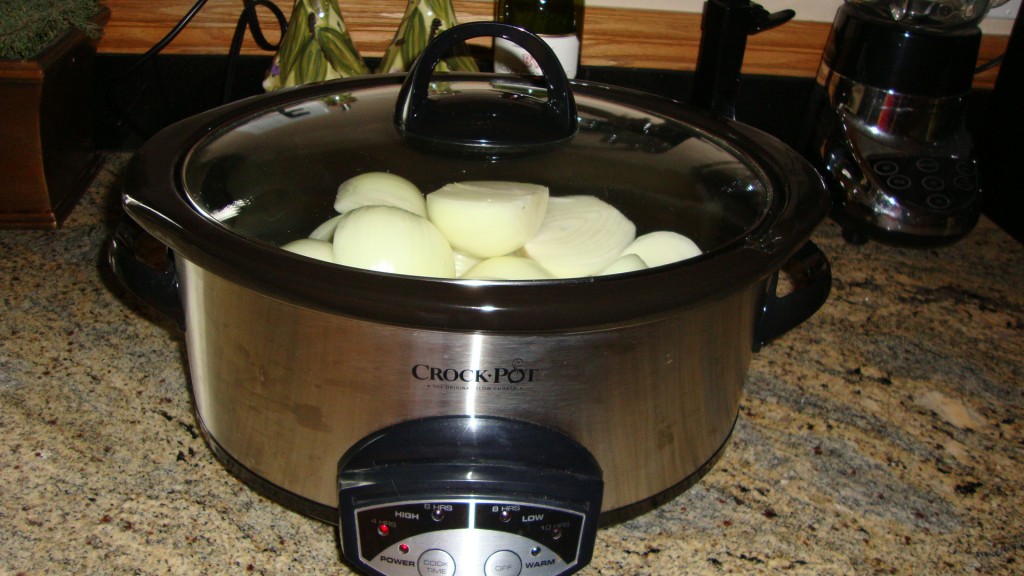 How to:
Cook Time: 9 hours
Total Time: 9 hours, 10 minutes (prep)
Yield: 10 muffin tin cups
Ingredients:
6 to 8 large sweet or yellow onions
1/4 to 1/2 cup butter (NOT margarine) OR 1/4 to 1/2 cup olive oil
Preparation:
Peel onions and cut off some of the top and bottom and slice into rings. In a 4-6 quart crock pot, place onions and top with the butter or olive oil. Cover and cook on low for 9-11 hours.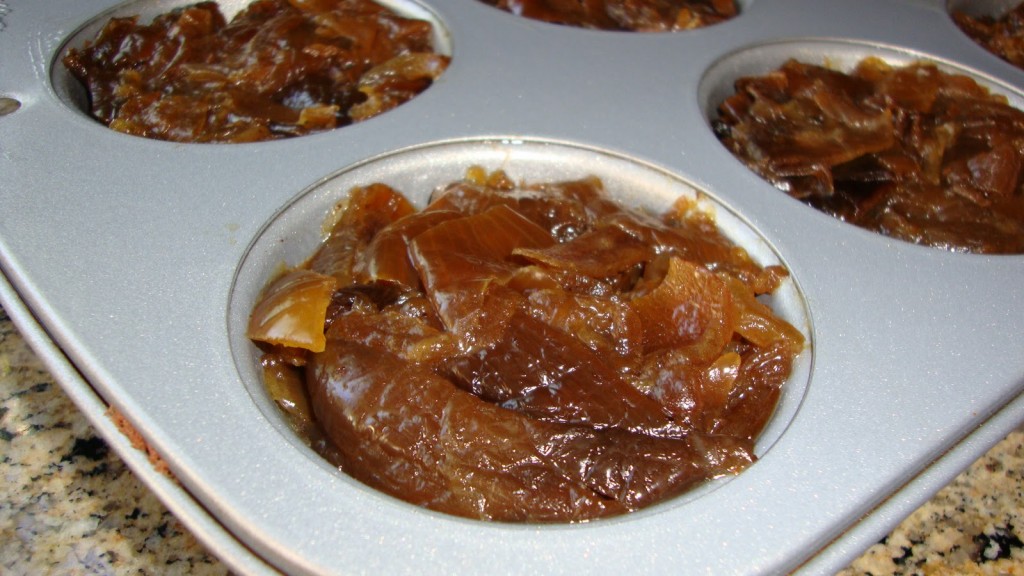 Once they were done I let them cool and cut them up. I then sprayed muffin tins with vegetable spray and fill each tin up with the succulent onions, wrapped up the muffin tray in aluminum foil and placed them in the freezer over night.
Next morning I popped them out and loaded the bunch into a freezer bag to be used later. Well later is now and these little gems are being transformed into a tasty treat.
Brie En Croute with Caramelized Onions
2-3 muffin cups of Caramelized onions, thawed and drain any liquid
1 sheet of frozen puff pastry, thawed
1 (8 ounce) Brie wheel
1 large egg, slightly beaten
Roll out thawed sheet of pastry to a 12″ square. Roll out on parchment or wax paper to prevent sticking. Trim a 1 inch strip from the edge to use for decorating the top later.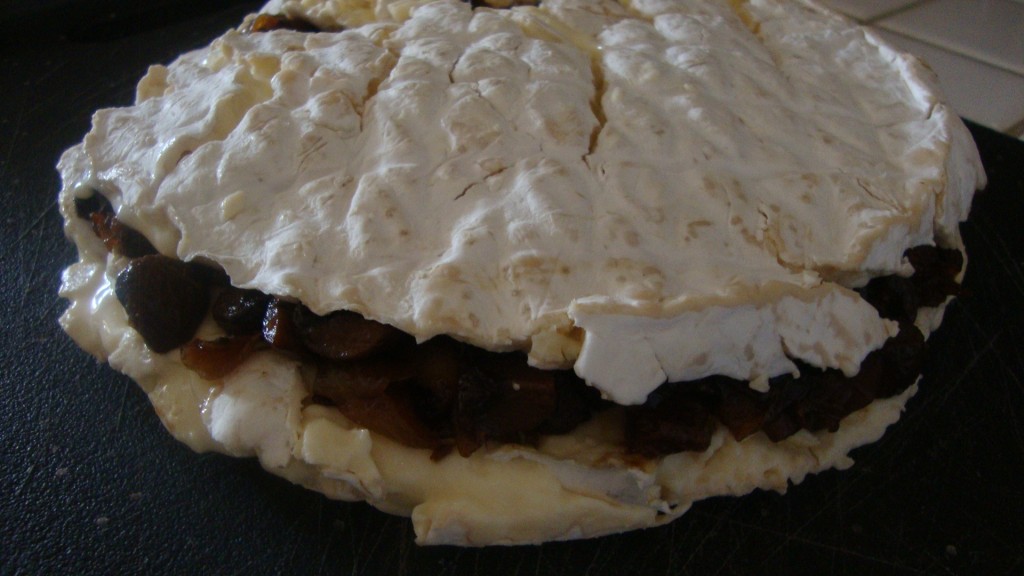 Slice the Brie wheel in half and fill with the onion mixture.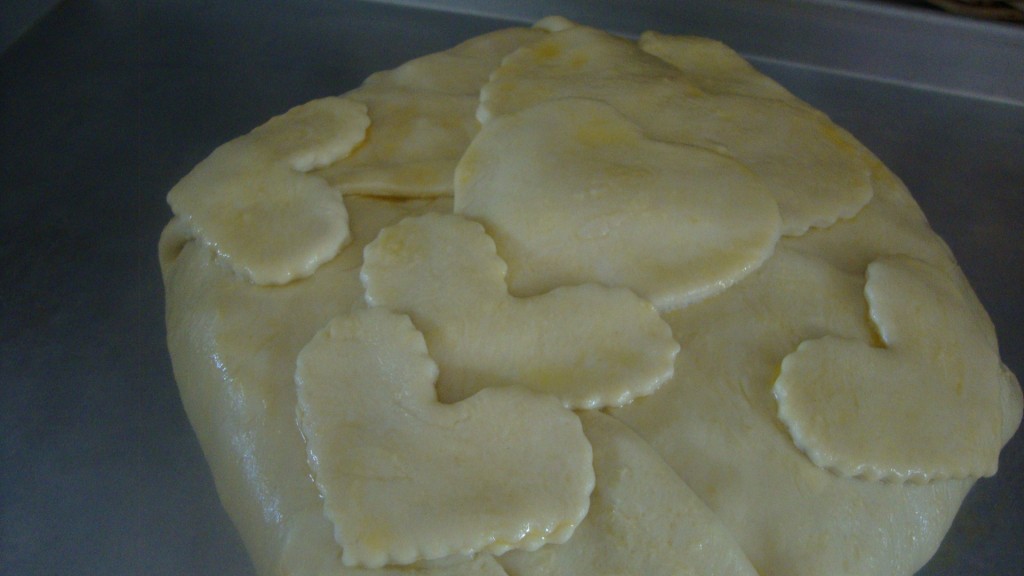 Place your Brie wheel on top of the puff pastry. Brush the edges of the pastry with egg and fold the pastry over the Brie, completely enclosing the Brie and the onions in the dough. Make sure all the seams are pressed together and sealed.
Cut out hearts, leaves or any shapes that match the season or party theme with mini cookie cutters. You can create your own template also. Brush the pastry with egg wash and apply the decorative pieces and brush them with egg wash also. This will help the pastry brown nicely.
Place the round on a baking sheet with parchment paper or a silicone mat, seam side down.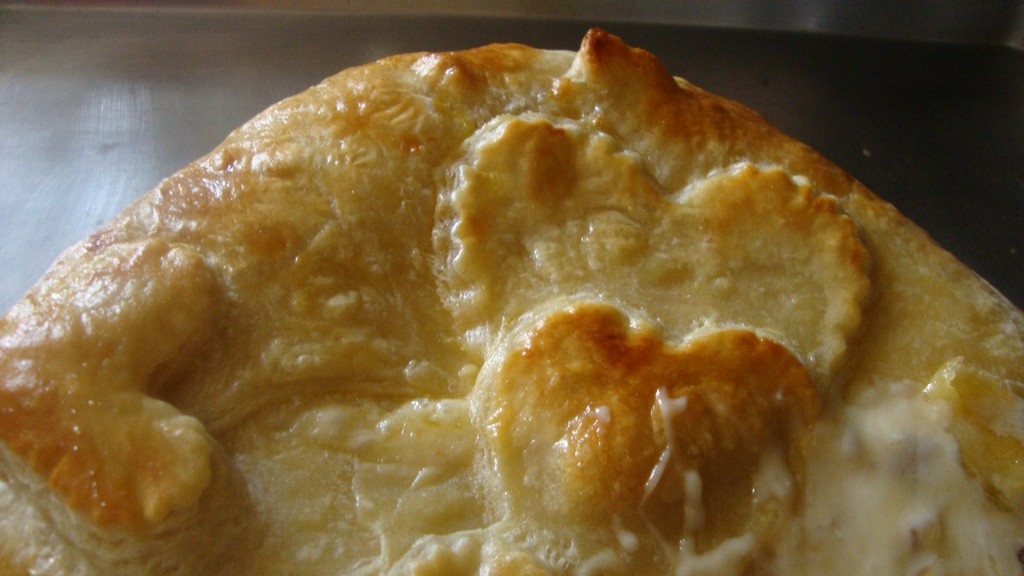 Bake at 400 F until golden brown, about 25 minutes.
Wait 15 or 20 minutes before cutting into the pastry.