A Few of My Favorite Things!
Chantilly cream on strawberries, toasted meringue on lemon curd; dark chocolate cream tart layered with a salty bite of caramel, cranberry pear tarts and cupcakes and mousse. These are a few of my favorite things! Desserts are happy foods! It is not "stressed" spelled backwards. Especially, when we are talking about mini desserts. You can satisfy your sweet craving but you don't have to over indulge.
We are talking about a trend for mini desserts that will carry over into 2011. It seems we found out how much fun it was to have these little desserts and we are not quite done with the mini trend. This trend is about being worth it. There's something about the richness and decadence of a tiny bite of goodness that has everyone ordering a little bit of dessert.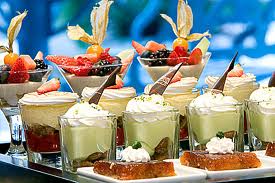 It is not just our waistline that needs to be tightened; it is also our budget as we continue on into 2011 with an economy that is still struggling. The mini dessert is more budget friendly. We don't want to feel like we can't afford a treat and a little taste is a great compromise that satisfies.
And Pies! Pies of all sizes are rumored to replace the cupcake next year. While some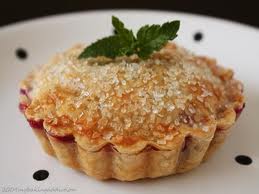 people, me, will certainly hold on to cupcakes for dear life, most will make the switch as pies become very easily attained. Look out as pies are no longer solely associated with sweet flavors, but savory, meaty flavors as well. And that makes me very happy!
Cupcakes are still "in" but pies could be the new cupcake and they are the chic trend for weddings in the coming year. But the new thing to do is offer a full dessert bar with macaroons, mini-pies, petite wedding cakes, and cupcakes. A mini dessert fest!
I scream, you scream, we all scream for Ice Cream! Take seasonal ingredients; add enough creativity to create flavors that are out of this world and what you have is a frozen treat that's getting everyone's attention. The flavors are not your grandma's ice cream. How about Goat Cheese with Cognac Fig Sauce, Star Anise with Candied Fennel, or Olive Oil with Salted Pepitas, or Cocoa Zin made with Zinfandel wine as the fruit flavor base? All of these are the creation of former pastry chef Jeni Britton Bauer of Columbus, Ohio, who makes her artisan ice cream out of locally sourced cream and fresh, seasonal ingredients and can be found at high end markets like Dean and DeLuca.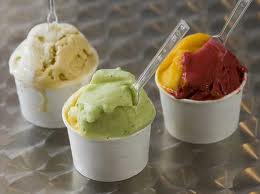 The ice cream industry follows a well-established pattern for developing a new flavor. First, they review culinary ideas from outside the frozen dessert category, such as baking or confectionary. Then they find a flavor trend from that segment that may be replicated with ice cream flavors and familiar ice cream ingredients. What you may have is the new hot flavor for next year or just a strange and curious exploration into what could be possible. When the survey was released at the beginning of 2010, bacon with chocolate was on the top of the list and thus we were able to indulge in the salty sweet flavor combo that had been the rage in the baking arena.
The biggest trend in pastry arts, and one that is projected to have a lasting impact on the American dining scene, is the development of the standalone dessert bar. These dessert bars serve only desserts and are perfect for post-theatre and film goers. Pastry chefs are also experimenting with flavors and ingredients to create innovative liquid desserts served in fancy goblets – the drinkable dessert. It is a cocktail with a bite sized island of dessert. The idea is to marry a sweet creation with an alcoholic beverage. It's all about satisfying that sweet craving while having a sensory experience in a glass.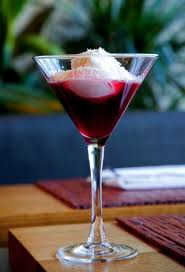 The question is, is it the creativity that keeps us coming back for more of our favorite treats or is it the comforting flavors that we just can't live without? Either way, it is very clear that the only limitation in this creative world of sweets is where we allow our imagination to take us. What a sweet adventure this is!